Hyper Interdisciplinary Conference in Malaysia 2023 – Partners Announcement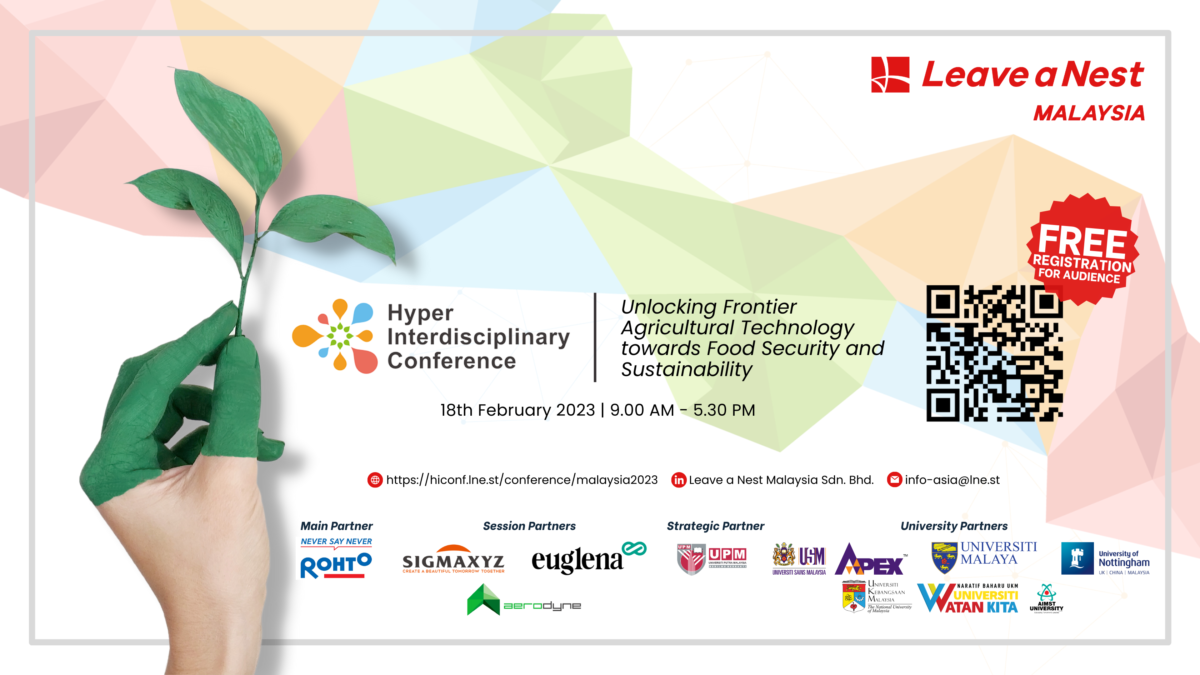 Leave a Nest Malaysia is thrilled to announce the upcoming Hyper Interdisciplinary Conference in Malaysia 2023, scheduled to take place on 18th February. We are proud to have Universiti Putra Malaysia (UPM) as our strategic partner, and Universiti Sains Malaysia (USM), Universiti Malaya (UM), Universiti Kebangsaan Malaysia (UKM), University of Nottingham Malaysia, and AIMST University as our university partners for this event.
The theme of this conference will be "Unlocking Frontier Agricultural Technology towards Food Security and Sustainability" and it will bring together leading researchers and industrial experts from diverse fields including agriculture, engineering, and biotechnology to discuss and collaborate on the latest technologies and advancements in agriculture towards food security and sustainability.
Leave a Nest Malaysia would also like to express our gratitude to our main partner ROHTO Pharmaceuticals Co., Ltd. and session partners SIGMAXYZ Holdings Inc, Euglena Co., Ltd., and Aerodyne Group for their support in making this conference possible.
We are honored to have the support of these esteemed institutions and look forward to the valuable contributions they will bring to the conference. This conference will be a unique platform for networking, learning, and inspiration and we look forward to welcoming all participants on the conference day. Register now here to attend the conference for free. 
Mark the date in your calendar and join us for the Hyper Interdisciplinary Conference in Malaysia 2023.