Hyper Interdisciplinary Conference in Malaysia 2023 – Panel Session 2 Examines Cultivating Sustainable Energy from Bioresources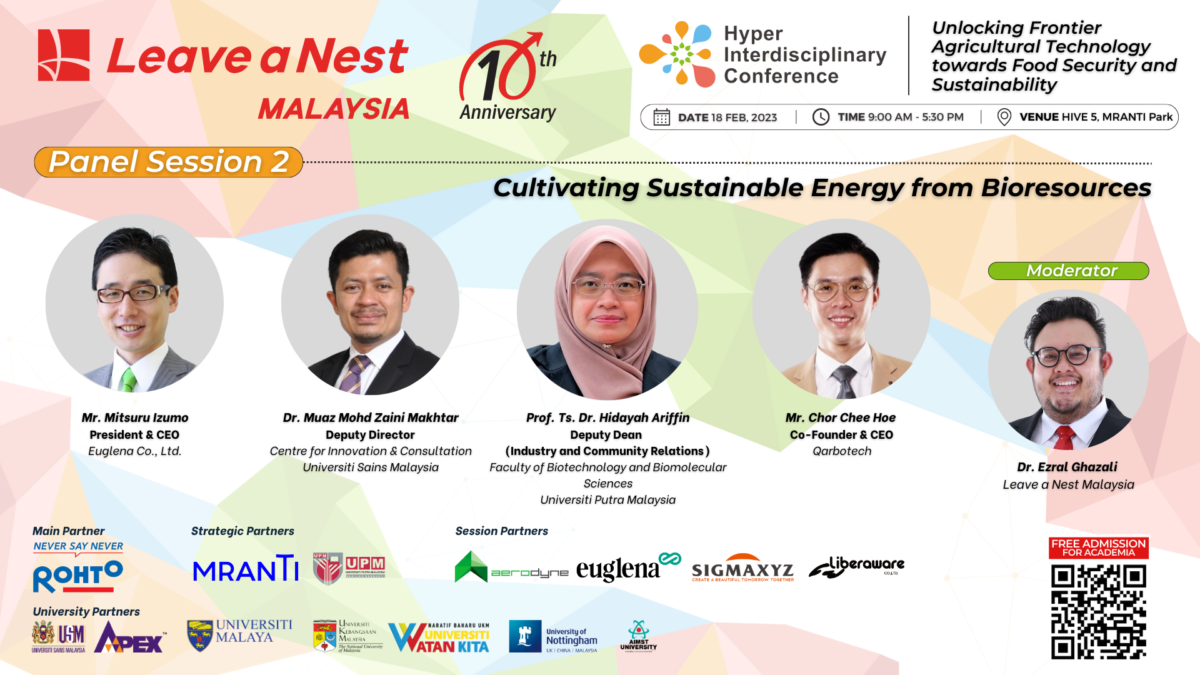 The second panel session of the Hyper Interdisciplinary Conference in Malaysia 2023 will be held on 18th February 2023. It will focus on the theme of "Cultivating Sustainable Energy from Bioresources" and is powered by Euglena Co., Ltd.. This session brings together experts from various fields, including biology, energy, and sustainability, to explore the latest advancements and their impact on the production of sustainable energy from bioresources.
The highlights of the session will be a panel discussion on exploring the current ecosystem revolving around sustainable energy from bioresources, including agriculture biomass, in Malaysia. The panelists, including representatives from leading energy companies and academic institutions, will discuss the challenges and opportunities of using biomass as a source of renewable energy, and how it can contribute to a more sustainable future.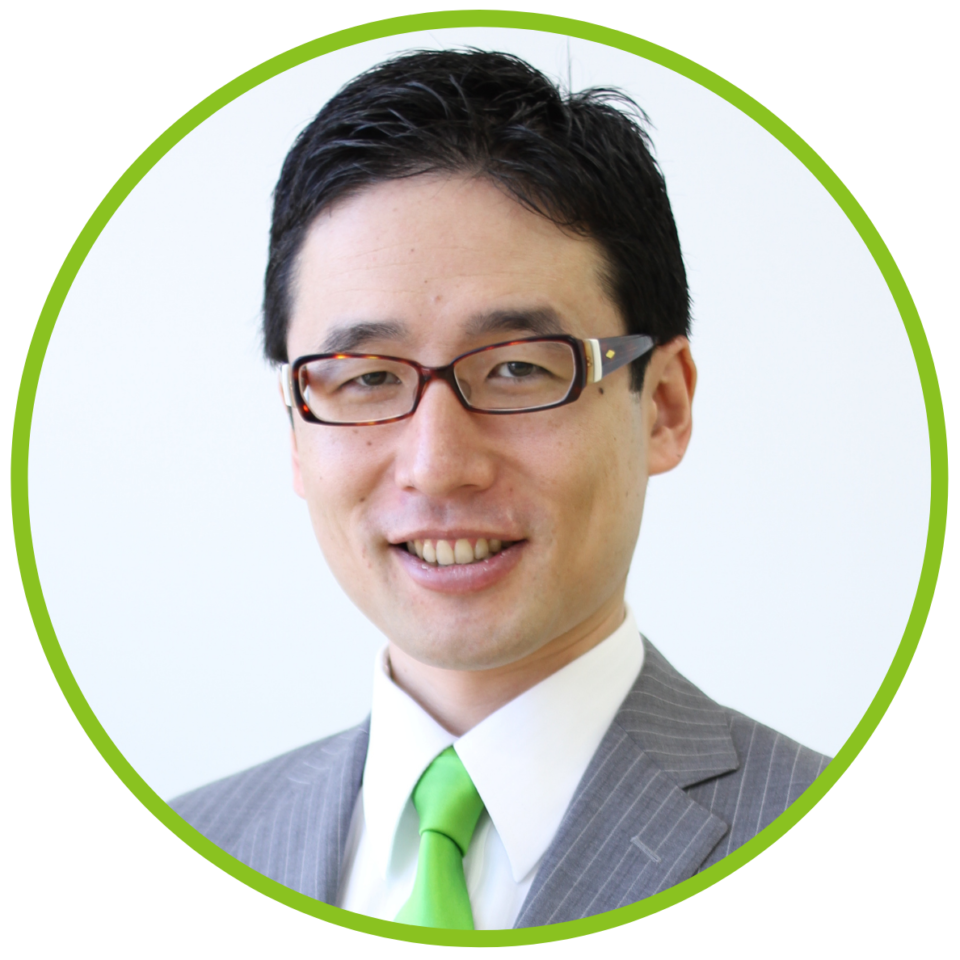 Mr. Mitsuru Izumo
President & CEO
Euglena Co., Ltd.
After graduating from the Faculty of Agriculture of the University of Tokyo, Izumo joined the Bank of Tokyo-Mitsubishi Ltd. in 2002. Leaving the bank, he devoted himself, with Kengo Suzuki, a co-founder of the company, in cultivating microalgae "euglena" for commercial production in Ishigaki Island, Okinawa. In 2005, Izumo succeeded in outdoor mass cultivation of "euglena" after years of Research & Development efforts and founded Euglena Co., Ltd. to start healthcare business. He successfully and rapidly grew its business and the company was listed at the First Section of the Tokyo Stock Exchange in 2014. He won "World Economic Forum (Davos Conference) Young Global Leaders", as well as "the First Japan Venture award, Prime Minister's Award" in 2015. In 2020, he became the youngest person to be appointed as vice-chair of the Japan Economic Association Federation("Keidanren"), Deliberation Committee, an organization composed of major Japanese companies. In 2021, the company was awarded "SDGs Promotion Headquarters (Prime Minister) Award" at the 5th Japan SDGs Awards in recognition of its excellent efforts and contribution to the SDGs goals. In 1998 when Izumo was a university student, he participated in an internship program at Grameen Bank in Bangladesh and met Professor Muhammad Yunus. This experience motivated him to tackle worldwide malnutrition problems for human beings, especially children in poverty, and ultimately lead him to found the micro algae food company in 2005. Following successful business growth, the company launched "Euglena GENKI program" in 2014 where the company started distribution of "euglena" biscuits to school children in Bangladesh.Izumo is married and they have 2 children. He enjoys Japanese traditional culture, watching Kabuki play and having tea ceremony during his pastime.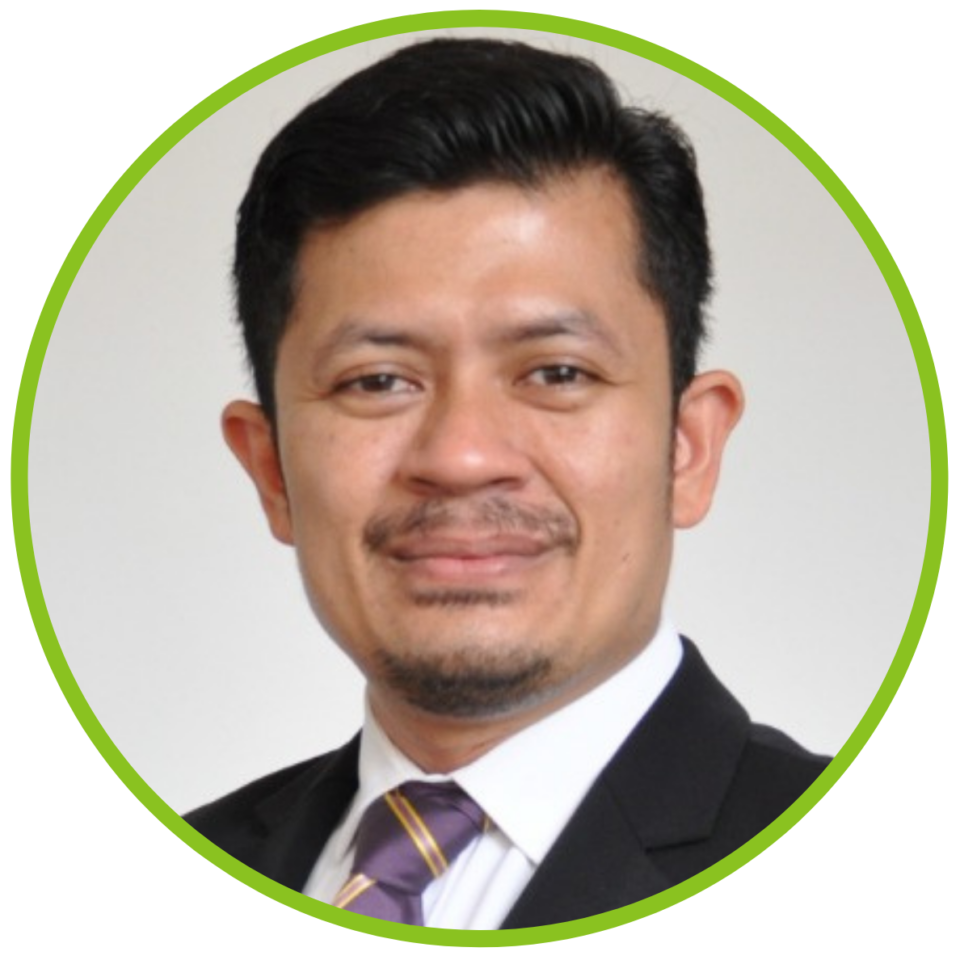 Dr. Muaz Mohd Zaini Makhtar
Deputy Director
Centre for Innovation & Consultation
Universiti Sains Malaysia
Dr. Muaz bin Mohd Zaini Makhtar is a senior lecturer in Bioprocess Technology Division at School of Industrial Technology, Universiti Sains Malaysia (USM). Currently he is a Deputy Director of USM Center of Innovation and Consultation (CIC) . He is also a Head of Sustainable Development Goals #15: Life on Land under Centre for Global Sustainability Studies (CGSS) in USM. Dr. Muaz's core research interest are in bioprocess technology and bioconversion of waste, focusing on biological treatment technologies, microbial fuel cell (MFC) for waste treatment and recovery of energy, electricity. His enthusiasm and dedication towards his research works have been reflected in his achievements in winning numerous scientific invention awards in international exhibition; Gold Medal in International Conference and Exposition on Inventions by Institutions of Higher Learning 2019 (PECIPTA'19 & PECIPTA2022) and Gold Medal in Malaysia Technology Exhibition (MTE2020 & MTE2021) which both invention awards were MFC based projects. His active participation in scientific research has also been exhibited by being the recipient of multiple research grants in various disciplines sponsored by the government of Malaysia.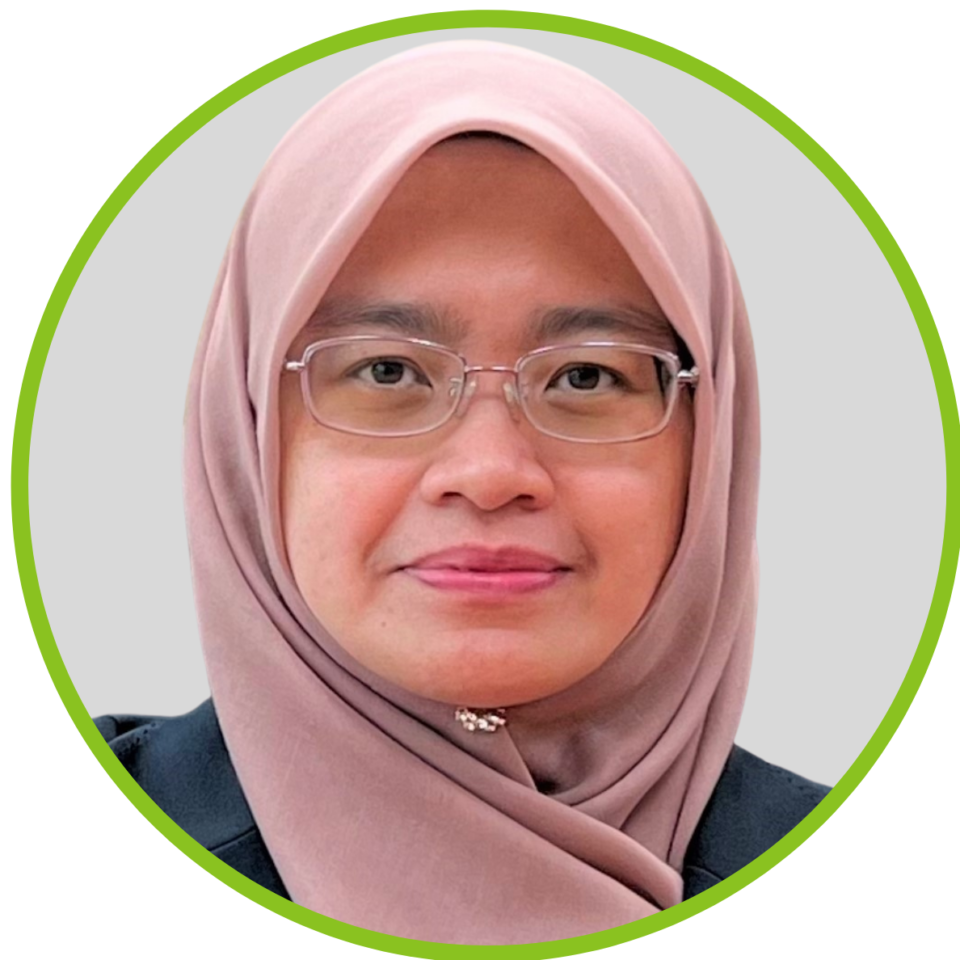 Prof. Ts. Dr. Hidayah Ariffin
Deputy Dean
(Industry and Community Relations) and
Head of Biorefinery Complex,
Faculty of Biotechnology and Biomolecular Sciences
Universiti Putra Malaysia
Prof. Ts. Dr Hidayah Ariffin is a Professor, Deputy Dean (Community and Industrial Relations) and Head of Biorefinery Complex at the Faculty of Biotechnology and Biomolecular Sciences, UPM. She is also the Director of ZoepNano Sdn. Bhd., a startup company pioneering the nanocellulose commercialization in Malaysia. She graduated from Kyushu Institute of Technology, Japan in 2009 and obtained a PhD degree in Environmental Engineering. Her expertise is in Bioprocess Engineering, focusing on biopolymers and utilization of lignocellulosic biomass. Prof. Hidayah has invented multiple research products with 8 IP protection, of which 2 of the IPs have been commercialized to industry. She was recognized as one of the Top Research Scientists Malaysia (TRSM) 2022.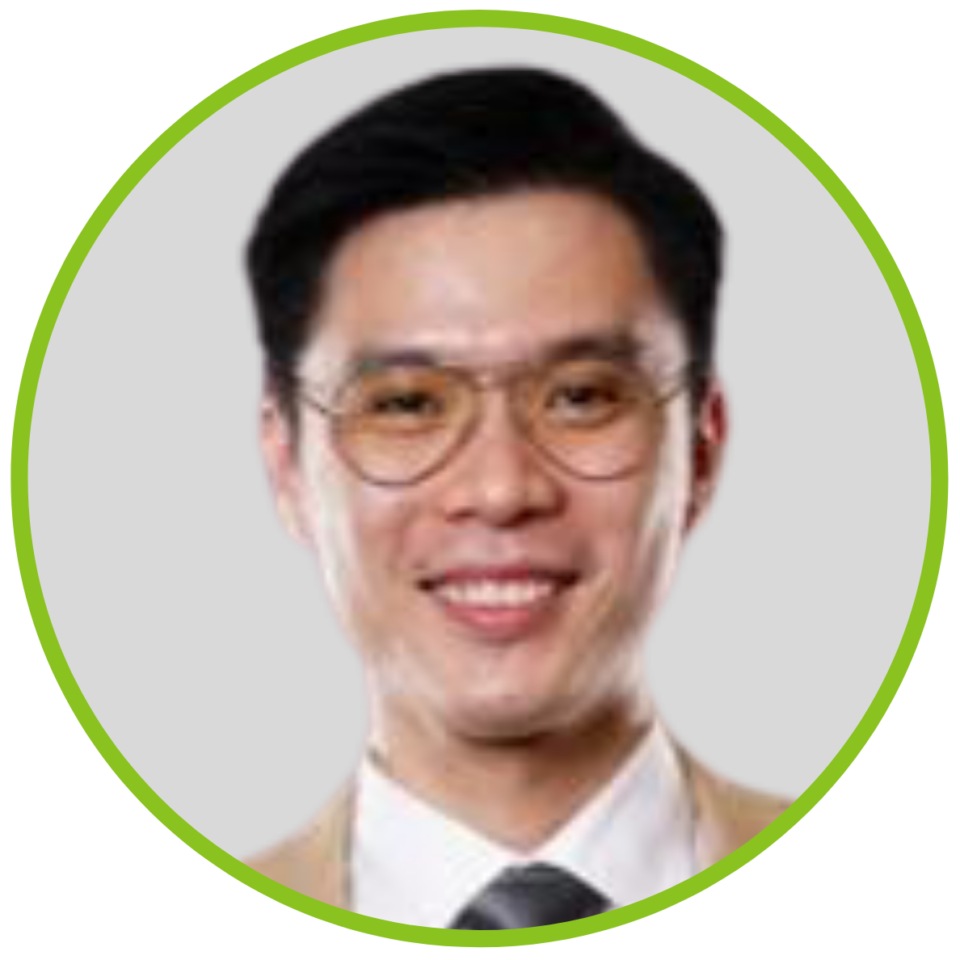 Mr. Chor Chee Hoe
C0-Founder & CEO
Qarbotech
Chee Hoe has just completed his MBA in the Asia School of Business, a collaboration between MIT Sloan and Bank Negara Malaysia. He is professionally trained as a licensed aircraft maintenance engineer and holds Aircraft Maintenance Engineer licenses from European Aviation Safety Agency and Civil Aviation Authority Malaysia. Prior to his MBA studies, Chee Hoe was in Firefly Airlines, simultaneously helming three roles due to his leadership skills; Head of Maintenance Support, Commercial Officer of MRO (Maintenance, Repair, and Overhaul), and Technical Trainer. He expanded the MRO business to Indonesia, Bangladesh, and South Korea. He has also provided technical consultation services to a few airlines and helped a regional airline in South Korea set up its supply chain management system.
Chee Hoe is passionate about environmental care and sustainability. Growing up as an asthmatic kid, he values clean air. He was always looking for an opportunity to innovate; and be part of the solutions to bring cleaner air and healthier environment to humankind. The technology of Qarbotech can help plants to remove more carbon dioxide from the air and generate more oxygen for us to breathe
---
The Hyper Interdisciplinary Conference (HIC) is an initiative of the Leave a Nest Group to bring together experts across disciplines and walks of life, with the aspiration that a good level of diversity is the key to successful innovation. This 2023 edition of HIC in Malaysia will highlight the theme of
"Unlocking Frontier Agricultural Technology towards Food Security and Sustainability"
Conference Details and Timeline
Date: 18th February 2023

Time: 09:00~17:30 (Malaysia Time)

Venue: HIVE 5 (Enterprise 4), MRANTI Park, Kuala Lumpur
TIMELINE
ACTIVITY
CONTENT

09:00 – 10:00

Registration 

10:00 – 10:15

Opening ceremony

Welcoming Remarks by Dr. Suzianti Iskandar Vijaya, Project Leader of Hyper Interdisciplinary Conference in Malaysia 2023

Partner Remarks by ROHTO Pharmaceuticals Co., Ltd. 

10:15 – 10:30

Keynote Address
Mr. Roshidi bin Mat Moor
Undersecretary, Agricultural Modernization Division
Ministry of Agriculture & Food Security (MAFS)

10:30 – 11:10

Keynote Session 

[Panel Session]

Topic: Food Security: Feeding the Future Malaysia.

11:10 – 11:25

Refreshment/Break

11:25 – 12:15

Research Splash

12:15 – 13:15

Poster Session

13:15 – 14:15

Lunch Break

14:15 – 15:05

Session 1

[Panel Discussion] 

Topic: Mechanisation and Automation in Modern Farming.

15:05 – 15:55
Startup Tech Splash

Topic: Breakthrough of Agri-biotechnology in Malaysia.

15:55 – 16:05

Refreshment/Break

16:05 – 17:00

Session 2

[Panel Discussion] 

Topic: Cultivating Sustainable Energy from Bioresources.

17:00 – 17:30

Closing Ceremony

Poster Awards Winner Announcement  

Closing Remarks by Mr. Abdul Hakim Sahidi, Managing Director Leave a Nest Malaysia
Registration
For those who are interested to join the conference, click the link below to register. Please note that this requires a Leave a Nest ID account, so please make sure to sign up first before proceeding.
You can also register by scanning this QR code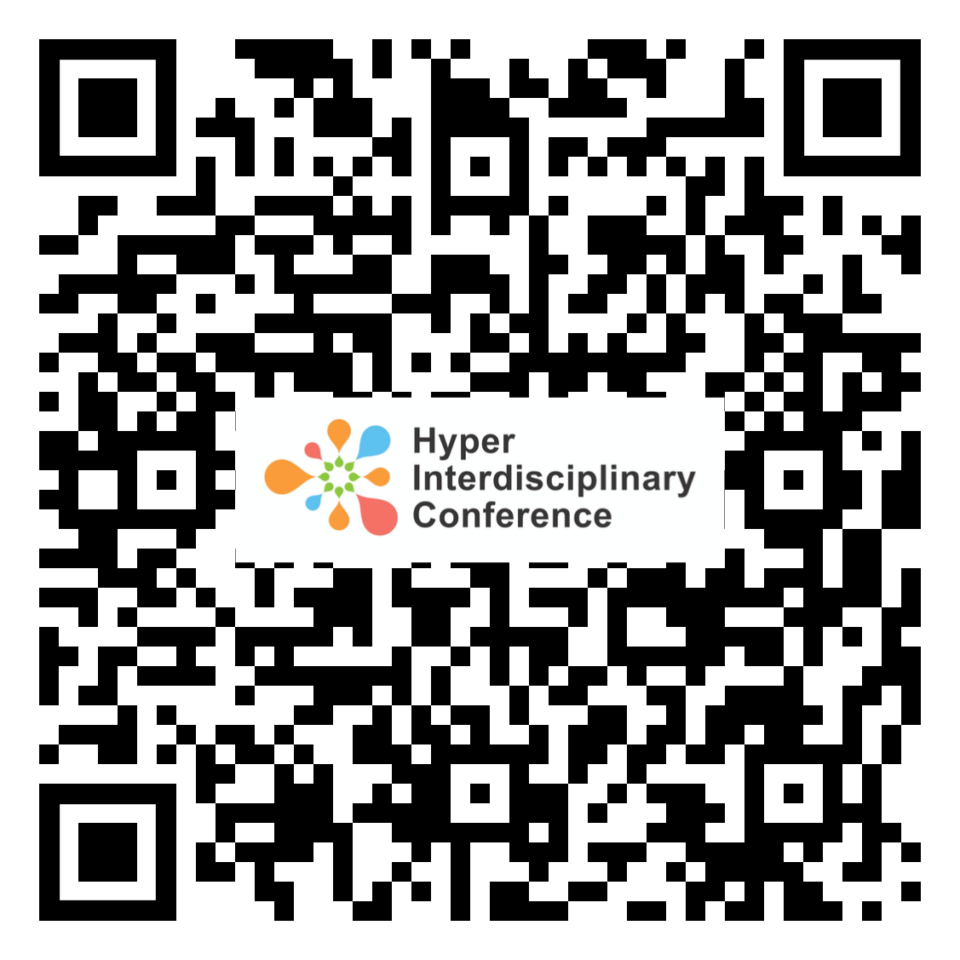 Please take note that the conference is free for all students, faculty, and staff affiliated with academic institutions. For those affiliated with corporate or industry entities, please do not hesitate to email us.
To know more updates about the conference and panelists, watch out for future announcements on the website.
For more details, kindly visit our Official HIC website
For inquiries, drop us an email at [email protected]