EMBARKING ON INTERNATIONAL RESEARCH, INNOVATION AND COMMERCIALIZATION PLATFORM: MEMORANDUM OF UNDERSTANDING (MOU) BETWEEN LEAVE A NEST MALAYSIA SDN. BHD. AND UNIVERSITI PUTRA MALAYSIA (UPM)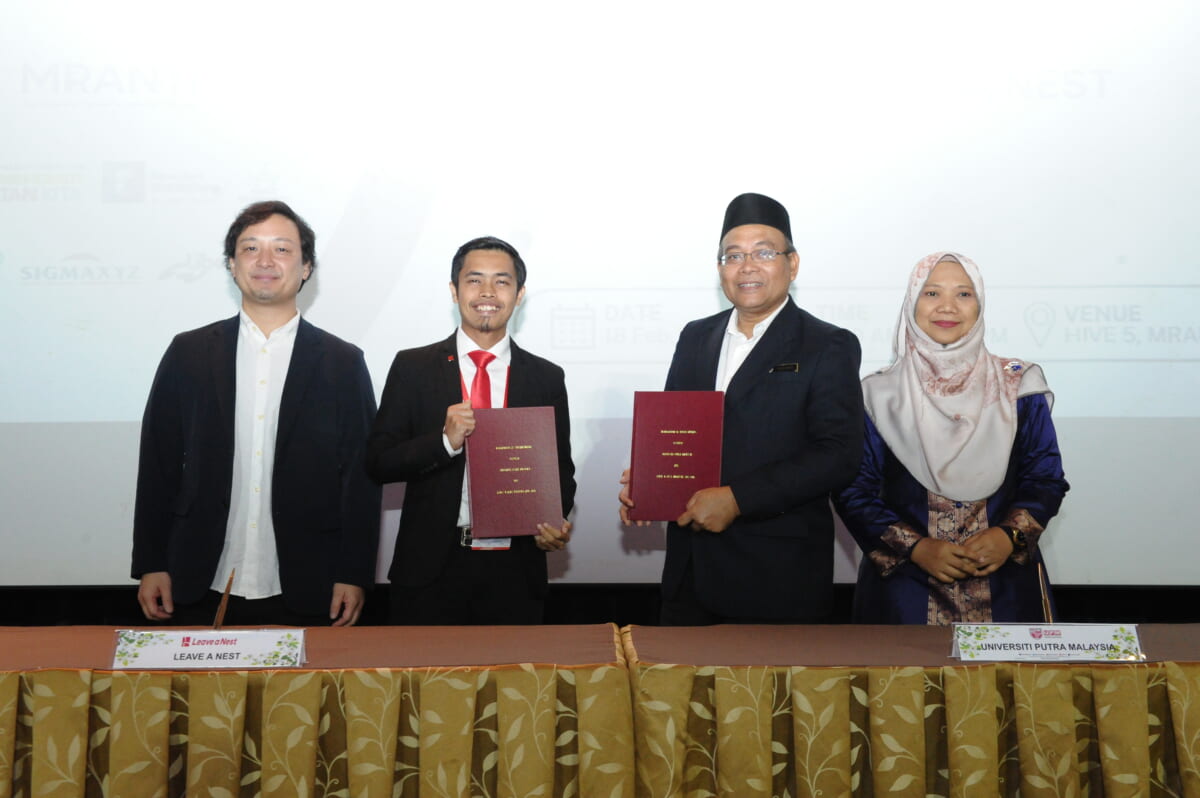 On 18th February 2023, Leave a Nest Malaysia Sdn. Bhd. (LVNSMY), the Malaysian subsidiary of the leading science bridge communication company originated in Japan, Leave a Nest Co., Ltd. (LVNS), has formed a Memorandum of Understanding (MoU) with Universiti Putra Malaysia (UPM). The MoU was signed by Mr. Abdul Hakim Sahidi (Managing Director, Leave a Nest Malaysia Sdn. Bhd.) and Prof. Dr. Nazamid Saari (Deputy Vice Chancellor Research and Innovation, UPM) representing Dato' Prof. Dr. Mohd. Roslan Sulaiman (Vice Chancellor, UPM). The signing was witnessed by Dr. Yukihiro Maru (Representative Director and Group CEO of Leave a Nest Co., Ltd.) and Prof. Dr. Khalina Abdan (Director, Institute Of Tropical Forestry And Forest Products, UPM). The objective of the MoU is to foster cross-border research collaborations, innovation and commercialisation, especially in agriculture. The MoU signing ceremony also was held in conjunction with the fifth Hyper Interdisciplinary Conference in Malaysia 2023, organised by Leave a Nest Malaysia, with UPM as one of the Strategic Partners.
Under this MoU framework, part of the understanding is including joint research collaboration in agriculture innovation and commercialisation as well as research opportunities for UPM students at LVNSMY or its affiliates. Prof. Dr. Nazamid Saari provides a remark on this MoU saying that "UPM hopes that this MoU will encourage and promote cooperation in various aspects, and we foresee the collaboration between UPM and Leave A Nest Malaysia Sdn. Bhd. through this MoU as a good start to catalyse the UPM to be a competitive and world-renowned university." Meanwhile, Mr. Abdul Hakim Sahidi also left a remark, "LVNS had been established 20 years ago in Japan with the vision advancing science and technology for global happiness. Now, LVNSMY is celebrating its 10th year anniversary, and we are determined to make Malaysia the focal point of knowledge manufacturing". Hence, the collaboration with universities in Malaysia is important in this direction.
A multi-disciplinary university with a distinguished 91-year history, UPM is globally recognised for its excellent educational and academic disciplines and programmes that have contributed immensely to knowledge and skilled human capital development since 1931. Now, UPM is ranked in the top 3 universities in Malaysia according to QS World University Rankings. UPM is the nation's most comprehensive and outstanding research university, attracting scientists, researchers, and scholars from around the world with . Over the decades, the university has achieved global recognition for its ground-breaking research outcomes in various scientific fields: a true reflection of the vitality, creativity, and commitment of our world-class researchers.
LVNS was founded by 15 graduate students in the field of science and engineering in 2002 and continues to this day, and its Malaysian subsidiary, LVNSMY, was established in 2013. LVNS operates by identifying issues and gathering the knowledge of researchers from around the world generating new value or knowledge to solve the issues. This is known as the "Knowledge Manufacturing Process." To date, more than 2000 teams of research groups and startups from Japan and 1129 from South East Asia are within the LVNS ecosystem. They work on deep technology that could address deep issues and work together with other teams or corporations through collaborations. With the support from UPM in the LVNS ecosystem, this will spur more hyper interdisciplinary research and innovation through cross-border collaborations. LVNS could share the knowledge in nurturing graduates to have technopreneurship skills and passion, contributing back to the society by solving the deep issues.
With this MoU, LVNSMY is expected to offer the experiences and knowledge in science bridge communication through unique programs and platforms with UPM as centre. Furthermore, the collaboration of LVNSMY with UPM will provide a support ecosystem in terms of development and commercialization for researchers and startups to grow in Malaysia. Ultimately, an immense number of technologies or knowledge in research and innovation will be generated that could benefit the society and the nation.
Kindly drop an e-mail to [email protected] for more information on this MoU and Leave a Nest.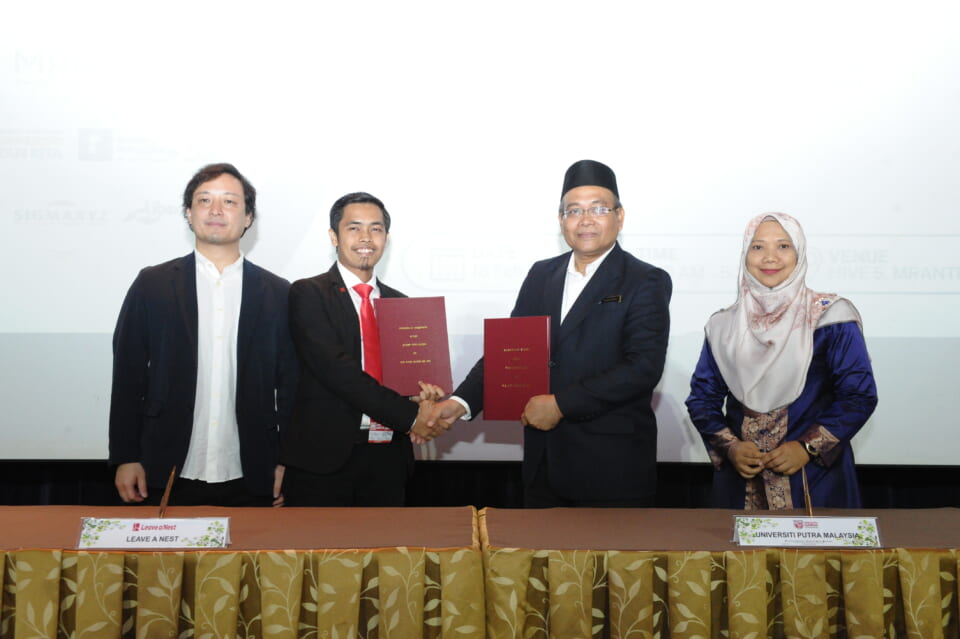 MoU document exchange between UPM and Leave a Nest Malaysia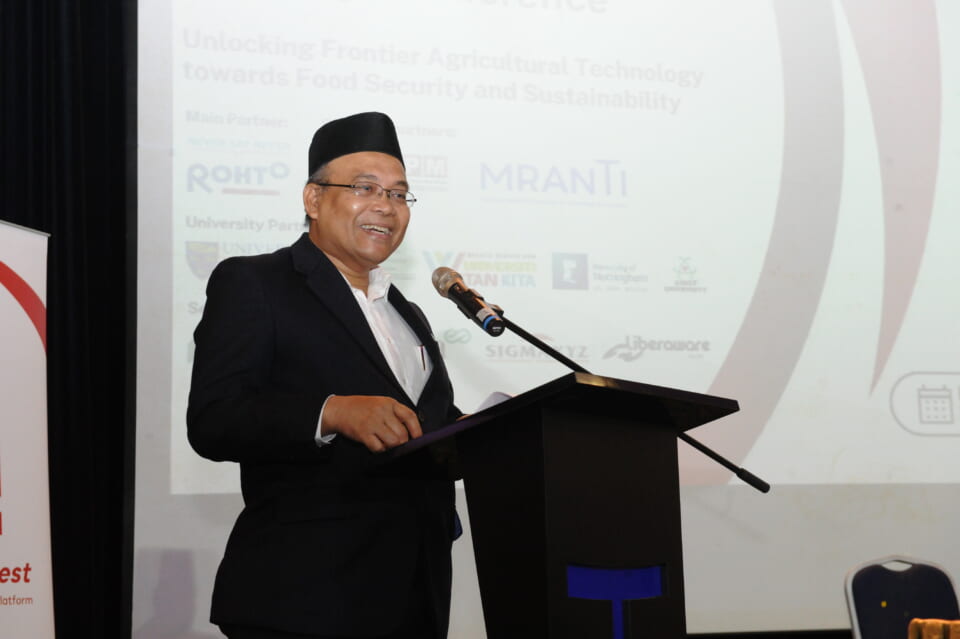 Prof. Dr. Nazamid Saari delivering his welcoming remarks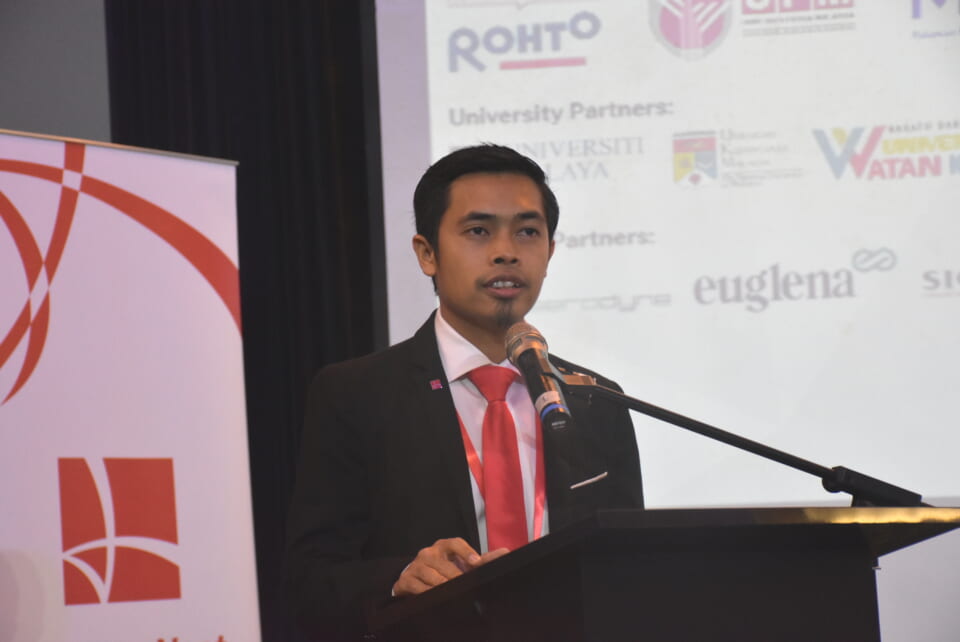 Mr. Abdul Hakim Sahidi shared his thoughts on the MoU signing milestone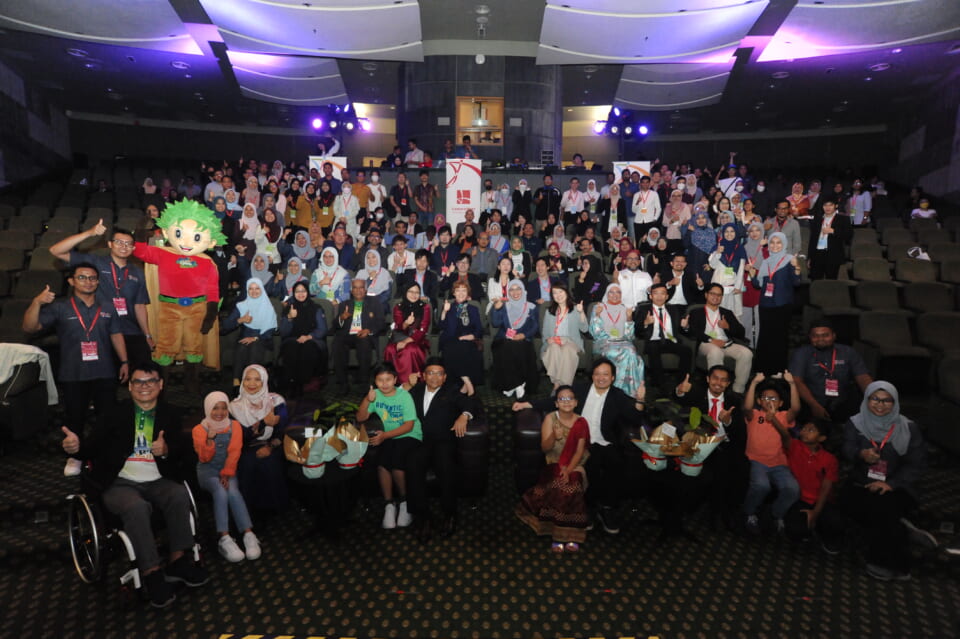 Delegates from Leave a Nest and UPM with the Hyper Interdisciplinary Conference in Malaysia 2023 participants