Leave a Nest and Cyberview Collaborate to Empower "Knowledge Economy In Cyberjaya", Boosting Deep Tech Innovation in Malaysia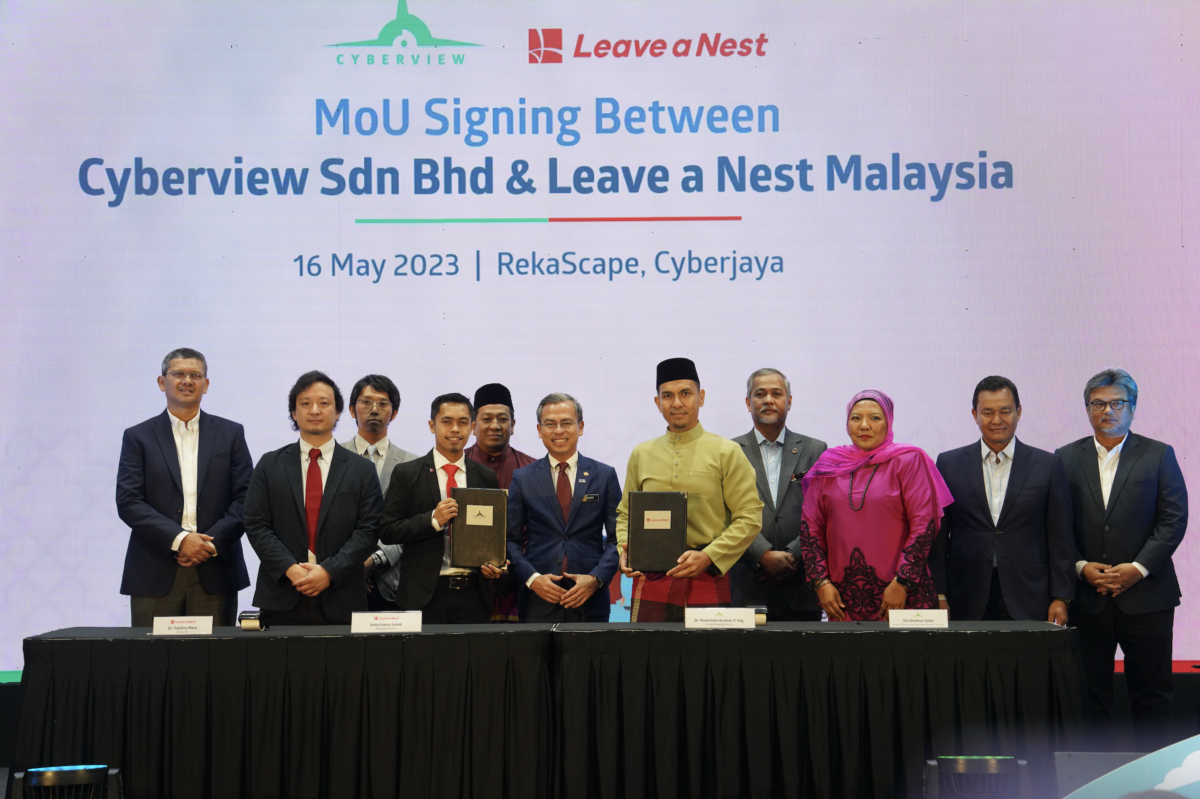 [Cyberjaya, 16th May] – Leave a Nest Malaysia,  and Cyberview, the tech hub developer of Cyberjaya, have inked a Memorandum of Understanding to empower the "Knowledge Economy" in Cyberjaya, Malaysia. This strategic collaboration aims to transition from a traditional manufacturing-based economy to one that relies on knowledge, innovation, and intellectual capital. Cyberview, known for its role in developing Cyberjaya into a thriving tech hub, brings valuable resources and a conducive environment for technological advancements.
Through the collaboration, Leave a Nest and Cyberview aspire to foster a vibrant ecosystem that promotes knowledge exchanges, drives innovation, job creation, and economic growth. By leveraging the combined strengths and resources of both organisations, they aim to position Malaysia as a regional hub for technological advancement.
One of the initiatives includes the establishment of Center of Garage Malaysia (COGMY) located in Cyberjaya which will offer various signature initiatives to propel the growth of Deep Tech startups. This knowledge-based tech development initiative will provide essential resources, mentorship, funding, and networking opportunities to emerging ventures, enabling them to thrive in the competitive landscape.
Dr. Yukihiro Maru, Group Chief Executive Officer, Leave a Nest Group commented, "Since 2015, Leave a Nest is building a Deep Tech ecosystem in Malaysia with the great support and collaboration from government, local corporations, universities and the ecosystem players. Cyberview is one of the agencies that's always supporting our initiatives. Through this MOU signing, we hope to strengthen the collaboration with Cyberview to make Cyberjaya as the hub of Innovation not only for Malaysian startups but also to bring more global startups within the Leave a Nest networks to be based here in Cyberjaya and accelerate their regional expansion from Malaysia."
Commenting on the partnership, Dr. Mohd Hafiz bin Ibrahim, Acting Managing Director of Cyberview said, "Our collaboration with Leave a Nest Malaysia will reinforce the culture of innovation that we are fostering in the city. This partnership will not only benefit the startup community but will also contribute to the growth and development of the entire technology and innovation ecosystem. Guided by the Cyberjaya master plan, we are committed to further enhancing the city's infrastructure to meet the growing demands of hyperscale data centre players and the wider tech sector."
About Leave a Nest Malaysia
Leave a Nest Malaysia ("LVNSMY") is a subsidiary of Leave a Nest Co., Ltd. Leave a Nest Group was founded by 15 graduate students in the field of science and engineering in 2001 with a vision to Advancing Science and Technology for Global Happiness. It is the world's first company to offer Knowledge Manufacturing Process Technology as a Services. Their activities include promoting Science education, Talent development, Research development and Frontier Development which focus on building an ecosystem for Deep Technology development and implementation to solve Issues in the society.
About Cyberview Sdn Bhd
Cyberview has been at the forefront of Malaysia's development as a technological hub since its inception in 1996. Starting out as the landowner of Cyberjaya, it has grown from strength to strength, until maturing into its current role as the tech hub developer of Cyberjaya. For more information, please visit http://www.cyberview.com.my.