TECH PLAN Demo Day in Indonesia 2023 is Taking Place This Saturday!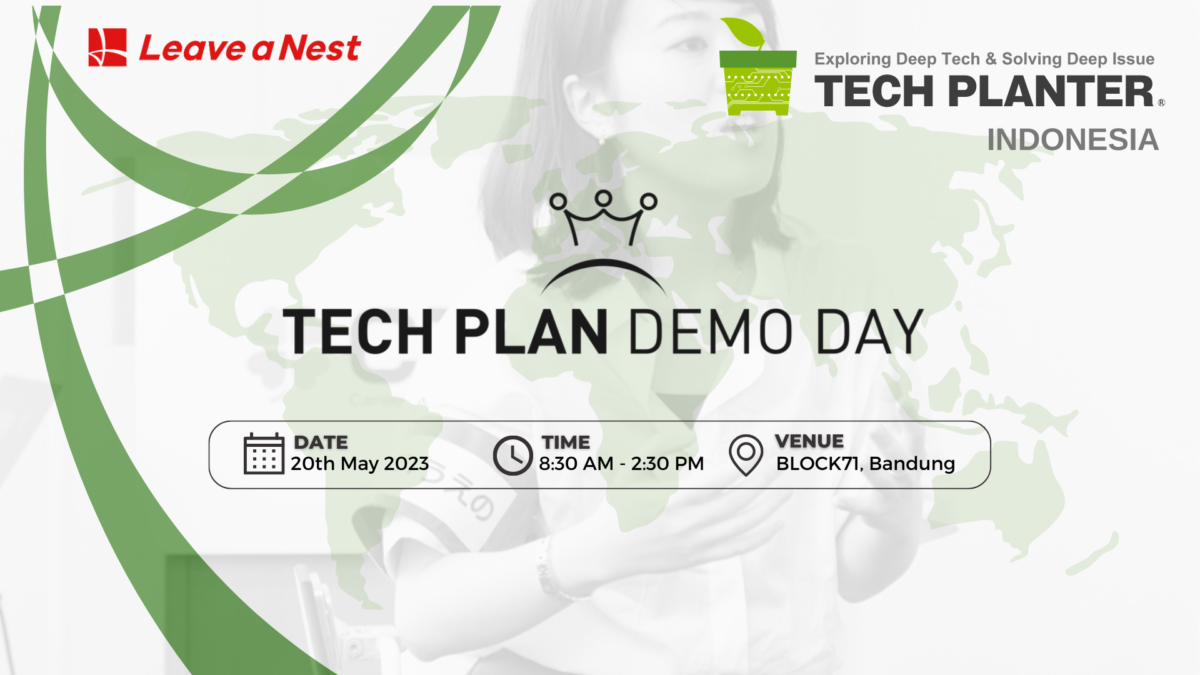 We are delighted to announce that TECH PLAN DEMO DAY 2023 will be held in Indonesia this Saturday! Get ready to immerse yourself in a day filled with groundbreaking technology and innovative ideas.
Date: 20th May 2023 (Saturday)
Time: 09:30 – 14:30 (WIB, Indonesia local time)
Venue: BLOCK71 Bandung,  Innovation Factory, Jl. Ir. H. Juanda No.108, Lebakgede, Kecamatan Coblong, Kota Bandung, Jawa Barat 40132
Time (WIB)
Content
Detail

9:00 – 9:30

Registration

9:30 – 10:00

Opening Ceremony
Opening Remarks

Ms. Aisyah Abdul Hamid

Project Leader 

TECH PLANTER in Indonesia 2023

Keynote Speech

Mr. M. Firdaus Akmal

Chief Technology Officer

Nasho.id

Introduction of Judges and Criteria

10:00 – 10:50

Presentation Round 1
 Bioconversion Powerhouse

10:50 – 11:00

Break 10 Minutes

11:00 – 11:50

Presentation Round 2
Unleashing the Agricultural Revolution

11:50 – 12:00

Break 10 Minutes

12:00 – 12:50

Presentation Round 3
Cutting-Edge Technology

12:50 – 13:00

Break 10 Minutes

13:15 – 14:00

Judging time/Lightning Talk and Panel Discussion
4 Lightning Talk Presentations

14:00 – 14:30

Awards and Closing Ceremony
Mr. Nur Ahmad Zaim Hussin

Director

Leave a Nest Malaysia Sdn. Bhd.
A total of 9 finalists were selected to present their innovative business idea and solution to the panel of judges from multinational corporations, venture capitals, government agencies and startups supporters on this Demo Day.
Prepare to be inspired as these talented individuals and teams take the stage to present their visionary ideas and demonstrate how their solutions can make a significant impact in the tech industry. Each presentation will be a unique opportunity to witness the convergence of creativity, entrepreneurship, and cutting-edge technology.
Check out the 9 finalists here: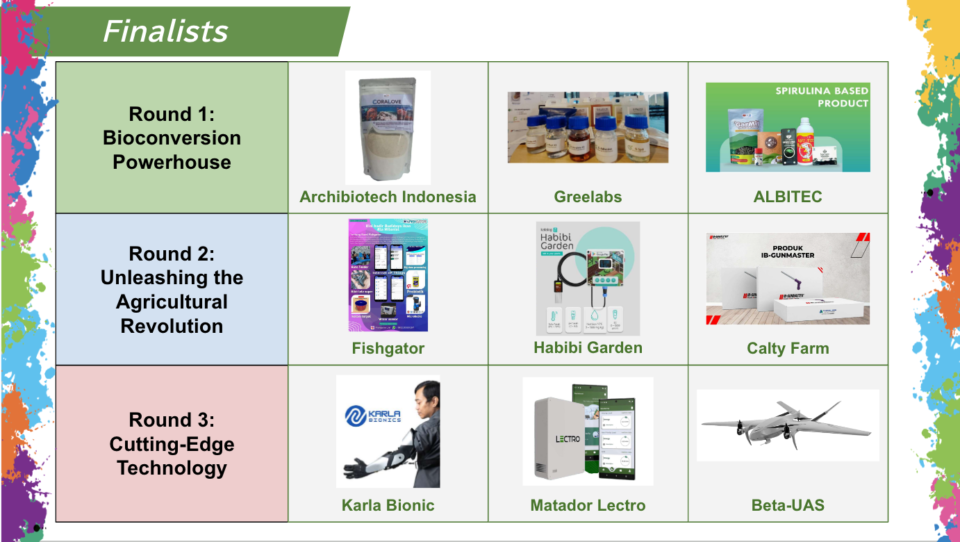 | | |
| --- | --- |
| Team Name | Theme |
| Archibiotech Indonesia | Coralove and Xero-Fertilizer |
| Greelabs | Bio-based chemicals to sustain environment |
| ALBITEC | Microalgae For Sustainable Future |
| Fishgator | Internet of Things (IoT) platform for the aquaculture industry based on a biofloc system that is integrated with a data management system. |
| Habibi Garden | The Future of Agriculture by Habibi Garden |
| Calty Farm | The IB-GunMaster: Artificial Insemination tool for Veterinarians and Paramedics |
| Karla Bionic | Raga Arm: Versatile Gripping Technology (VGT) prosthetic arms for Diffable person |
| Matador Lectro | Advancements in Renewable Energy: Integrating DSSC and Smart Powerwall with IoT Technology. |
| Beta UAS | VTOL Drone Manufacture |
Which team do you think will be crowned as the Grand Winner in TECH PLAN DEMO DAY in INDONESIA 2023?
The finalists will be judged by representatives of government agencies, technology business incubators and companies from Indonesia and Japan. The esteemed panel of judges brings a wealth of experience and expertise to the evaluation process. Their insights and feedback will provide valuable guidance and support to the finalists, helping them refine their concepts and potentially secure investment opportunities.
Judges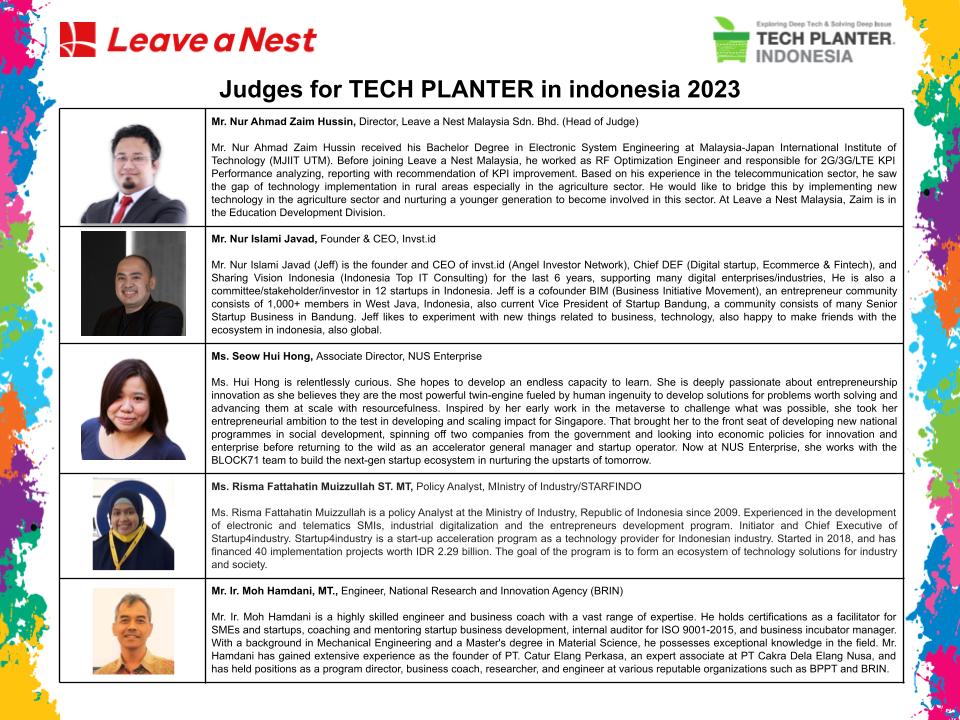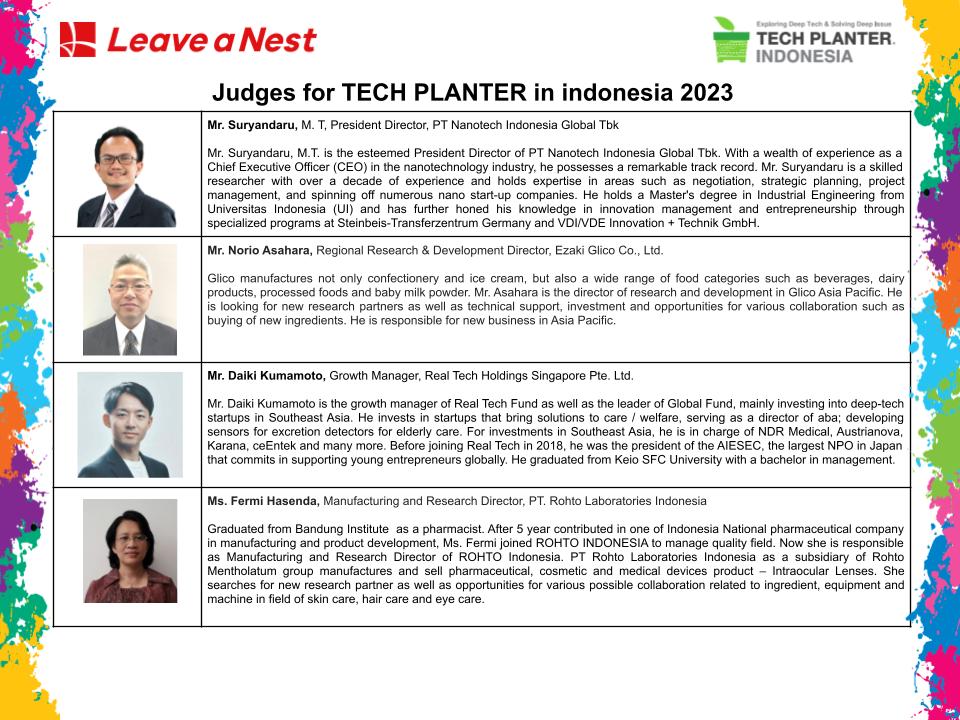 Lightning Talk 
In addition to the impressive group of finalists, we are thrilled to announce that we have handpicked 4 exceptional teams to deliver lightning talk pitches and showcase their projects at our event.
These lightning talk pitches will provide a unique opportunity for these teams to captivate you with their innovative ideas and initiatives. Prepare to be inspired as they share their groundbreaking projects and their vision for the future of technology.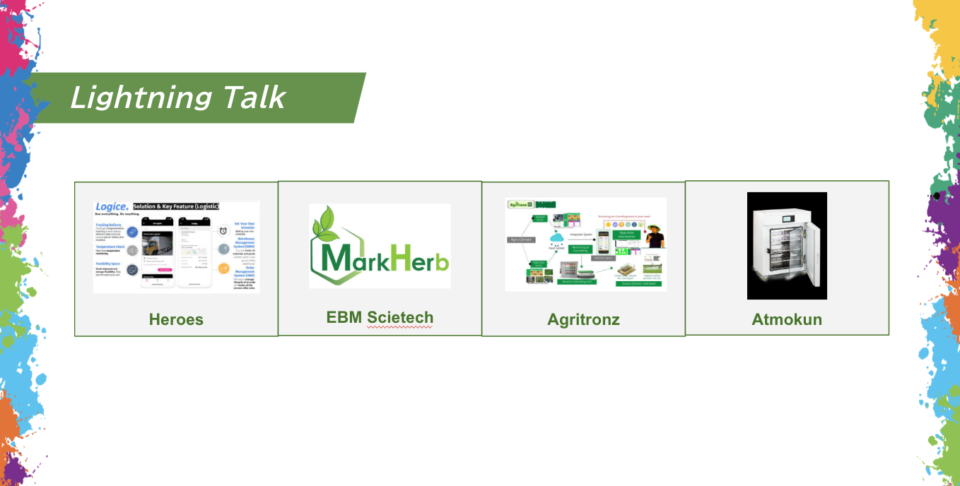 | | |
| --- | --- |
| Team Name | Theme |
| Heroes | Logice: Solving cold chain problem in Indonesia |
| EBM Scitech | Markherb: Medicinal Plants Marker for Standardization of Herbal Medicines. |
| AgriTronz | Internet of Things (IoT) platform for the Cultivation Management System based on Artificial Intelligence and data management system |
| Atmokun | DARPin for theranostics |
Don't miss the chance to witness these innovative minds in action as they compete for recognition and support. The presentations promise to be engaging, thought-provoking, and filled with potential.
Link to Tech Planter in Indonesia 2022: https://en.techplanter.com/indonesia/indonesia2023/ 
For any inquiries about TECH PLAN DEMO DAY in INDONESIA, please contact: Aisyah at [email protected]