TECH PLAN Demo Day in Malaysia 2023 is Taking Place This Saturday!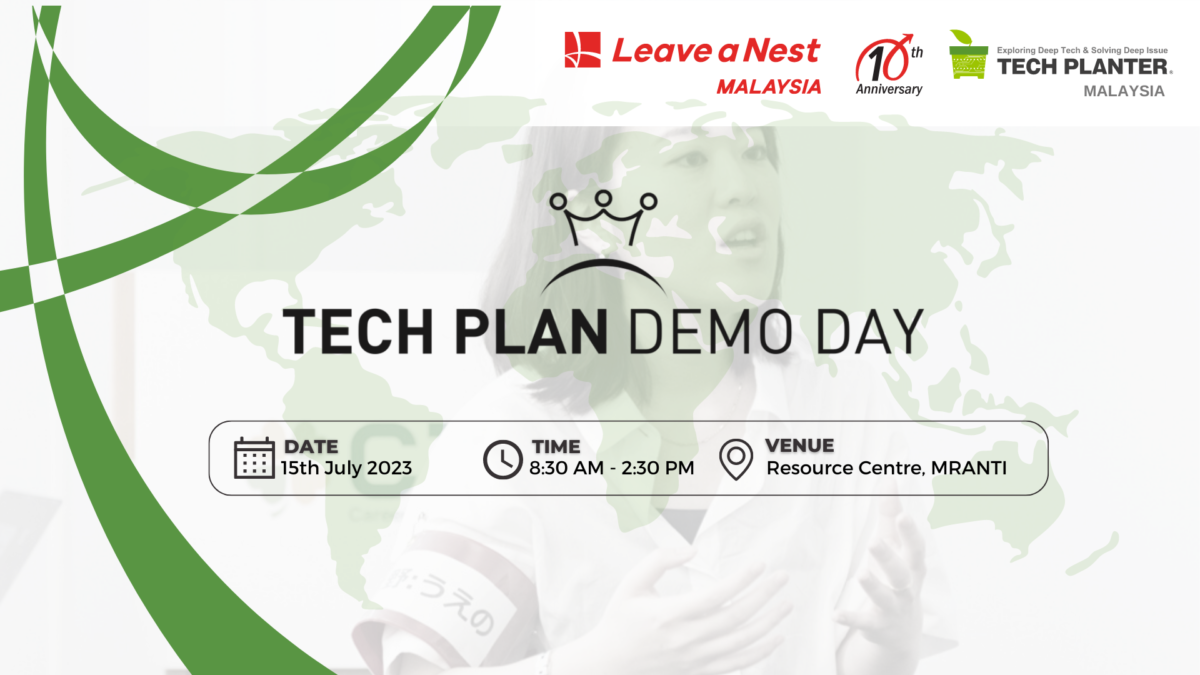 We are delighted to announce that TECH PLAN DEMO DAY 2023 will be held in Malaysia this Saturday! Get ready to immerse yourself in a day filled with groundbreaking technology and innovative ideas
Date: 15th July 2023 (Saturday)
Time: 09:30 – 14:30 (MYT, Malaysia local time)
Venue: MRANTI Resource Centre, Bulatan Inovasi, Taman Teknologi Malaysia, 43300 Kuala Lumpur, Wilayah Persekutuan Kuala Lumpur
Time (MYT)
Content
Detail

9:00 – 9:30

Registration

9:30 – 10:00

Opening Ceremony
Opening Remarks

Ms. Mahirah Basri

Project Leader 

TECH PLANTER in Malaysia 2023

Keynote Speech

Dr. Leo Choe Peng 

ThinKers

Introduction of Judges and Criteria

10:00 – 10:50

Presentation Round 1

10:50 – 11:00

Break 10 Minutes

11:00 – 11:50

Presentation Round 2

11:50 – 12:00

Break 10 Minutes

12:00 – 12:50

Presentation Round 3

12:50 – 13:00

Break 10 Minutes

13:15 – 14:00

Judging time/Lightning Talk and Panel Discussion

6 Lightning Talk Presentations

14:00 – 14:30

Awards and Closing Ceremony
Mr. Abdul Hakim Sahidi

Managing Director

Leave a Nest Malaysia Sdn. Bhd.
A total of 9 finalists were selected to present their innovative business idea and solution to the panel of judges from multinational corporations, venture capitals, government agencies and startup supporters on this Demo Day.
Prepare to be inspired as these talented individuals and teams take the stage to present their visionary ideas and demonstrate how their solutions can make a significant impact in the tech industry. Each presentation will be a unique opportunity to witness the convergence of creativity, entrepreneurship, and cutting-edge technology.
Check out the 9 finalists here: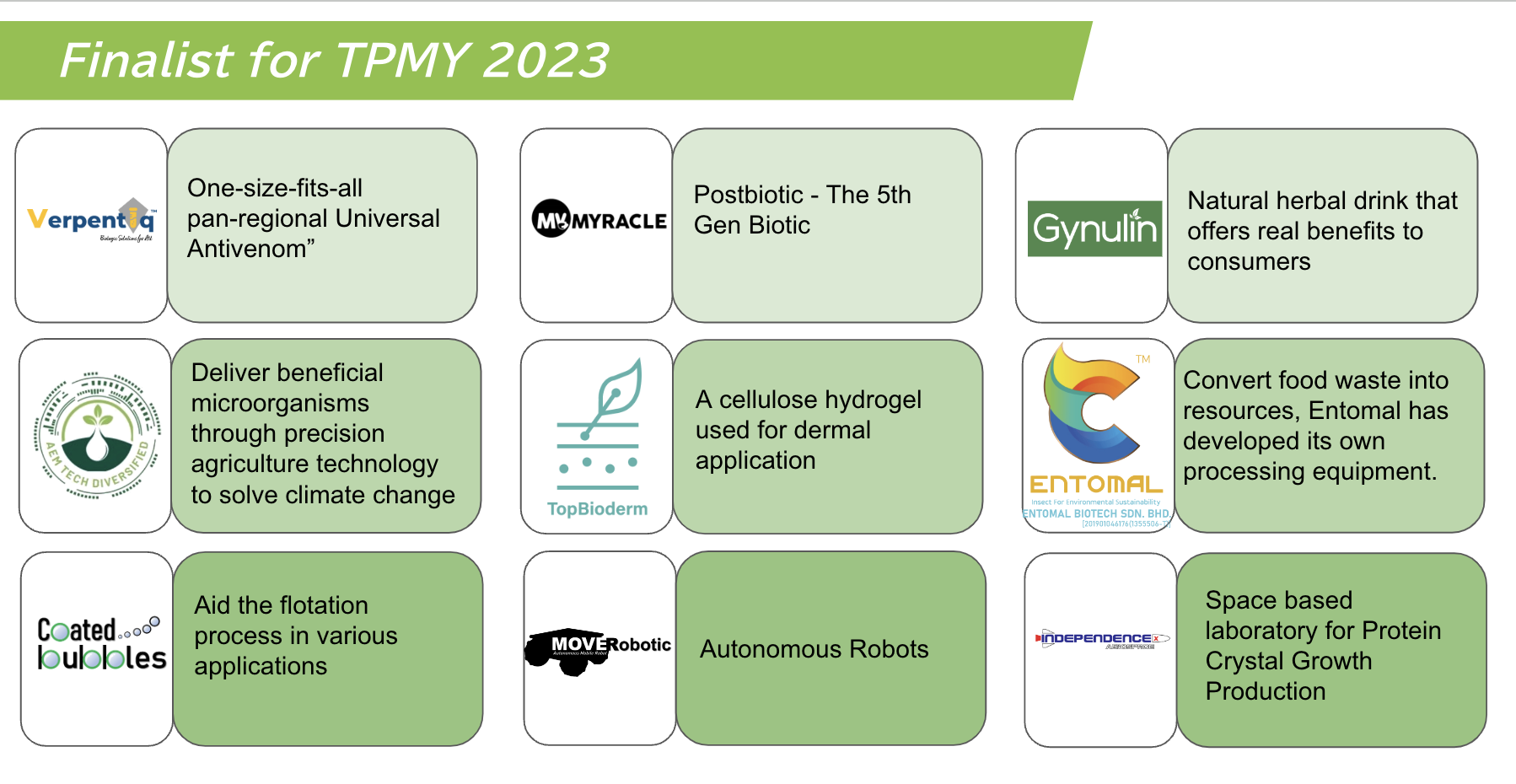 Which team do you think will be crowned as the Grand Winner in TECH PLAN DEMO DAY in Malaysia 2023?
The finalists will be judged by representatives of government agencies, technology business incubators and companies from Malaysia and Japan. The esteemed panel of judges brings a wealth of experience and expertise to the evaluation process. Their insights and feedback will provide valuable guidance and support to the finalists, helping them refine their concepts and potentially secure investment opportunities.
Judges
The judges for the TECH PLANTER in Malaysia 2023 Demo Day are as follows: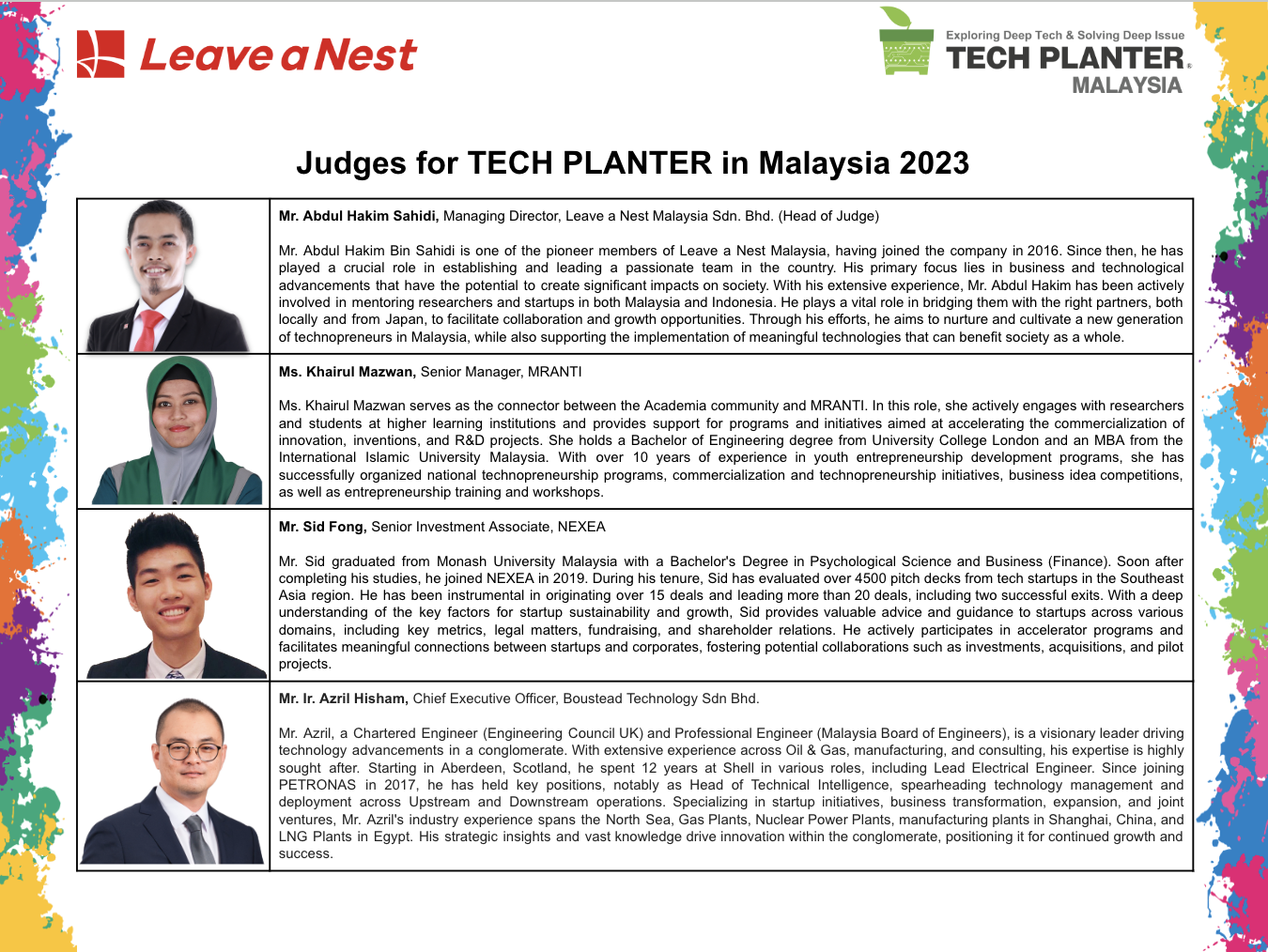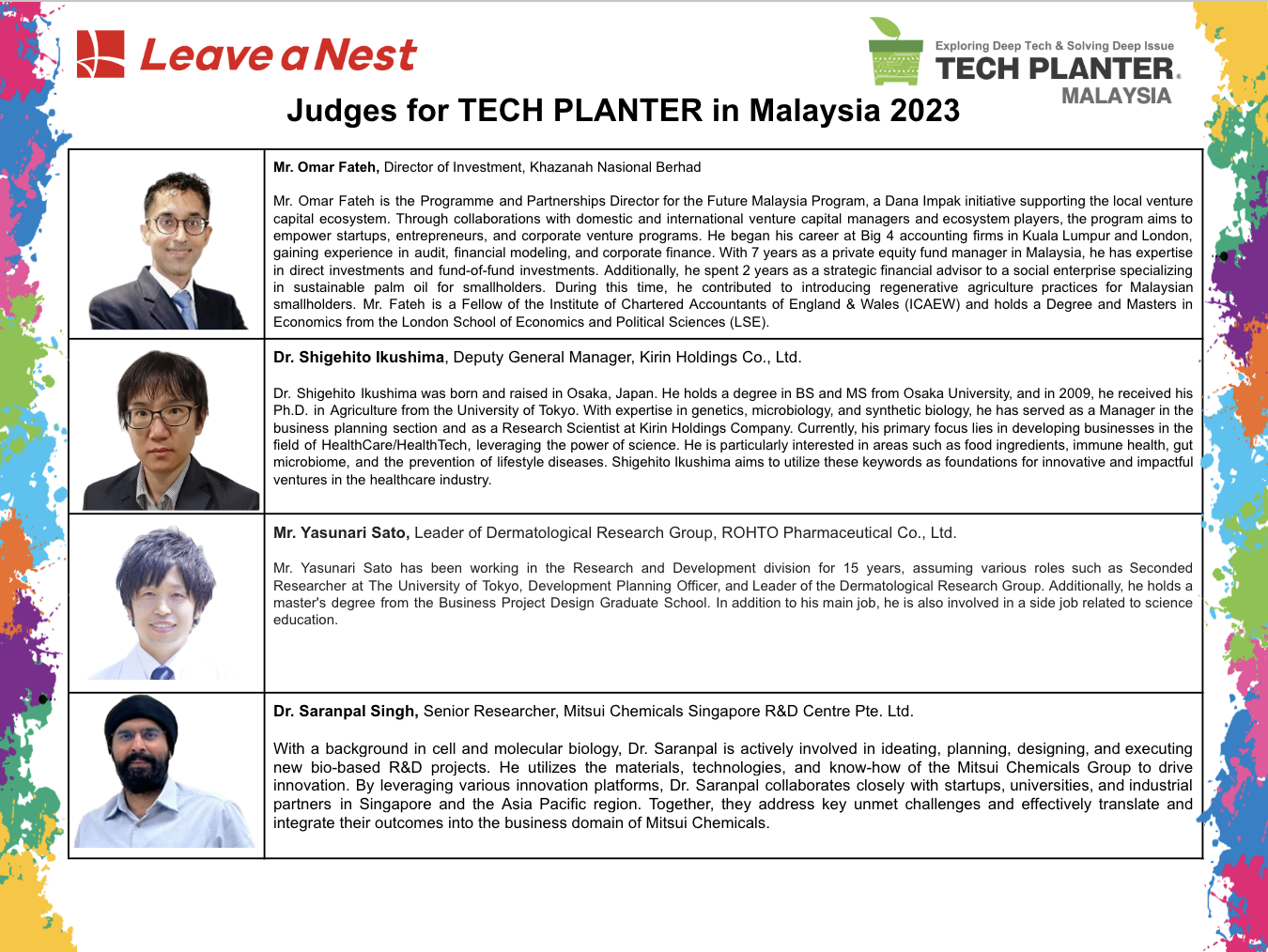 Lightning Talk 
In addition to the impressive group of finalists, we are thrilled to announce that we have handpicked 6 exceptional teams to deliver lightning talk pitches and showcase their projects at our event.
These lightning talk pitches will provide a unique opportunity for these teams to captivate you with their innovative ideas and initiatives. Prepare to be inspired as they share their groundbreaking projects and their vision for the future of technology.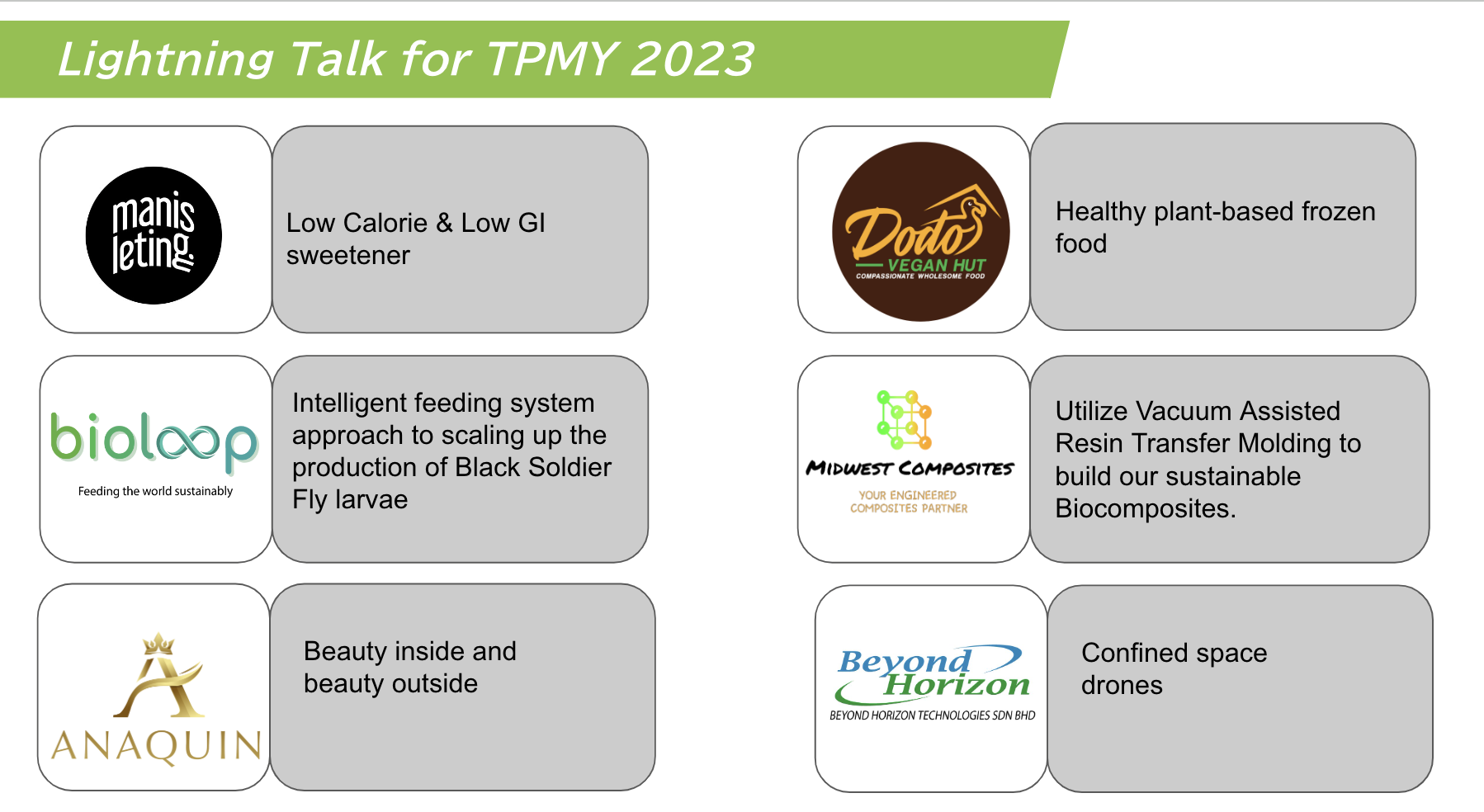 Don't miss the chance to witness these innovative minds in action as they compete for recognition and support. The presentations promise to be engaging, thought-provoking, and filled with potential.
Link to Tech Planter in Malaysia 2023: https://en.techplanter.com/malaysia/malaysia2023/
For any inquiries about TECH PLAN DEMO DAY in MALAYSIA, please contact: Mahirah at [email protected]