Entomal Triumphs as Grand Winner of TECH PLAN Demo Day in Malaysia 2023!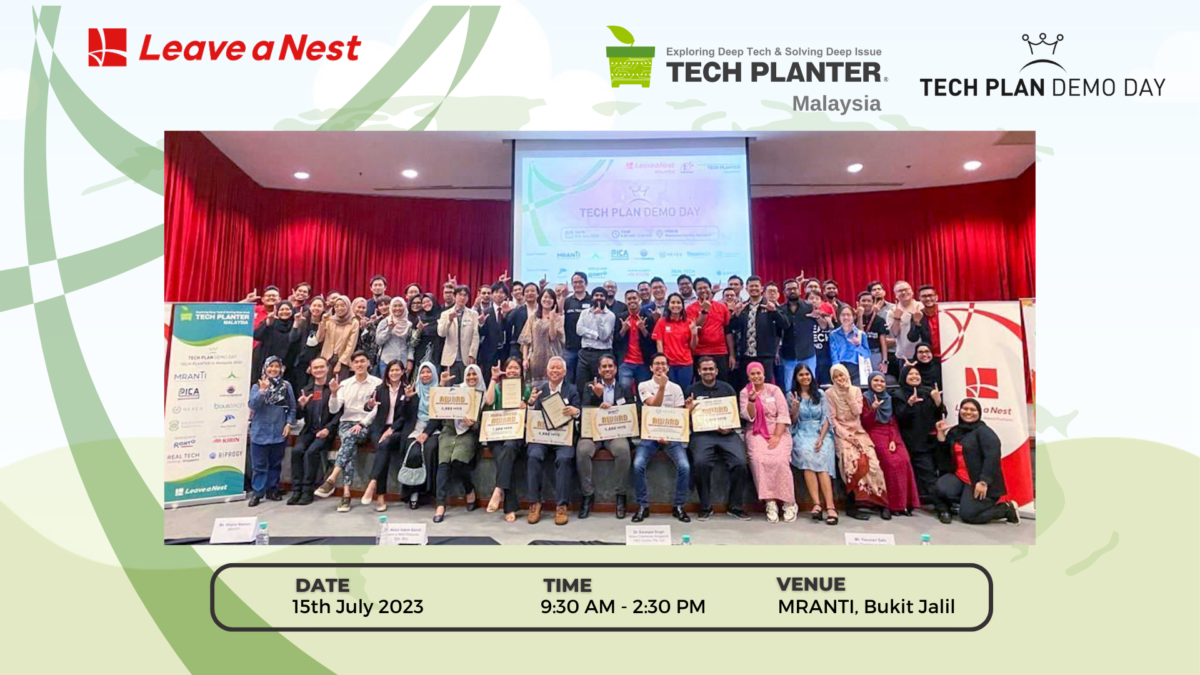 On July 15th, 2023, Leave a Nest successfully organized the prestigious TECH PLAN Demo Day in Malaysia 2023, held at Resource Centre, MRANTI Park.
The event showcased the brilliance and ingenuity of nine exceptional finalists meticulously selected from a pool of 50 highly promising applicants. These finalists represented a diverse range of cutting-edge technologies and groundbreaking solutions. Verpentiq PanBio, My Myracle, Gynunlin, AEM Tech, Top Bioderm, Entomal, Coated Bubbles, Moverobotic, and Independence-X captivated the audience with their remarkable visions and inventive concepts. Each finalist had the opportunity to present their core technologies, business models, and solutions to pressing issues before a distinguished panel of judges. The panel comprised esteemed representatives from Leave a Nest Malaysia, Malaysian Research Accelerator for Technology & Innovation (MRANTI), NEXEA, Boustead Technology Sdn. Bhd, Mitsui Chemical Singapore R&D Centre Pte. Ltd, Rohto Pharmaceutical Co. Ltd, Kirin Holdings Co. Ltd, and Real Tech Holdings Singapore Pte. Ltd. In addition to the nine finalists, the event also featured five lightning talk presentations from Manis Leting, Dodo Vegan Hut, Midwest Composite, Anaquin, and Beyond Horizon. These lightning talk teams were selected based on the voting by the partners of TECH PLANTER Malaysia 2023, igniting the spirit of innovation and entrepreneurship in the Malaysia tech ecosystem.
The event highlighted groundbreaking technologies and the collaborative spirit of the Malaysia deep tech community, with local judges demonstrating their tremendous support and commitment to supporting entrepreneurs. Among the most outstanding startups and researchers, Entomal emerged triumphant, capturing the prestigious Grand Winner award. Their technology utilizes the remarkable nutrient-recycling capacity of black soldier fly larvae to create a sustainable environment. The company's mission is to "transform waste into food and feed, while reducing our environmental impact.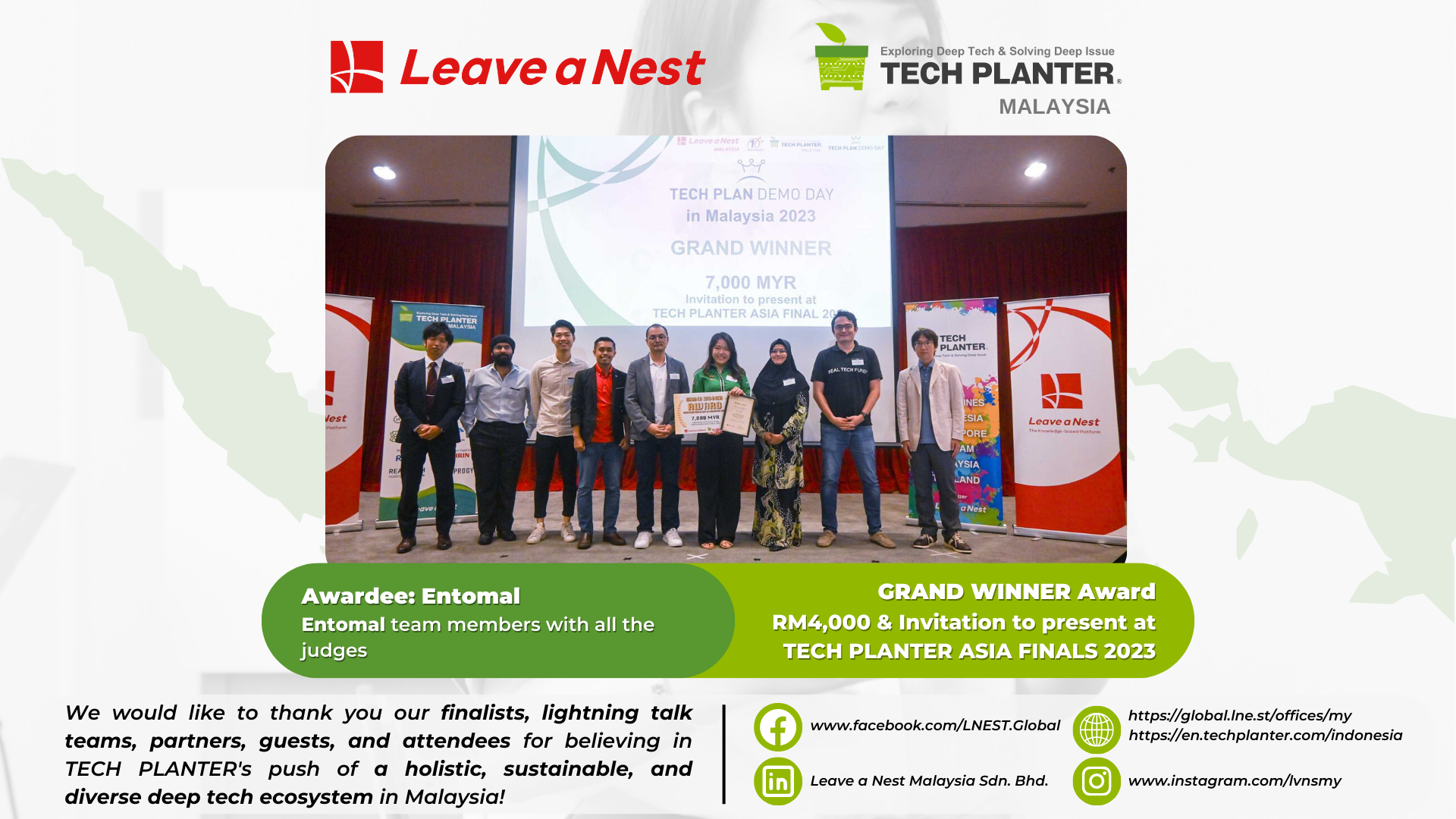 As the Grand Winner, Entomal received a financial reward of RM7,000 and an exclusive invitation to pitch at the prestigious TECH PLANTER Asia Finals in August 2023, held in Malaysia. This essential opportunity will provide Entomal with a global platform to showcase their disruptive ideas, engage with industry leaders, and attract potential investors, solidifying its status as a tech trailblazer.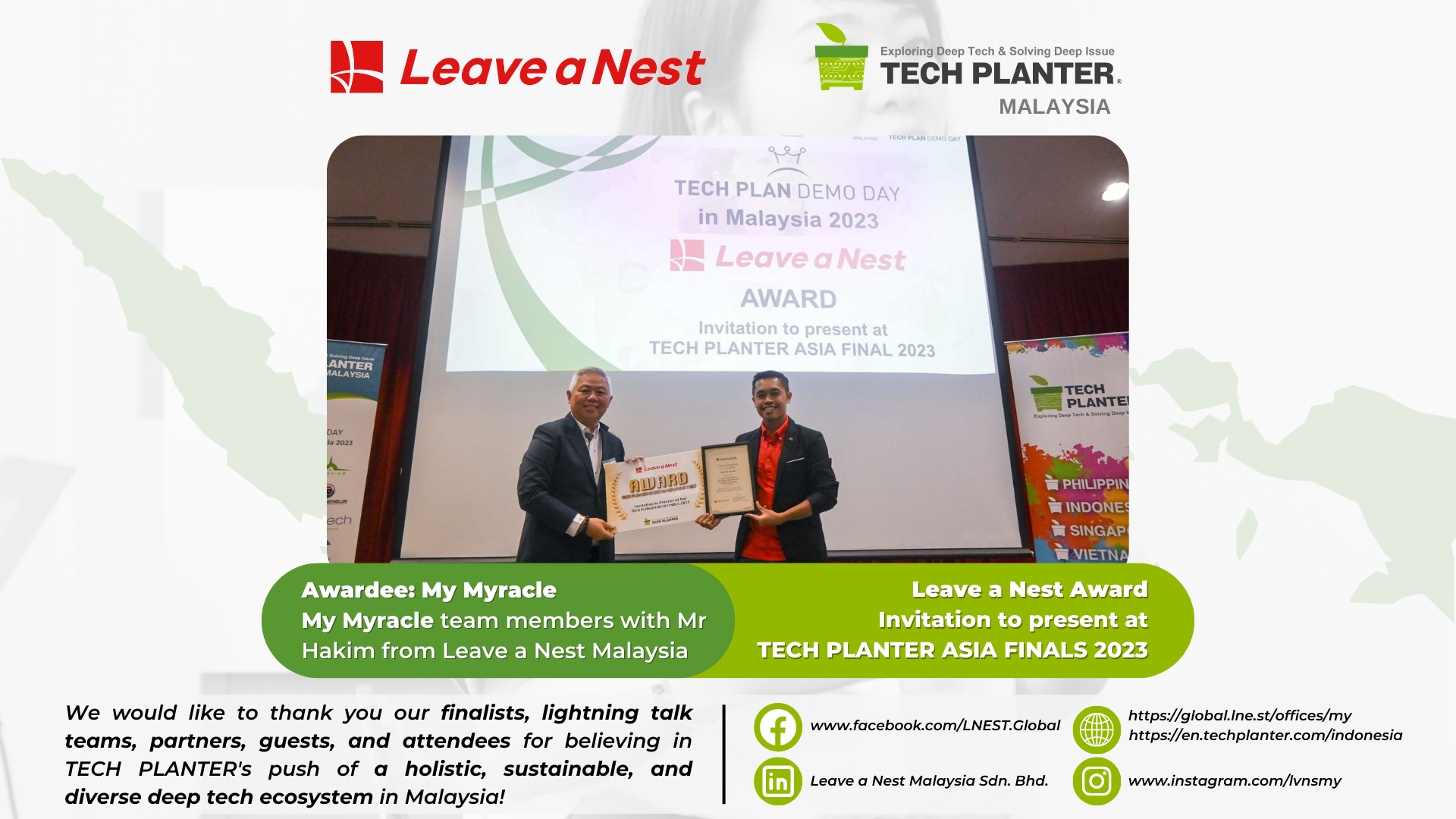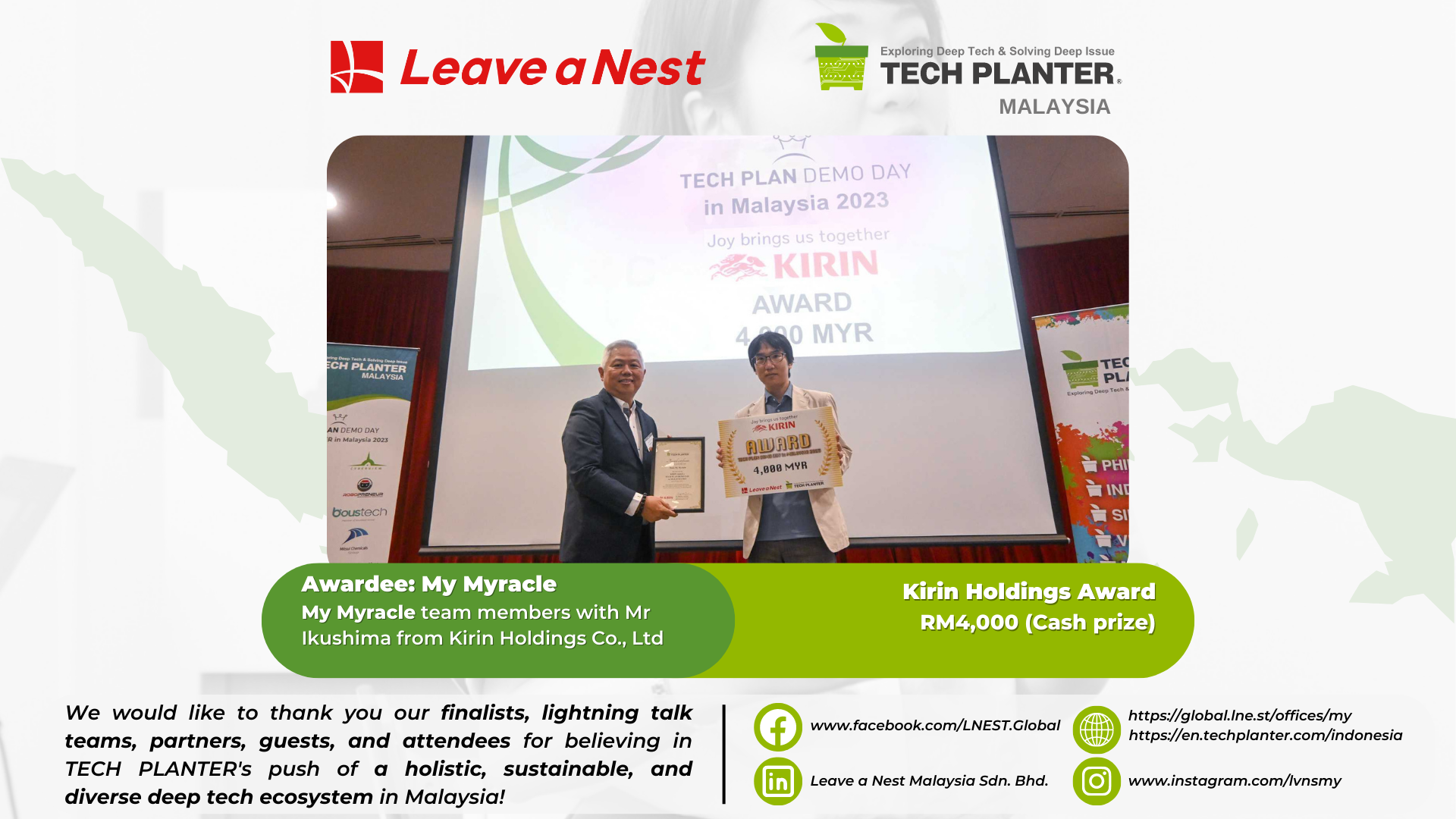 My Myracle, a pioneering producer of post-biotic products promoting a healthier Malaysia, received two prestigious awards: the Leave a Nest Award and the Kirin Holdings Co., Ltd. Award. As a result, My Myracle has been invited to participate in TECH PLANTER Asia 2023 and has also been awarded a prize of RM4,000 in recognition of their exceptional achievements.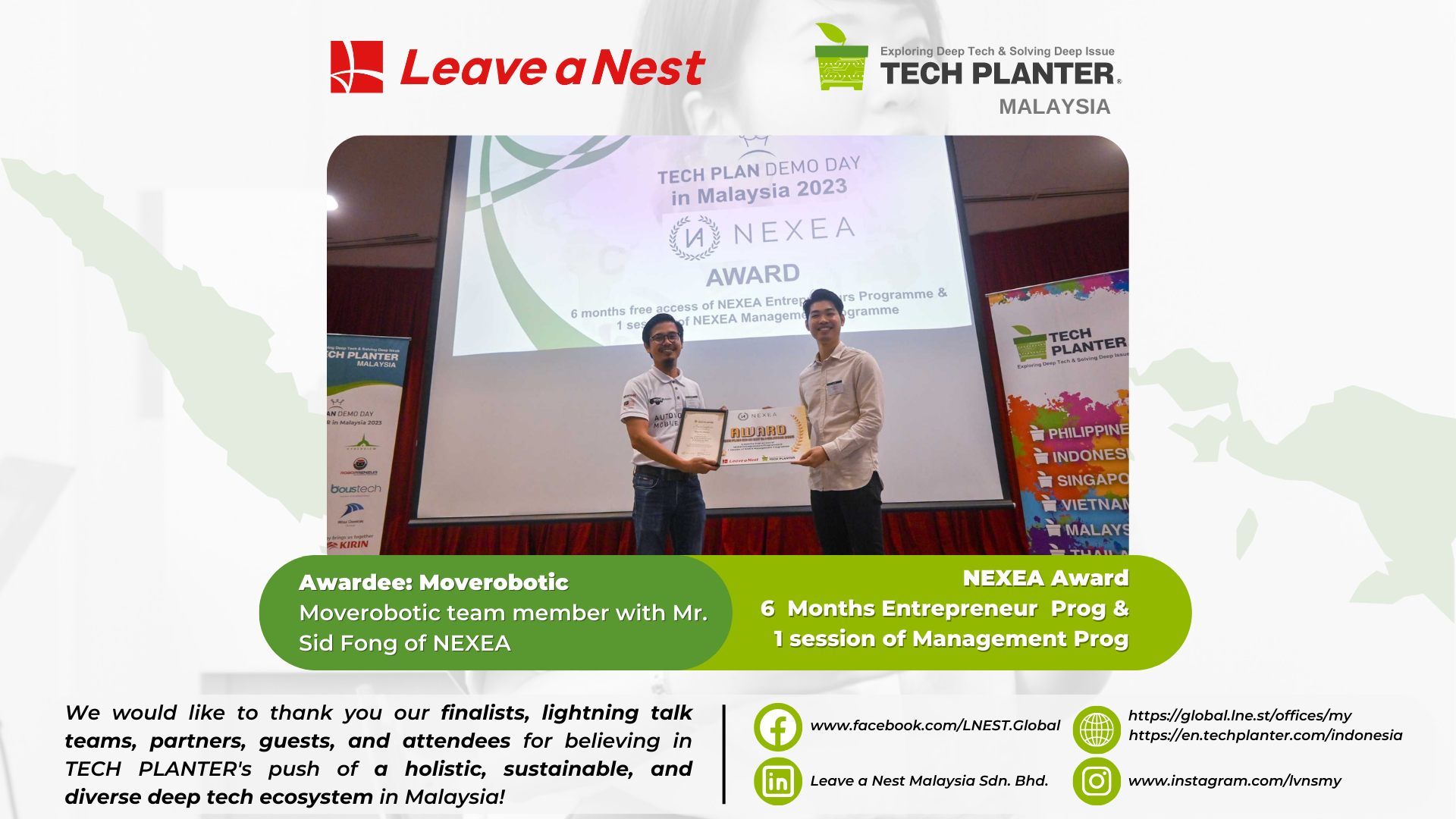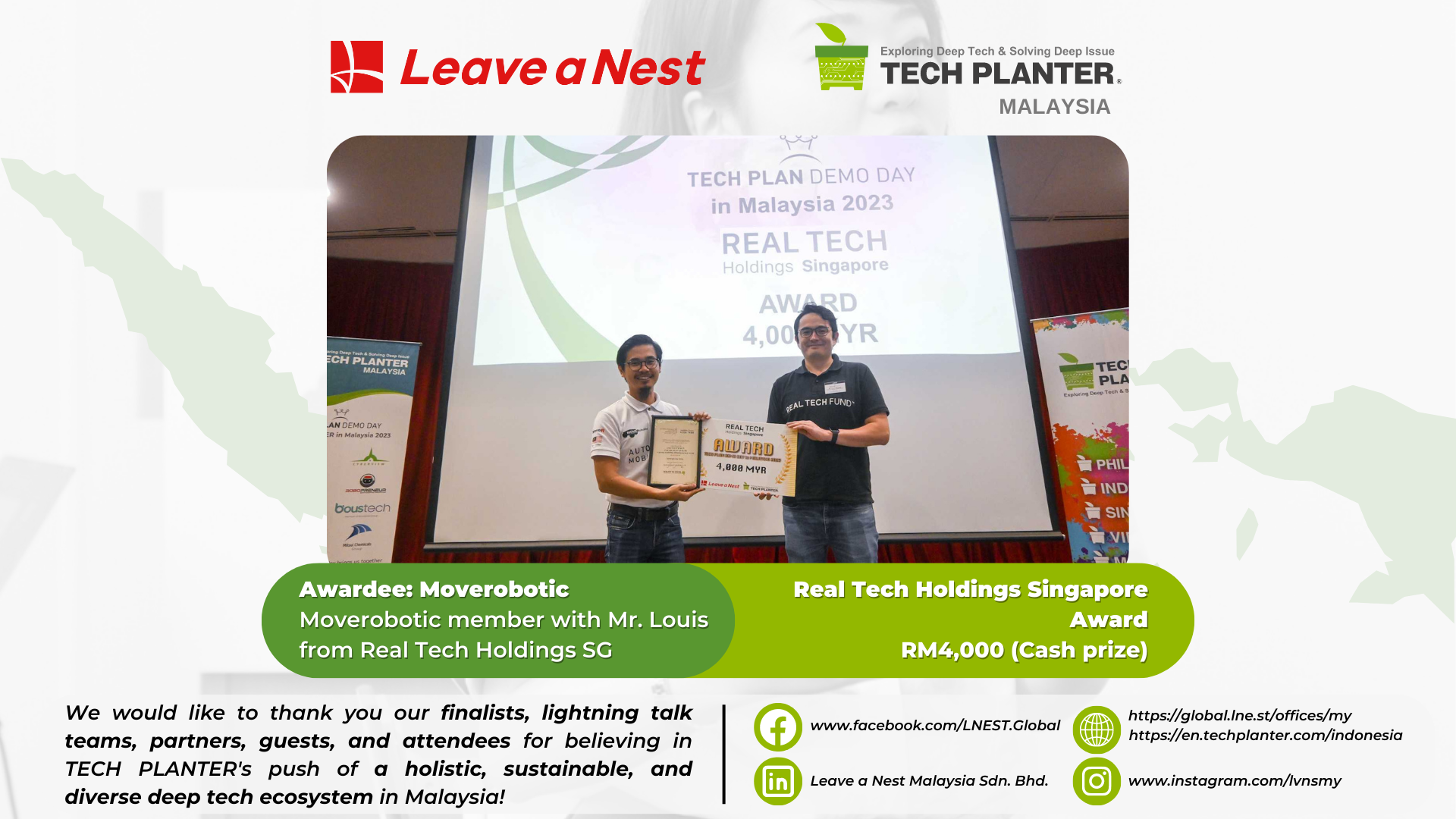 Moverobotic, the maker of autonomous robots, was honored as the recipient of the NEXEA Award. This prestigious recognition granted them a valuable opportunity of free access to the 6-month NEXEA Entrepreneurs Programme and one session of the NEXEA Management programme. The support from NEXEA has provided Moverobotic with an invaluable chance to enhance their entrepreneurial skills, gain insights from industry experts, and strengthen their business acumen. The NEXEA programmes will equip Moverobotic with the necessary tools and knowledge to navigate the challenges of the startup journey, refine their business strategies, and accelerate their growth in the market. Additionally, Moverobotic also secured the REAL TECH Holdings Award, receiving a prize money of RM4,000. This esteemed award further acknowledges their outstanding achievements and highlights their potential in the industry.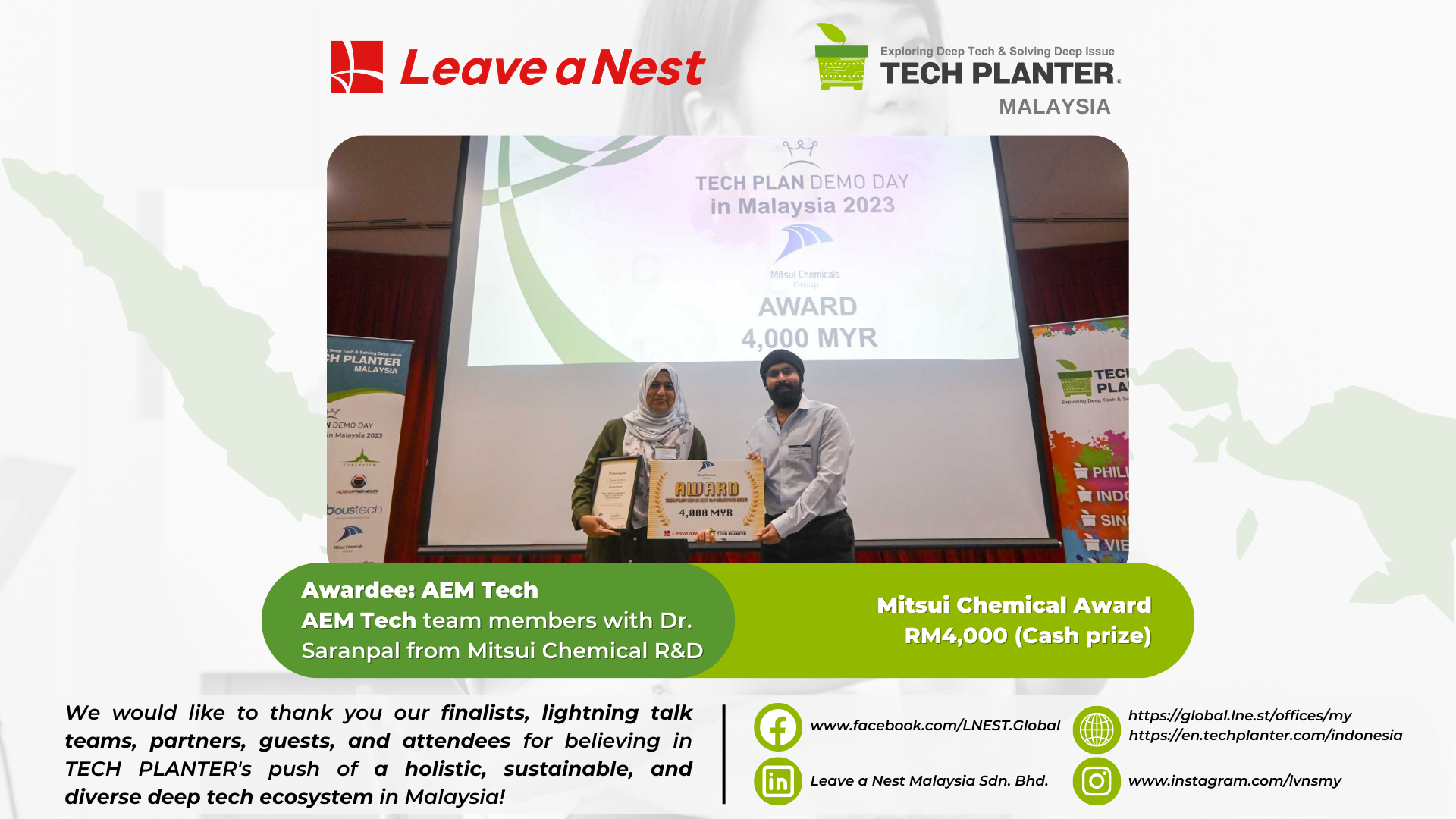 AEM Tech utilizes nature-based solutions to deliver effective and beneficial microorganisms through precision agriculture technology, aiming to address climate change. For its remarkable initiative, MSRD recognized AEM Tech's efforts and awarded them the MSRD Award, which includes a prize money of RM4,000.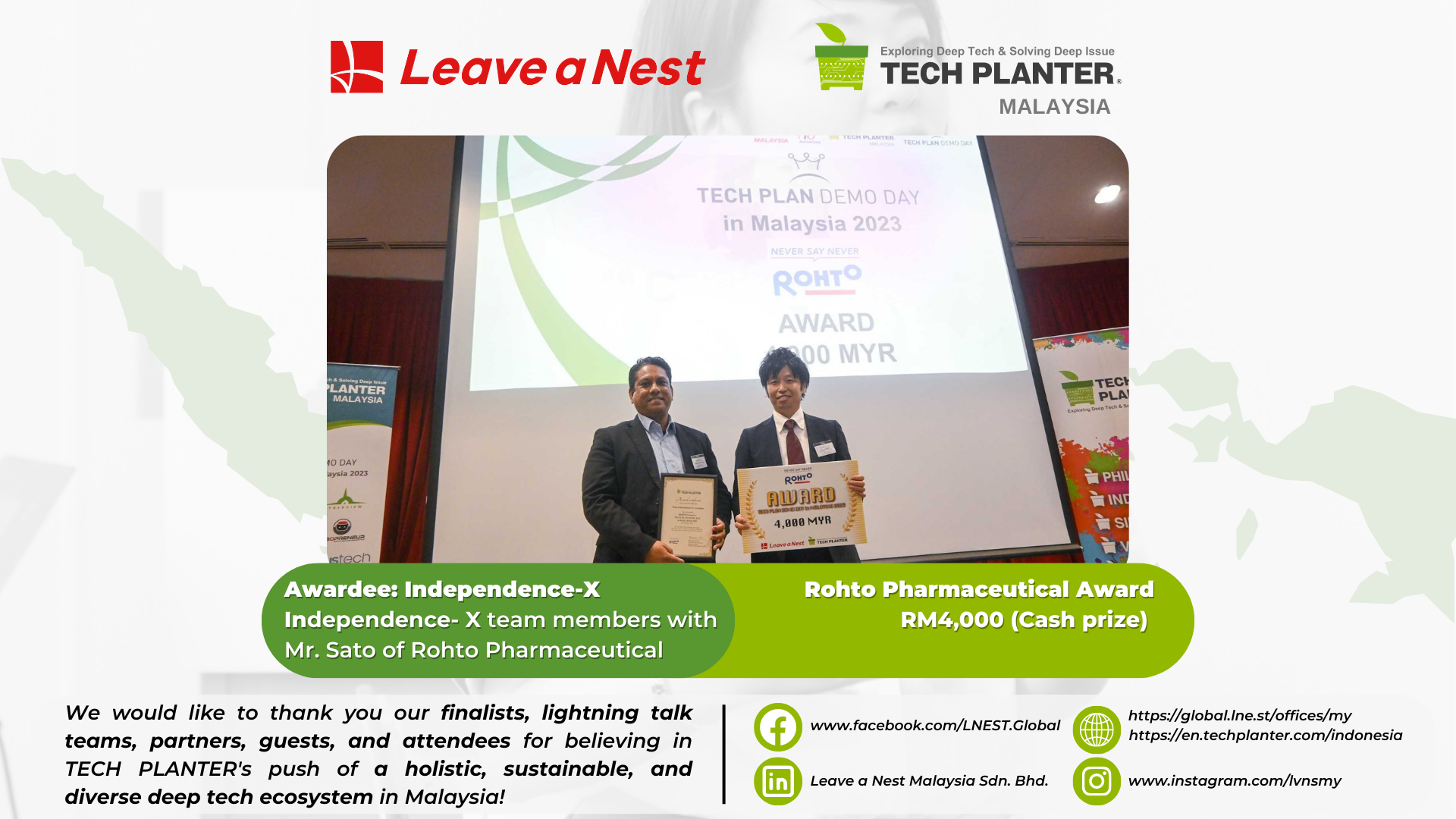 Independence-X Aerospace creates an avenue for pharmaceutical companies to expedite their protein crystallization process by launching it into space. As a recognition of their groundbreaking work, Independence-X Aerospace received a prize money of RM4,000 from Rohto Pharmaceuticals Co., Ltd. This support from Rohto Pharmaceuticals further validates the importance and potential impact of Independence-X's innovative approach in the pharmaceutical industry.
CONGRATULATIONS TO ALL THE WINNERS AND PARTICIPANTS!
_______________________________________________________________________________________
TECH PLANTER in Malaysia 2023 revealed Malaysian startups and researchers' huge potential and helped them succeed on a stunning platform. The event showed the nation's vibrant innovation ecosystem and how innovative technology may change sectors. TECH PLANTER in Malaysia 2023 has shown that startups and researchers may change society and industry with their innovation and entrepreneurship standard. This event showcases the nation's booming tech industry, fuelling its bright future.
The Leave a Nest team would like to express our heartfelt gratitude to all the judges for their invaluable feedback and wise advice. We believe that their contributions have played a crucial role in the growth and progress of all the finalists, empowering them to further develop their technologies and ventures. Additionally, we would like to extend our deep appreciation to our local partners, MRANTI, Cyberview, PICA Manufacturing Solutions, Robopreneur, NEXEA, Boustead Technology Sdn. Bhd., Khazanah Nasional and to acknowledge the invaluable contributions of our global partners, including Mitsui Chemicals Singapore R&D Centre, Pte. Ltd., Rohto Pharmaceutical Co. Ltd., Kirin Holdings, Real Tech Holdings Singapore Pte. Ltd., and BIPROGY Inc. Their unwavering support and collaboration have played a vital role in making this event successful. 
_______________________________________________________________________________________
The journey of TECH PLANTER ASEAN Season is far from over, and we are excited to announce that TECH PLANTER ASIA FINAL will be happening on the 26th of August 2023 at Aerodyne Campus, Cyberjaya in Malaysia! Stay tuned for further updates and announcements regarding this upcoming event.
If you have any inquiries or need more information about TECH PLANTER ASIA FINAL 2023, please don't hesitate to reach out to us. You can contact us at [email protected] or get in touch with Aisyah Abdul Hamid directly at [email protected].