Team Alternō Emerges as Grand Winners of TECH PLANTER Asia Final 2023 in Malaysia!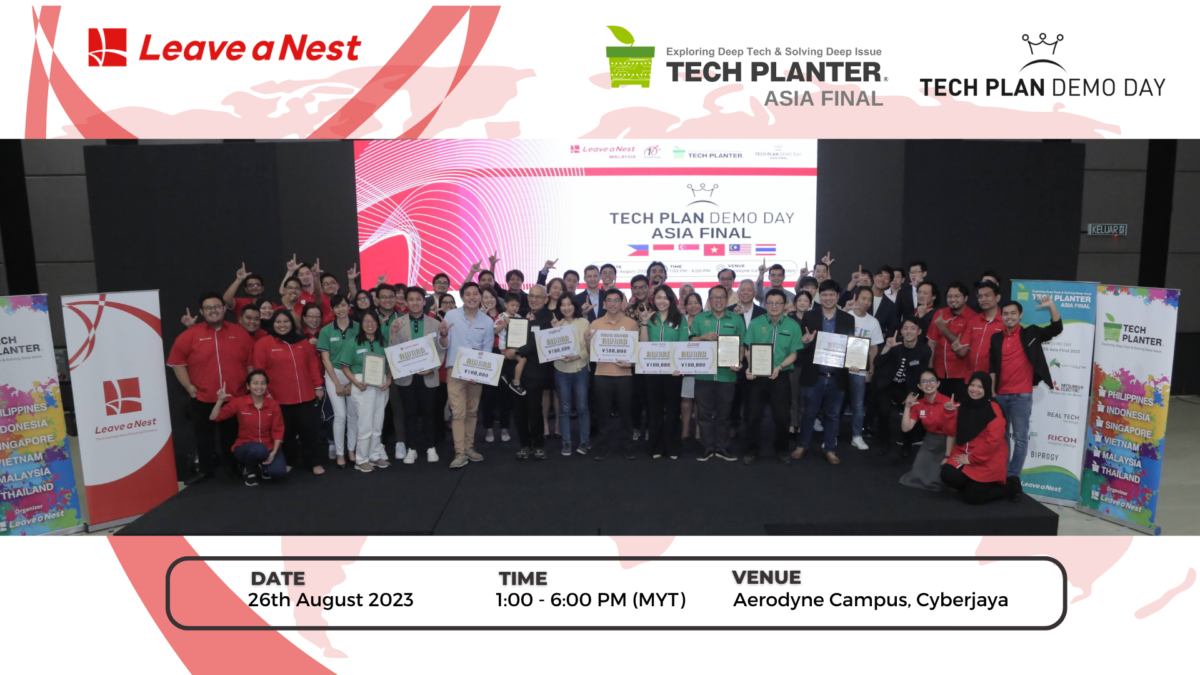 Taking place on August 26, 2023, a significant milestone was achieved as for the first time, Malaysia became the host country for TECH PLANTER Asia Final 2023. This exceptional event, organised by Leave a Nest, unfolded within the esteemed Aerodyne Campus located in Cyberjaya, Selangor, Malaysia. The gathering served as a convergence point for extraordinary intellects hailing from various corners of the region.
The TECH PLANTER Asia Final 2023 was a dynamic gathering that brought together the most promising startups and visionary minds from six vibrant countries: the Philippines, Indonesia, Singapore, Vietnam, Malaysia, and Thailand. This year's event featured 11 out of 12 finalist teams hailing from these six ASEAN nations, each delivering impassioned presentations that showcased the culmination of their journey through the TECH PLANTER competitions held between May and July 2023. TECH PLANTER stands as a beacon of support for the deep tech ecosystem, and its impact resonates in the remarkable strides witnessed at the Asia Final. 
In a testament to innovation and collaboration, this year's DEMO DAY reached new heights of excellence, thanks to the invaluable support of our esteemed partners. Tokyo Stock Exchange, Inc., Mitsubishi Electric Corporation, Mitsui Chemicals Singapore R&D Centre Pte. Ltd., Real Tech Holdings Co., Ltd., Euglena Co., Ltd., Ricoh Co., Ltd., and Biprogy Inc., came together to shape a remarkable event that showcased the brightest minds in the industry. The resonance of this occasion extended even further as we were privileged to welcome local partners Bursa Malaysia Berhad and Aerodyne Group, both of whom added their distinct contributions to the event's success.
Each presentation skillfully portrayed a clear vision of a better future, shaped by the participants' deep commitment to solve the issue in their countries and beyond. Their enthusiasm strongly connected with the audience of curious individuals. Among the impressive group of finalists, one team particularly stood out to the distinguished panel of judges. After careful consideration, Alternō emerged victorious as the Grand Winner of TECH PLAN DEMO DAY Asia Final 2023. Alternō is offering a groundbreaking solution that replaces conventional solid or fossil fuel heat sources, thereby meeting the demand for emission-free alternatives. Their innovative approach is transforming agricultural drying through sustainable technology, highlighted by their cutting-edge Sand Battery and cost-effective drying methodology. We believe that this established technology can be seamlessly integrated with Japanese expertise and know-how to effectively address challenges across Asia.
---
SUMMARY OF TECH PLAN DEMO DAY ASIA FINAL 2023 AWARDEES
GRAND WINNER AWARD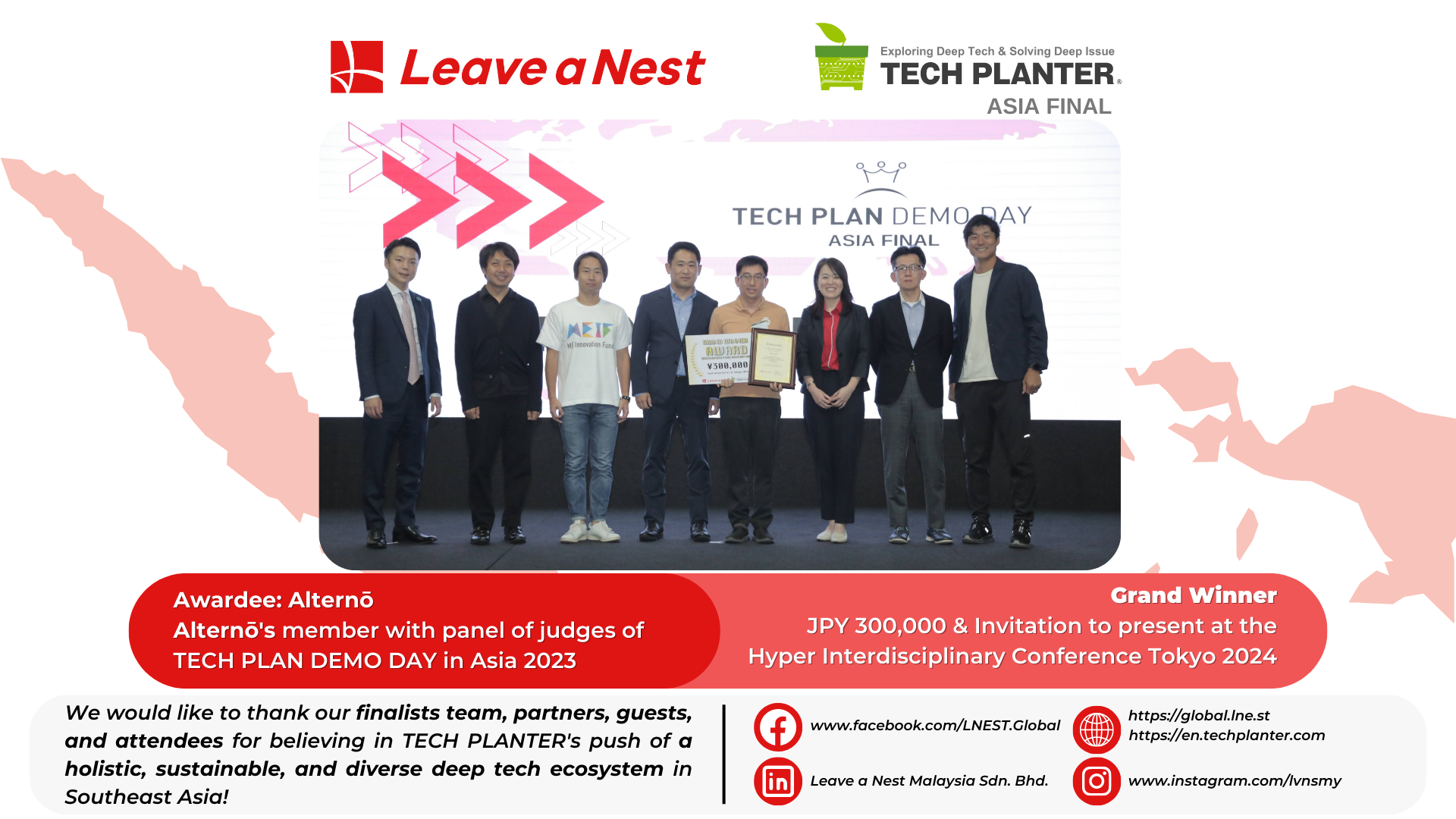 Team: Alternō
Technology Theme: Thermal Energy Storage for Agriculture Drying
Award Inclusions: JPY 300,000 & Invitation to present at the Hyper Interdisciplinary Conference Tokyo 2024
Reason for Winning: Alternō's technology can be integrated with Japanese knowledge and other innovations, enhancing people's daily lives, and eventually extending Alternō's concept to society.
LEAVE A NEST AWARD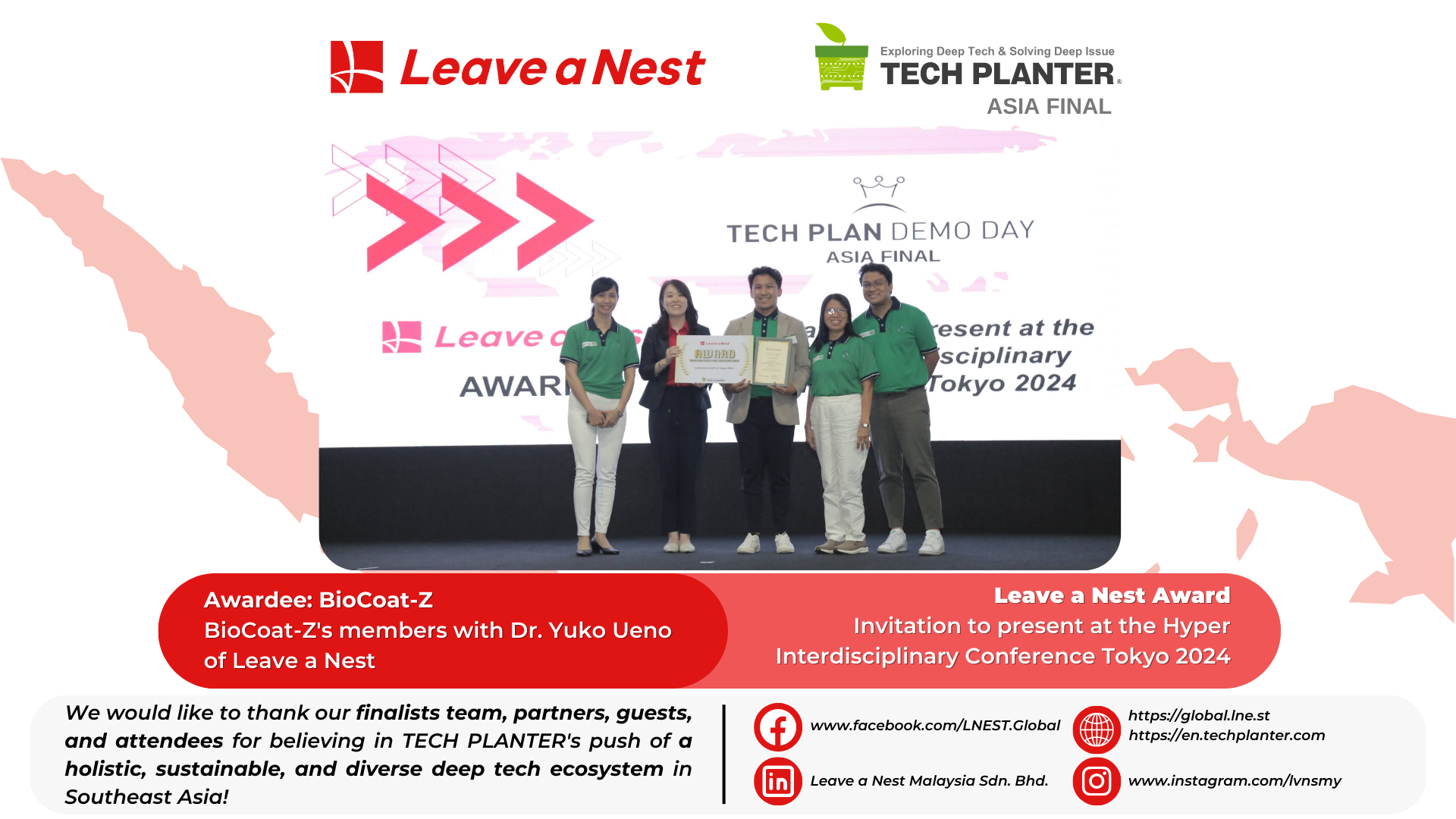 Team: BioCoat-Z
Technology Theme: Nanoclay Particle Film for Cacao Pods
Award Inclusions: Invitation to present at the Hyper Interdisciplinary Conference Tokyo 2024
Reason for Winning: BioCoat-Z's technology can expand to various fruit-producing crops beyond cacao, addressing similar concerns in ASEAN countries and offering solutions.
MITSUBISHI ELECTRIC  & REAL TECH HOLDINGS AWARDS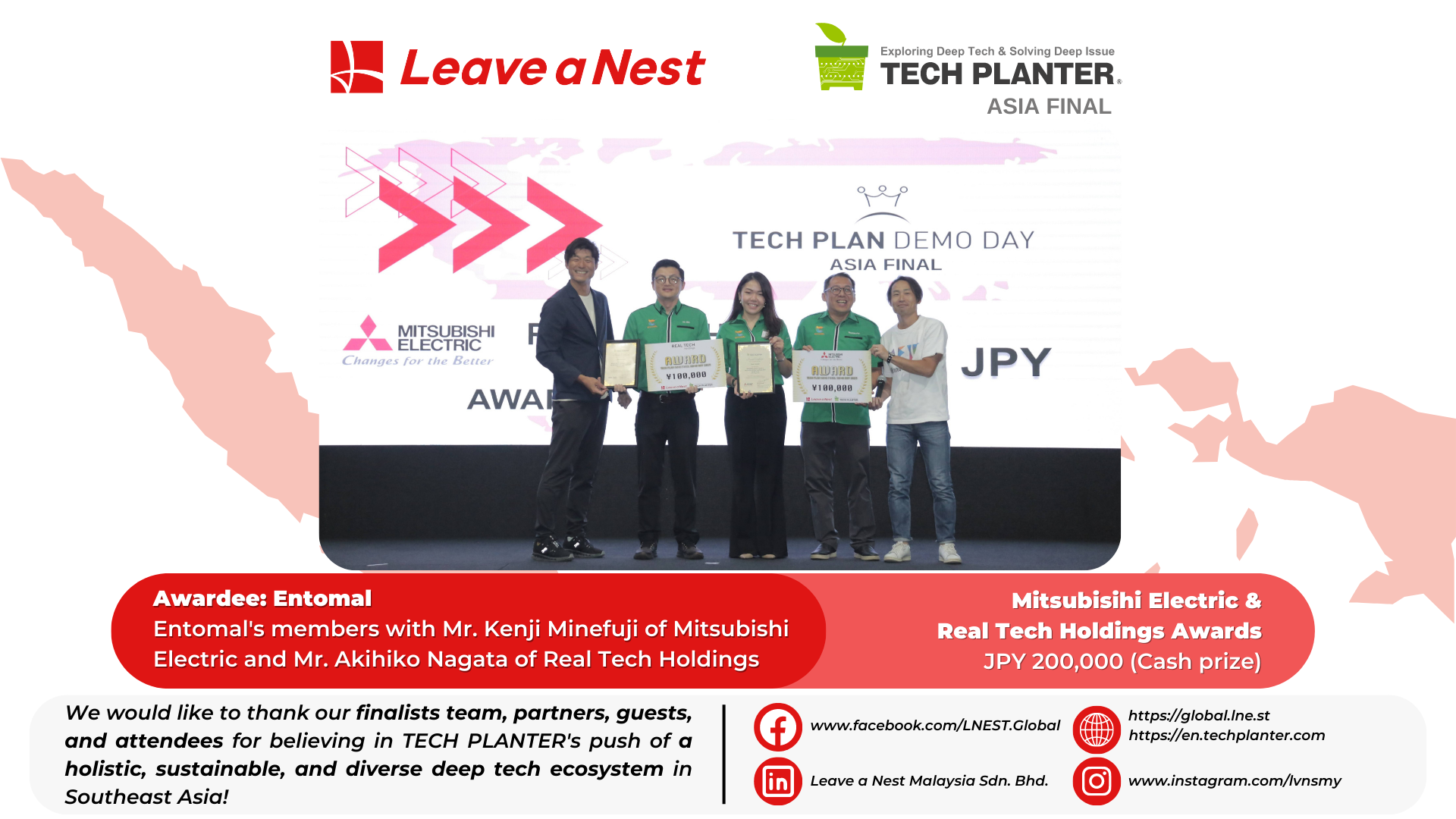 Team: Entomal
Technology Theme: Waste to Wealth in 7 days with Black Soldier Flies
Award Inclusions: JPY 200,000 Cash Prize
Reason for Winning: While Japan's insect-related companies face limited success, Southeast Asia shows promise. Entomal's sustainability focus enhances potential. Mitsubishi Electric can aid Entomal's expansion with its strong factory industry presence.
JAPAN EXCHANGE GROUP AWARD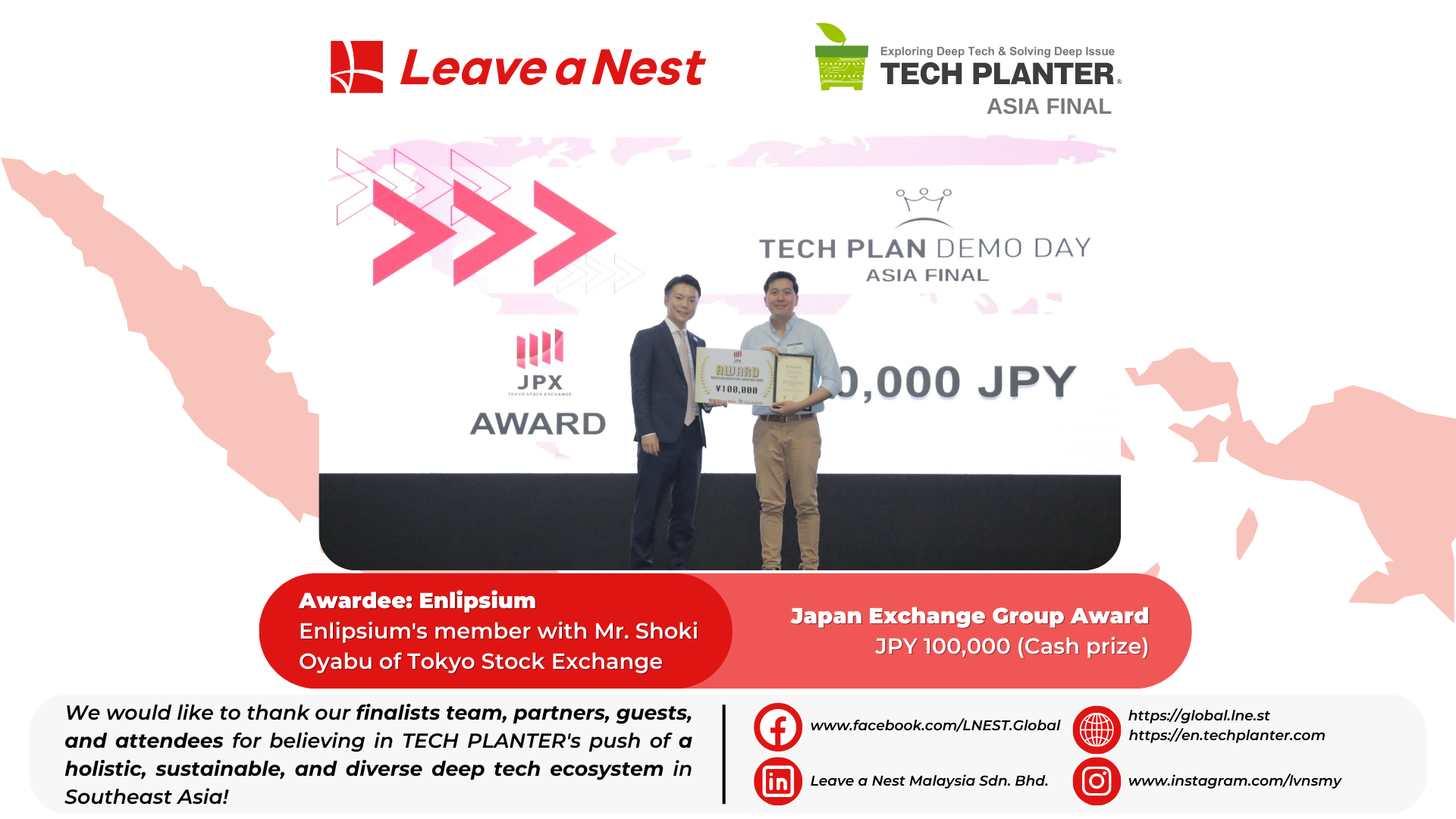 Team: Enlipsium
Technology Theme: High Energy Dosimetry
Award Inclusions: JPY 100,000 Cash Prize
Reason for Winning: Enlipsium's technology has the potential to aid in solving global cancer challenges for people worldwide. 
MITSUI CHEMICALS GROUP AWARD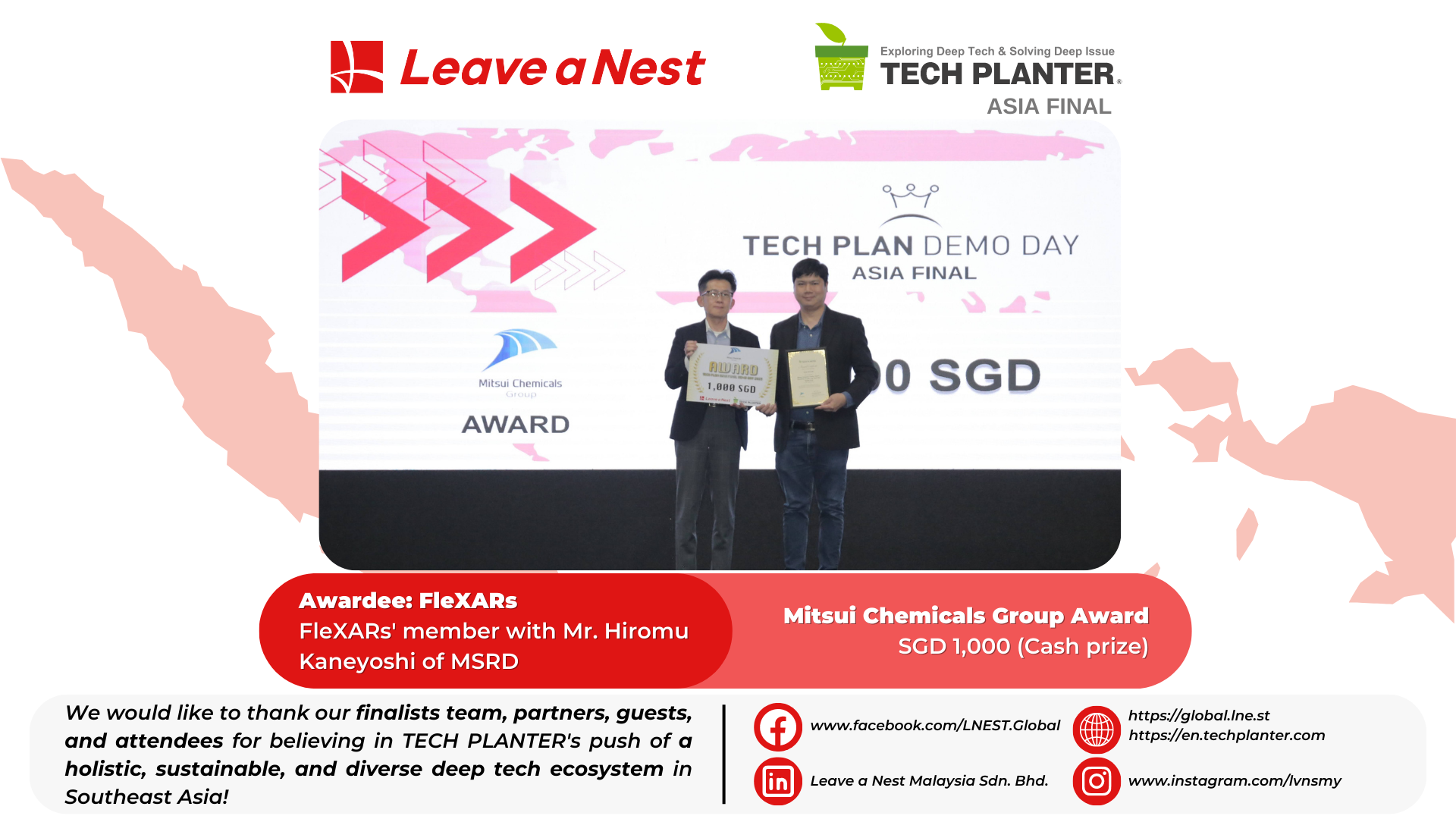 Team: FleXARs
Technology Theme: FleXARs: Marine Antifouling and Antibacterial Film
Award Inclusions: SGD 1,000 Cash Prize
Reason for Winning: MSRD could discover additional applications for FleXARs' technology through collaboration with FleXARs.
EUGLENA AWARD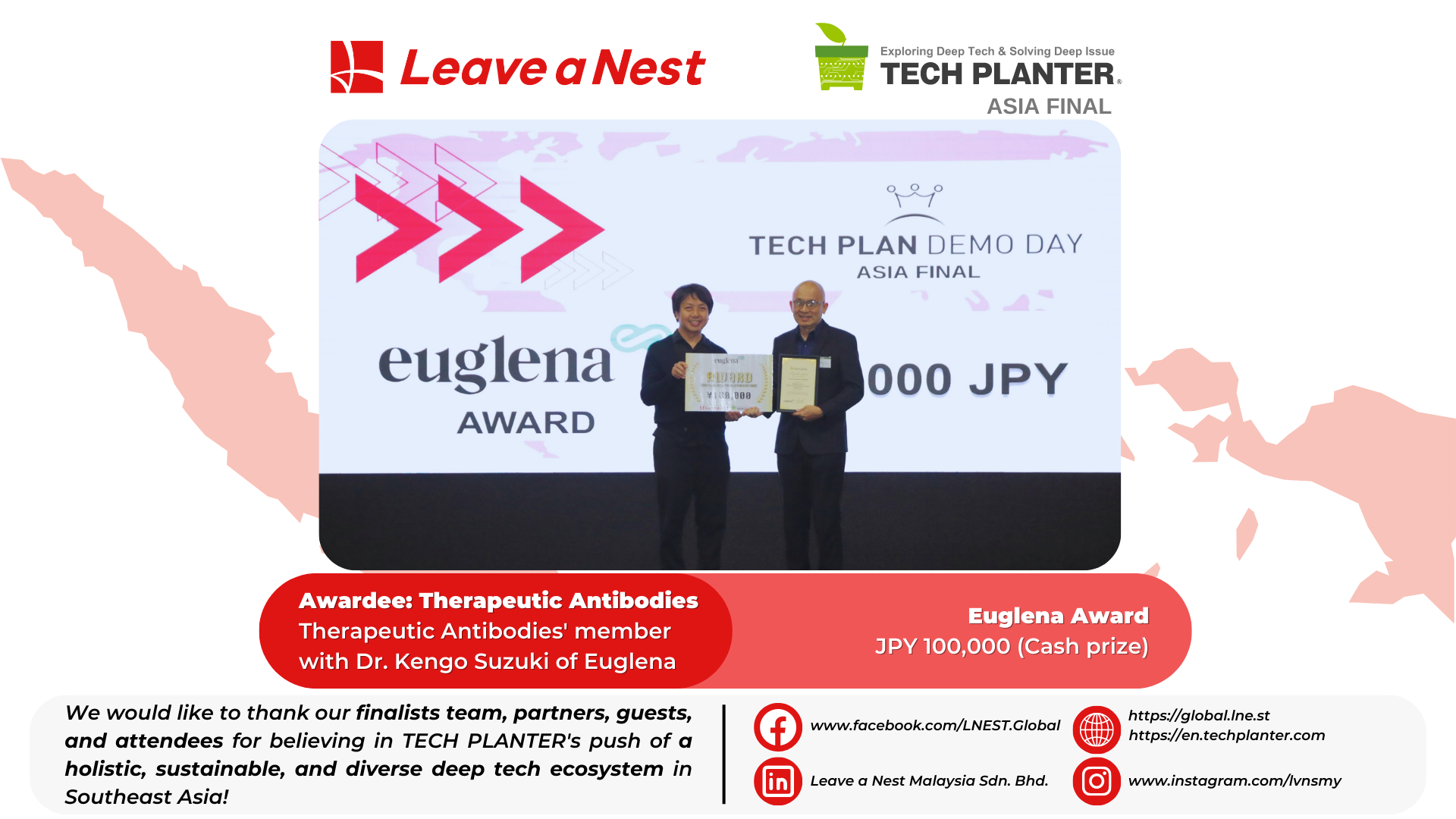 Team: Therapeutic Antibodies
Technology Theme: Therapeutic Antibody Against Dengue Virus
Award Inclusions: JPY 100,000 Cash Prize
Reason for Winning: Euglena stems from their research technology involving gene editing. There's potential for Euglena to generate antibodies, suggesting exciting possibilities with Therapeutic Antibodies.
---
CONGRATULATIONS TO ALL WINNERS AND FINALISTS!
With heartfelt enthusiasm, we extend our congratulations to the distinguished winners and exceptional finalists of this remarkable journey!
To our dedicated partners, judges and commentator, your involvement resonates beyond the event itself. We also extend our heartfelt appreciation to the audiences who joined us at Aerodyne Campus, lending their encouragement and support. Your presence amplifies the collective strength of our community. 
Leave a Nest remains steadfast in its commitment to foster connections, bolster startups, and contribute incrementally to the resolution of global challenges. To learn more about TECH PLANTER, please visit our website  https://en.techplanter.com
For any inquiries or concerns, please don't hesitate to reach out to Ms. Aisyah Abdul Hamid via email: [email protected]