Announcement of 9 Finalists for TECH PLAN DEMO DAY in the PHILIPPINES 2021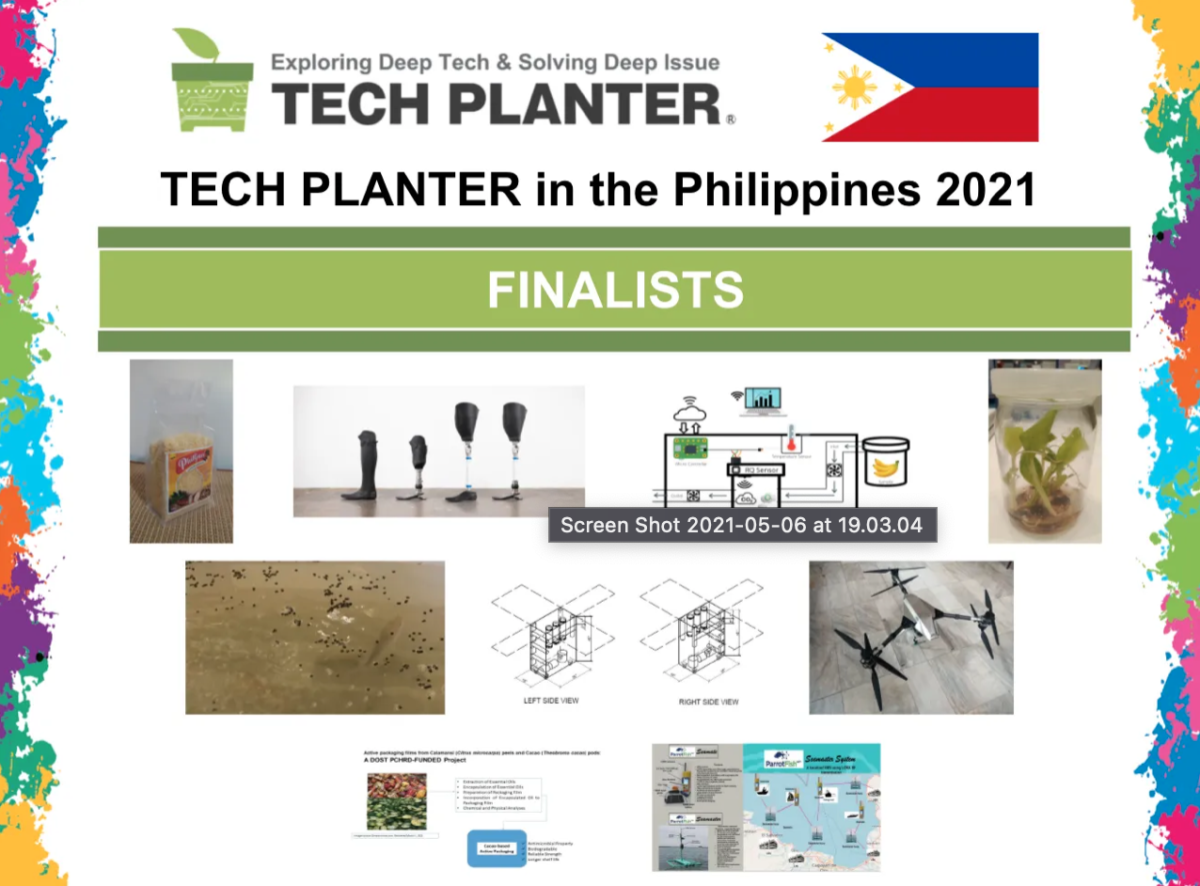 Leave a Nest is pleased to announce the finalists for TECH PLAN DEMO DAY in the PHILIPPINES 2021. We have received 36 applications from various fields, teams, and institutions. After going through the interview and selection process, nine finalists have been selected.
All finalists will be presenting the issues that they are challenging, as well as their core technology and solutions at TECH PLAN DEMO DAY in the PHILIPPINES 2021 on 15th May 2021.
The list of selected finalists are shown below:
Team Name: Malipayon
Theme: Active Packaging Films from Calamansi (Citrus microcarpa) Peels and Cacao (Theobroma cacao) Pods
Team Name: Instalimb Solutions Philippines, Inc.
Theme: Super low-cost 3D-printed prosthetics using AI for everyone in need
Team Name: AniTech (Anihan Technologies)
Theme: Smart Nanotech-Integrated Sensor System for Post-Harvest/Supply Chain Applications
Team Name: B-FLEX
Theme: BFLEX, short for banana floral apex tissue culture technology
Team Name: Kolitis
Theme: Amaranthus spinosus leaf meal as potential protein source for Nile Tilapia
Team Name: Team PoWTS
Theme: Potable Water for All
Team Name: Synerflight
Theme: Autonomous Guided Agriculture Drone
Team Name: PhilGari
Theme: Ready-to-eat granulated cassava
Team Name: ParrotFishNet
Theme: ParrotFishNet Seamaster Vessel Monitoring System
One team member from each of the Finalist teams will be presenting their 7-minute pitch, whereas other team members can help answer questions during the 5-minute Q&A sessions.
Overview of TECH PLAN DEMO DAY in the PHILIPPINES 2021:
Date: 15th May 2021 (Saturday)
Time: 13:00-18:00 (registration starts at 12:00 nn)
Location: Organizers, finalists, judges, and lightning talk speakers will connect via Microsoft Teams
All applicants and team supporters of TECH PLANTER in the PHILIPPINES are also invited to watch via online broadcasting for the DEMO DAY event on 15th May 2021 as audience. More information will be provided nearing the date.