Yugto x Aggies: Helping Young Filipinos Subscribe to a Science-Driven Future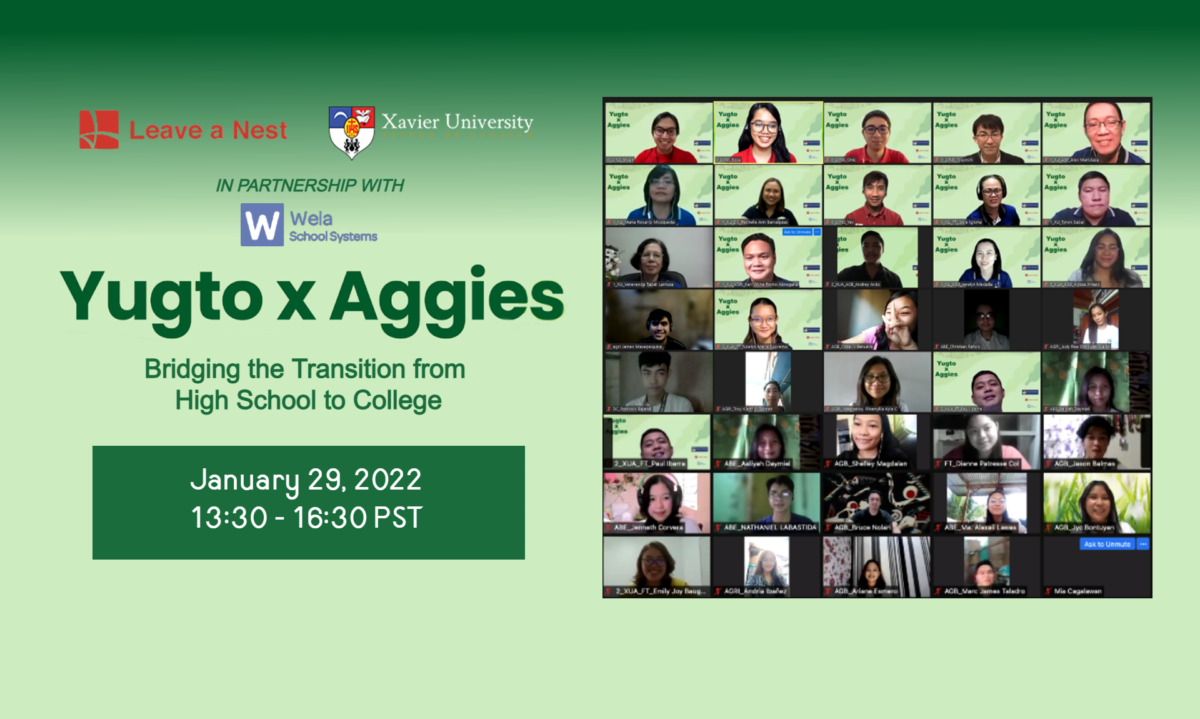 For the past years, the science and technology sector in the Philippines has been at the receiving end of the shortcomings brought about by the current employment trends and, in addition to that, the current COVID-19 pandemic. With the given situation, Leave a Nest Philippines, in partnership with Wela Online Corporation, has organized their first-ever high school-to-college transitional event—"Yugto" or Chapter in English, to serve as a platform to guide students on choosing degree programs within the S&T realm.
See Yugto Pre-event News Release
The event was opened by the Dean of the College of Agriculture, Dr. Maria Rosario Mosqueda, where she talked about the uniqueness of Xavier Ateneo's educational experience. Leave a Nest Philippines' Managing Director, Dr. Yevgeny Dulla, and Dr. Tsuyoshi Inoue, an agriculture expert from Leave a Nest Japan, also equipped the students with useful information on choosing their degree programs wisely and why his perusal of current environmental issues lead him to pursue an exciting Agriculture-related career, respectively. 
The event featured the different degree programs of the College of Agriculture of Xavier-Ateneo through different sessions that included a Program Pitching session spearheaded by the respective department chairs of the five undergraduate degree programs of the college. To complement that, participants also were able to listen and learn from 20 outstanding Aggies alumni on their perspective and motivations on pursuing their degree program and to share about the career paths they consequently have taken, all thanks to Xavier Ateneo's guidance. To aid the students, Mr. Tyron Keith Maru V. Sabal, Director of University Admissions and Aid Office shared the different scholarship programs that the University offers.
The student-participants of Yugto x Aggies were mostly senior high school students from Mindanao and Bicol Region in the Philippines. The students believed that this initiative was definitely instrumental to allow them to know more about Xavier-Ateneo and their College of Agriculture, but most importantly, has sparked their interest in pursuing science-related careers with the said university's core values and expertise. 
Leave a Nest Philippines hopes to reach more students through this Yugto project and ensure that their next "Yugto" will be worthwhile for budding Filipino scientists.
If you have questions about Xavier University – Ateneo de Cagayan College of Agriculture and its different programs and requirements, you can contact them through the following:
For inquiries or requests to do "Yugto" in your university please contact Engr. Ronezza Delos Santos of Leave a Nest Philippines at [email protected]