Session and Partnership Updates for Career Discovery Forum in the Philippines 2022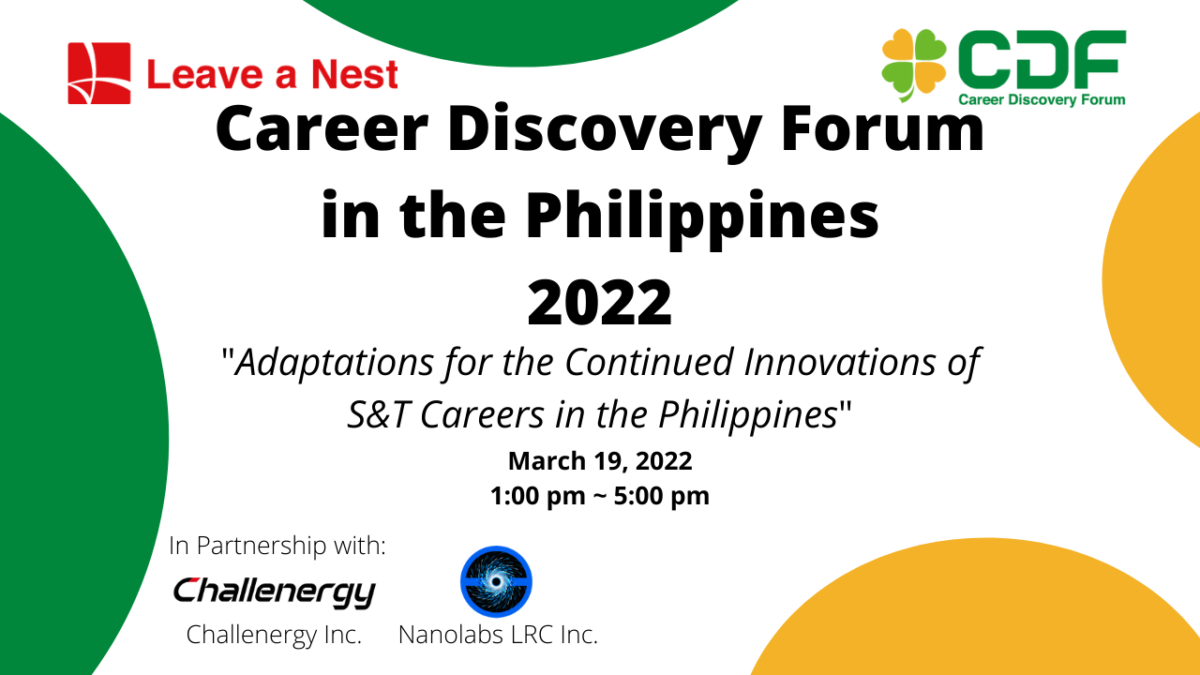 Since 2016, Leave a Nest Co., Ltd., has been hosting the Career Discovery Forum (CDF) in Japan as well as in its other subsidiaries such as Malaysia and Singapore. It is one of the company pillar projects under the Human Resources Division where it aims to bridge graduating university students and researchers to S&T companies and corporations. It is a unique platform where discussions about the current career opportunities lead to innovations in future careers which could contribute to the development of society.
This year, with the establishment of Leave a Nest Philippines, we will be conducting the very first Career Discovery Forum in the Philippines 2022 on March 19, 2022 (Saturday) and it will be held fully online due to the current pandemic situation. Below is the timeline on the day of the event.
Program Timetable
| | |
| --- | --- |
| Time | Activity |
| 1:00 pm ~ 1:10 pm | Opening Ceremony and Opening Remarks |
| 1:10 pm ~ 1:30 pm | Keynote Speech |
| 1:30 pm ~ 2:30 pm | Forum Session: Expectations and Changes in the Current Work Environment |
| 2:30 pm ~ 3:15 pm | Career Pitch |
| 3:15 pm ~ 3:45 pm | Mini Career Workshop 1 |
| 3:45 pm ~ 4:15 pm | Mini Career Workshop 2 |
| 4:15 pm ~ 4:45 pm | Mini Career Workshop 3 |
| 4:45 pm ~ 5:00 pm | Closing remarks |
The theme of this year's CDF Philippines 2022 is "Adaptations for the Continued Innovation of S&T Careers in the Philippines". During the past 2 years, everyone would probably notice that a lot has changed especially in the working sector. Many businesses have closed their doors due to the lack of demands on their services as well as having very few people walking out the streets to avail of their products. Unemployment rates increased as companies try to mitigate the economic damage by cutting off their workforce. Some employees voluntarily left due to the inability to adhere to the newly established protocols. Although of course, even through these dark times, a lot of business also bloomed as to adapt to the changing times and demands of the people. So much has changed and is still currently changing as the people adapt to continue achieving their goals in life. This year's CDF Philippines 2022 will focus on these adaptations that happened for the past 2 years as the Filipino people try to continue developing and innovating their company and their services.
Keynote Speaker
The keynote speaker for this year's CDF Philippines is Kevin Anthony S. Sison, the President and CEO of SCTST Review Corporation which is one of the leading review services provider for chemists and chemical technicians national licensure exams. He earned his BS Biochemistry degree from the University of the Philippines and then studied Molecular Biology and Biotechnology before pursuing an MS in Chemistry.
Forum Session
Our theme for this year's forum session is "Expectations and Changes in the Current Work Environment" where the panelists would give their own perspectives of the changes that happened in their respective work environments. We invited representatives from the academia sector, government sector, industry sector, and startup sector to hear the differences in their experiences for these past 2 years and share their actions in order to adapt to the situations.
Career Pitch
The Career Pitch is where participating companies, startups, industries, and the public sector give a 90 second presentation about their services, working environment, and the things they do in order to acquire the interest of the audience and get them to join their Mini Career Workshops later on. We have 2 participating Universities, 2 Corporates, 1 from the Government Sector, and 5 from the Startup sector.
---
For this event, we have two startups who have officially partnered with us: (1) Nanolabs LRC Inc.,  who is an R&D company that provides nano-based solutions to pressing problems in the environment and the society, and (2) Challenergy Inc., who is the manufacturer of the world's first wind turbine that is capable of stable power generation even during typhoons – the Magnus Vertical Axis Wind Turbine (VAWT). They are also participating in the Career Pitch and Mini Career Workshop sessions so register for the event if interested in knowing more about them.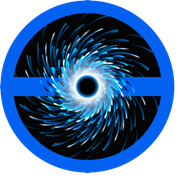 Nanolabs LRC Inc.

Challenergy Inc.
---
Registration is free of charge for University students, graduate, and researchers. Access the registration form by clicking the link below:
https://id.lne.st/project/cdf2022_ph/regist/basic_info/1
For more specific details regarding the Career Discovery Form in the Philippines 2022, visit our website at this link below.
https://cdforum.lne.st/cdfph2022/
For further inquiries or concerns, feel free to contact Ronrick Arayata of Leave a Nest Philippines at [email protected].