Serendipity During the First CDF in the Philippines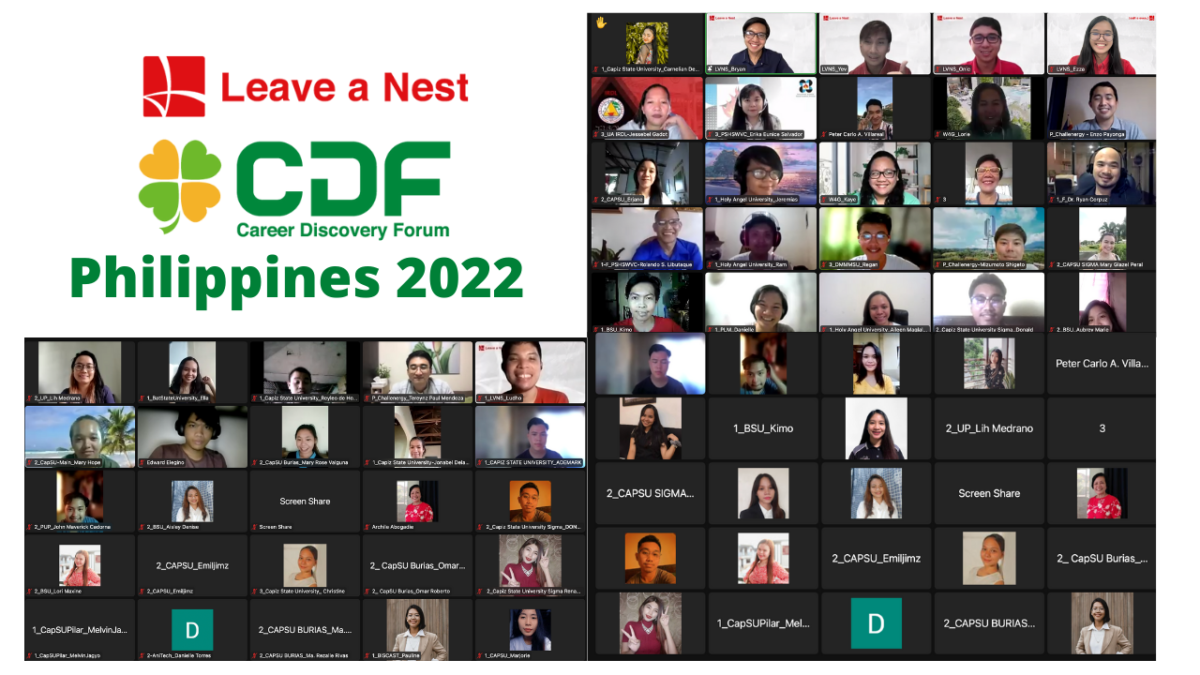 Last March 19, 2022, the very first Career Discovery Forum in the Philippines was successfully conducted with 337 pre-registrations, and with the total number of people peaking at around 130 participants on the day itself. Normally, the CDF is usually held face-to-face as to deeply connect the students to the participating companies, but due to the current pandemic situation it was held fully online.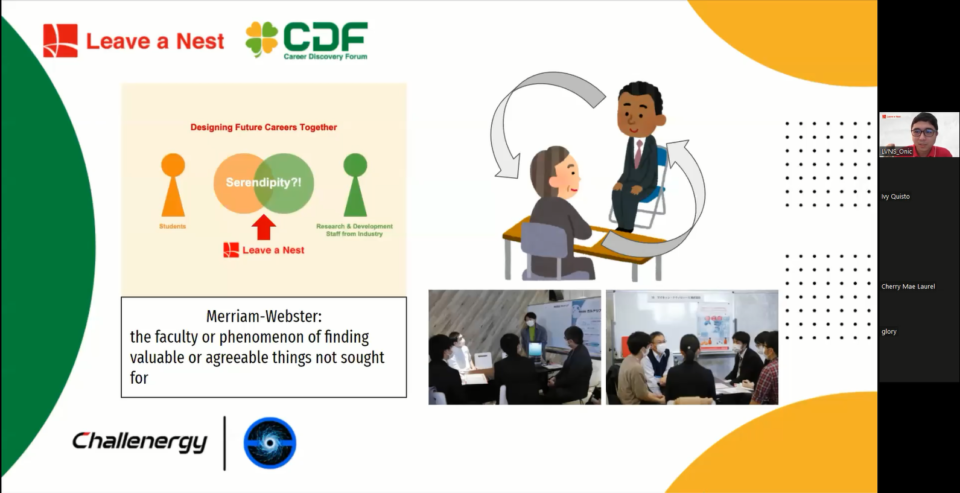 The event started with an opening speech from Mr. Ronrick Arayata of Leave a Nest Philippines, who explained to the participants what Leave a Nest does as a knowledge-manufacturing company and what the CDF aims to achieve which is serendipity, or the unexpected discovery of something fortunate or beneficial. The ultimate goal of CDF is for the participating students and companies to discover new ideas and new learnings from this rare interaction that they get from the event which could in turn lead to future innovations in careers and further the advancement of Science and Technology for the development of society.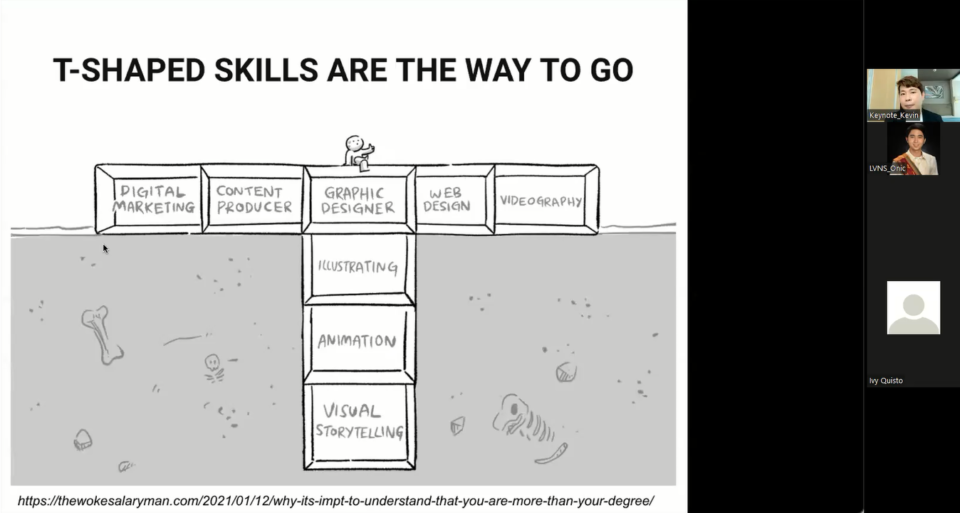 A keynote speech from Mr. Kevin Sison followed, with an explanation about the future of working after the pandemic subsides. Work has certainly changed during the pandemic as a lot of sectors had a decrease in workers and there were some jobs which got more popular. Taking this into consideration, Mr. Sison advised the students to learn about acquiring T-shaped Skills, which are skillsets that cover different areas related to your specialization while also digging deeper in order to improve in what you specialize in. In today's society, as Mr. Sison said, it is now important to be a "Jack of all Trades, and a Master of One" in order to save our career.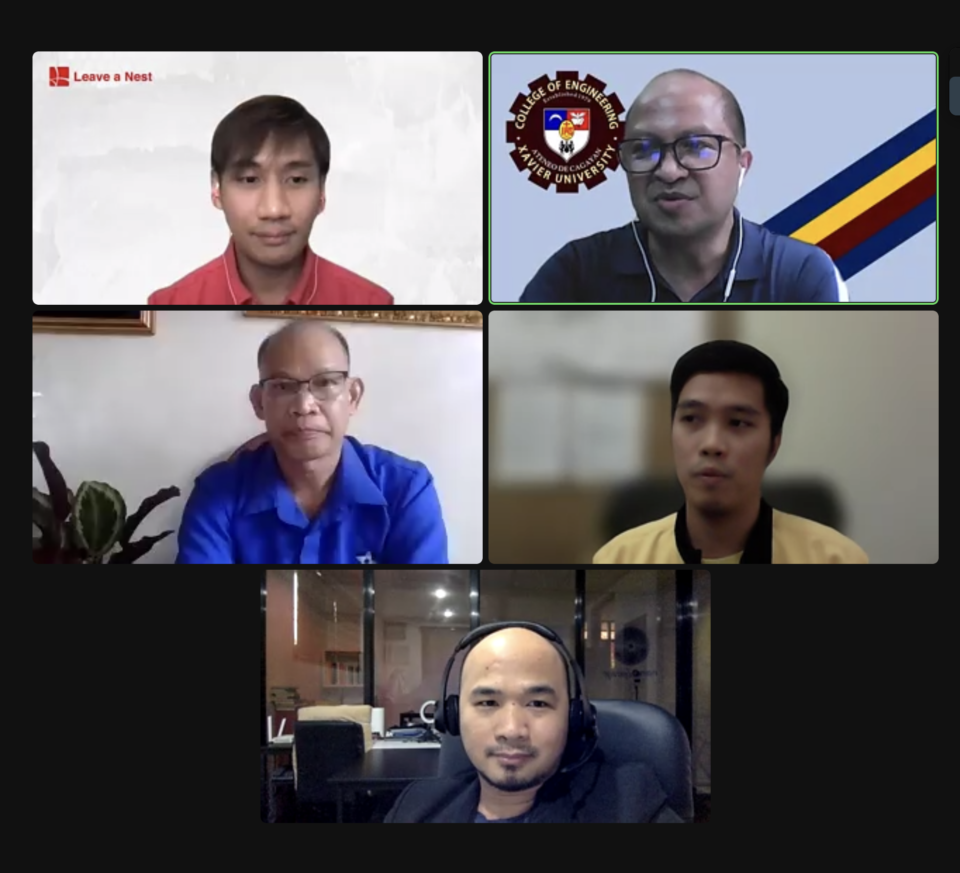 Next, we had the Forum Session where representatives from the academia, the mining industry, and the startup sector shared to us their stories as to what happened to each of their sectors during the 2 year pandemic. All the sectors were deliberately affected by the pandemic, but each also had their own ways of dealing with it.

Lastly, the goal of CDF was achieved through the interaction of the students and the participating companies in the Mini Career Workshop sessions where the participating companies and institutions went into separate breakout rooms in order to have a more thorough discussion with the students whom they got their interests. Each company had their own way of doing the workshop but everyone was ensured to have an interactive activity with the students in order to bridge the connection between them.
Surprisingly, the students were not the only ones who built connections but there came connections in between participating institutions as well, where there were talks about collaborations, partnerships, and future projects which was an unexpected result that we had, but a very welcome one as well.
For more information regarding the CDF Philippines 2022, please visit our website at:
https://cdforum.lne.st/cdfph2022/
For any inquiries and concerns, kindly contact Mr. Ronrick Arayata at [email protected]