Hyper Interdisciplinary Conference in the Philippines 2022—Propelling Data-driven Acceleration of Deep Tech Research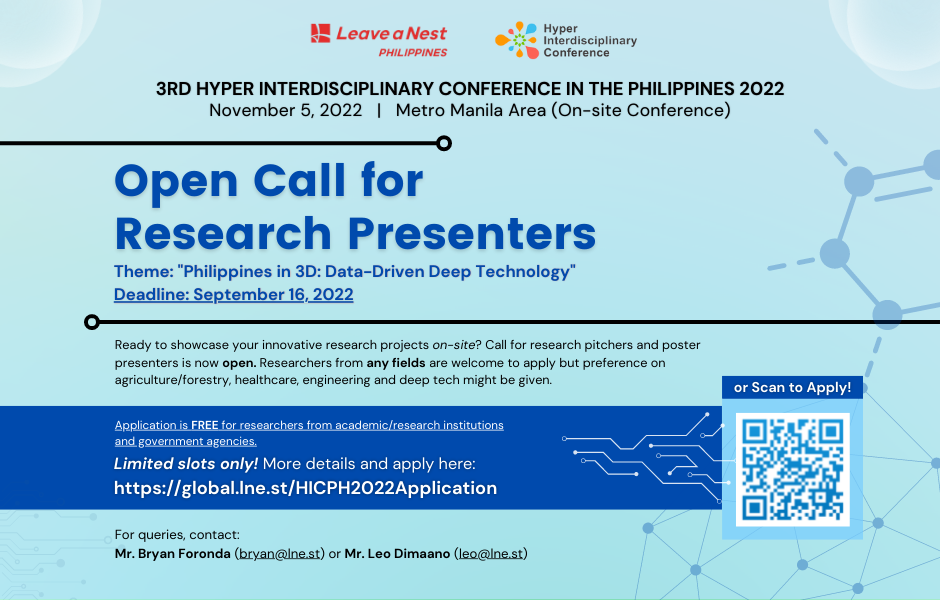 For the past 10 years, the Leave a Nest Group has been conducting its flagship research conference, the Hyper Interdisciplinary Conference (HIC), in Japan, Malaysia, Singapore and the Philippines. The HIC serves as an avenue for researchers, individuals from the private sector, government agencies, academic institutions and even startup companies not only to showcase innovative research ideas but also to gather and formulate new groundbreaking opportunities for the Philippine development through effective knowledge manufacturing.
This year, Leave a Nest Philippines, Inc. gladly presents its on-site implementation of the Hyper Interdisciplinary Conference in the Philippines (HIC PH) 2022. This will be on November 5, 2022 from 9:30 AM to 6:30 PM and will be the first-ever face-to-face implementation of HIC PH under the full management of the Philippine subsidiary. 
With that, HIC PH 2022 will zone in on the theme "Philippines in 3D: Data-Driven Deep Technology". The conference contents will discuss integration of information technology (IT), artificial intelligence (AI), machine learning, big data or other revolutionary analytical tools in adjacent science and technology fields and industries to foster deep technologies in research projects. This will mainly be done through panel sessions focused on healthcare, forestry, agriculture and engineering among other fields. Additionally, research project presentation, Research Splash and Engineering Splash sessions, will be held to showcase selected researchers' topics and recent discoveries in their respective fields through short pitch formats, which will represent their own "splash of ideas".
Program Timetable (subject to change)
| | |
| --- | --- |
| Time (PH Local Time) | Activity |
| ~ 9:30 AM | Registration |
| 9:30 – 9:45 AM | Opening Ceremony |
| 9:45 – 10:45 AM | Keynote Session ("Fusing the Framework of IT and Deep Technologies", tentative) |
| 10:45 – 11:45 AM | Research Splash |
| 11:45 – 12:30 NN | Poster Session |
| 12:30 – 1:30 PM | Lunch Break |
| 1:30 – 2:30 PM | Panel Session 1 ("Cyber-focused Ecology: Mapping the Seeds through Environmental Analytics", tentative) |
| 2:30 – 3:30 PM | Panel Session 2 ("Tuning-in to Digital Health: Growing Disparity in Prenatal Care", tentative) |
| 3:30 – 4:30 PM | Engineering Splash |
| 4:30 – 5:30 PM | Awarding, Investment Announcements and Closing Ceremony |
If you are a researcher or professor from academic institutions, research institutions or government agencies, we are inviting you to apply as one of the research presenters during our Engineering Splash* or Research Splash** sessions for free! Applications are open to any type of researchers who are interested and selected researchers will be informed by October 2022. Only 20 slots are open for Research Splash Pitchers and 8 open slots for Engineering Splash so make sure to represent your research well in the application forms. 
Interested Splash applicants are requested to apply through the links below, both the Google Form and the Leave a Nest ID form. Please note that applicants are required to make a Leave a Nest ID account (https://id.lne.st) before accomplishing the Leave a Nest (LVNS) ID form below for your application to be formally considered.
Google Form: https://global.lne.st/HICPH2022Application
Leave a Nest ID Form: https://global.lne.st/LVNSFormHICPH2022 
Deadline for Application: September 16, 2022
Details about the panel sessions and panelists will be publicly shared as the event day approaches. Make sure to get updated through the Leave a Nest Global Website or through our social media pages (Facebook: https://www.facebook.com/LNEST.Global/ or LinkedIn: https://www.linkedin.com/company/leave-a-nest-philippines-inc/).
If you have any questions or concerns regarding the HIC PH 2022, please do not hesitate to contact Mr. Bryan Foronda ([email protected]) or Leo Dimaano ([email protected]) through email. 
*Engineering Splash is a research pitching session dedicated to researchers who have a more in-depth focus on manufacturing or engineering-related research fields, especially those who are diving into IT technology. ** Similarly, Research Splash is a research pitching session intended for researchers in other areas of study (aside from engineering/manufacturing) and preferably those who are merging the fields of IT / AI / Big Data to accelerate emerging deep technologies related to agriculture, forestry or healthcare. Presenters from both Splash sessions are also required to prepare a poster for the Poster Session.