A fruitful start with UPSCALE research teams and Japanese startups from the Leave a Nest ecosystem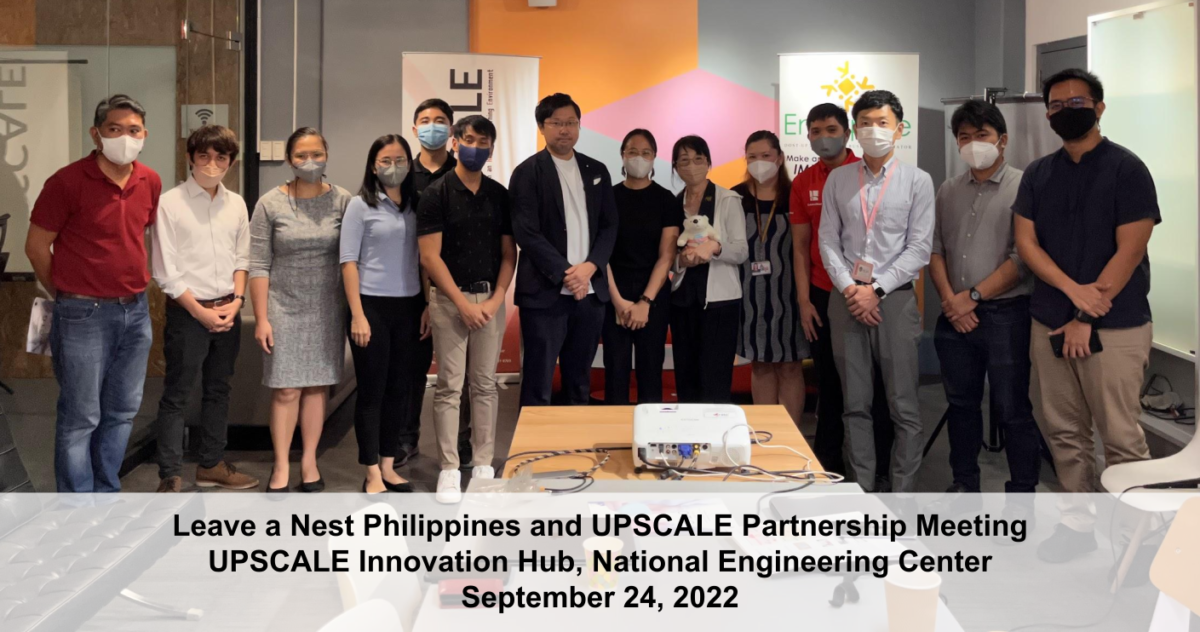 On September 24, 2022, research teams from UPSCALE Innovation Hub and Japanese startups from the Leave a Nest ecosystem gathered together in order to discuss future collaborations as part of Leave a Nest Philippines' initiative to develop the manufacturing ecosystem of the country.
The discussion started with the introduction of UPSCALE from Bernadette Leonor. After the tour of the facilities of the UPSCALE, the Leave a Nest Group was introduced by Philippine member Ludhovik Luiz Madrid, and the road to the establishment of Leave a Nest Philippines was shared by Dr. Yevgeny Aster Dulla, the Managing Director of the Philippine subsidiary. The purpose of the partnership meeting was shared by Dr. Takumi Jindo, member of the Strategy Development Division of Leave a Nest Co., Ltd. Japan.
Two Japanese startups and four UPSCALE research teams introduced themselves and their technologies. Naturanix, a Japanese startup focusing on e-mobility, was introduced by chief executive officer Yasuki Kanazawa. Melody International, a Japanese startup specializing in smart mobile fetal monitors, was introduced by managing department member Tatsuya Kanbara.
The UPSCALE research teams introduced their medical technologies. RxBox, a low cost medical acquisition device, and Telemetry, a remote diagnosis of pathogen exposure, were presented by project lead Dr. Geohari Hamoy. MyBeshie, a telepresence device for health and safety evaluation, was presented by project lead Dr. Nathaniel Orillaza.  CaRE, a cardiovascular telerehabilitation equipment, was presented by project lead Dr. Frances Carlos.
Both research teams and startups were able to discuss next steps on improving their technologies and market reach, such as the use of Naturanix's technology to MyBeshie to improve its battery life, the integration of Melody International's fetal monitor to RxBox and Telemetry, and the connection of CaRE to Japanese mobility and rehabilitation startups who are planning to integrate in the Philippine market . Leave a Nest will continue to communicate with UPSCALE, Naturanix, and Melody International with this meeting as the start of a fruitful collaboration with each other.
For more information about the Manufacturing Ecosystem Development Event at DOST MIRDC, please visit this link:
Realizing the start of a bright future for the manufacturing ecosystem of the Philippines
To know more about the partnership meeting with UPSCALE, please contact Ludhovik Luiz Madrid through the this email: [email protected]