Tuning-in to Digital Health: Growing Disparity in Prenatal Care – 1st Session Panelists for HIC in the Philippines 2022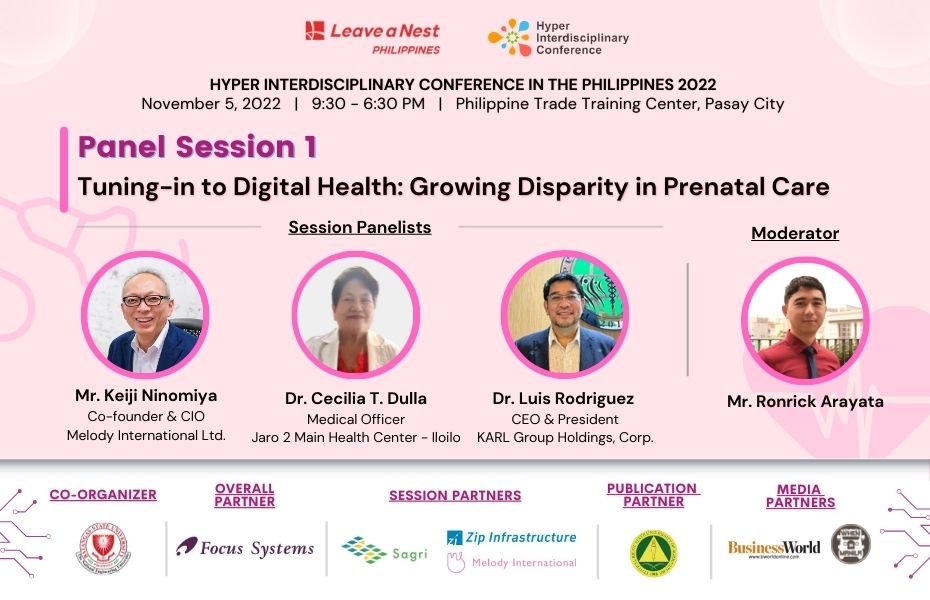 On November 5, 2022, Leave a Nest Philippines will be conducting the Hyper Interdisciplinary Conference in the Philippines 2022. Aside from the Keynote Session, the conference will have 3 Panel Sessions that will explore data analytics and IT integration in different verticals. For the 1st Panel Session, it will be related to healthcare with a focus on prenatal care. We want to share the panelists for this panel session entitled "Tuning-in to Digital Health: Growing Disparity in Prenatal Care".
With the recent worldwide health and economic recessions, the Philippines, being among the top 15 most populous countries and 2nd highest birth rate in ASEAN region, is compelled to boost healthcare support for their citizens including the facilitation of healthy child births through deep technologies. This session will tackle current challenges in Philippine child and maternal care which can be solved by data-driven innovations that can possibly cap the gap in prenatal care facilities & professionals.
For this session, we have invited Melody International Ltd., a Japanese medical device startup company, together with Filipino healthcare stakeholders, Dr. Cecilia Dulla from Jaro 2 Main Health Center – Iloilo City and Dr. Luis Rodriguez from KARL Group Holdings, Inc., to showcase a concrete example of how a medical device coupled with wireless technology and the internet, will be able to save small lives from being lost.
We are also proud to announce that Melody International Ltd., as part of Leave a Nest Japan and Leave a Nest Philippines' existing project with them, is actively pursuing to bring their innovative technology here in the Philippines. Recognizing the deep issue of the Philippines as an archipelagic country with a relatively high number of pregnant mothers, Leave a Nest supports Melody International and believes that this type of technology will be immensely useful in solving healthcare challenges specifically at the very local level.
Melody International has created a portable iCTG device consisting of 2 small transducers, which monitors the maternal and fetal vital signs, and is wirelessly connected to a tablet for faster and remote interpretation of data by their doctors. With the emergence of telehealth age even in medical devices, their technology can offer seamless and more accessible perinatal care for expectant mothers that can detect early signs of high-risk pregnancies during regular prenatal check-ups.
---
Session Panelists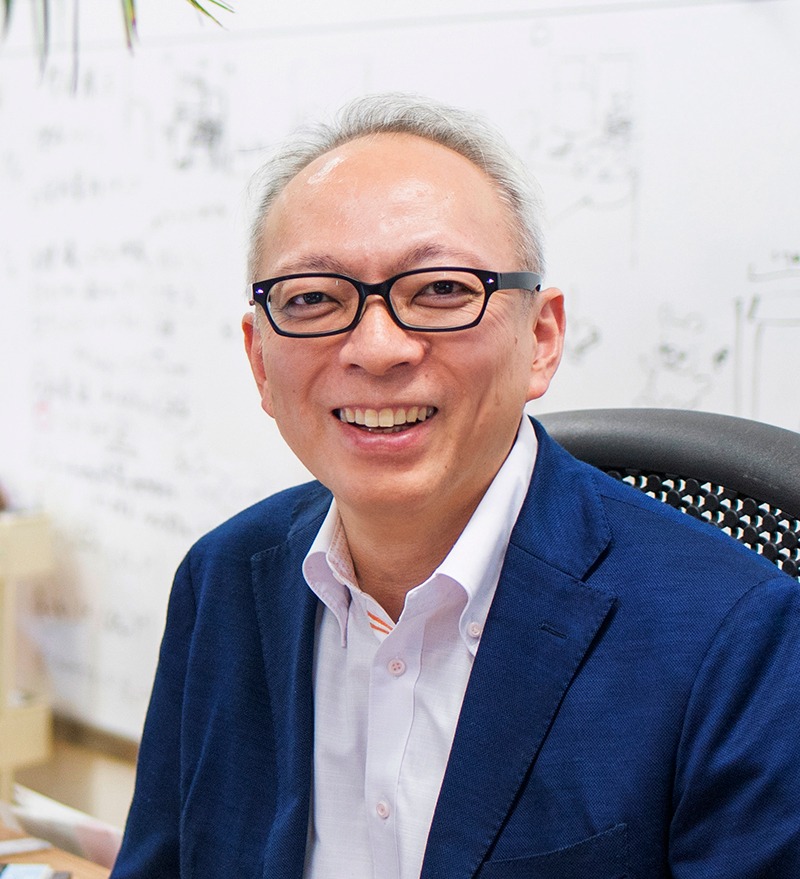 Mr. Keiji Ninomiya
Co-founder & CIO
Melody International Ltd.
Mr Keiji Ninomiya has a background in philosophy from Hosei University and completed his MBA from Kagawa University. He has worked as a marketing director in the design and graphics industry. In 2015, he founded Melody International Ltd. with CEO Yhuko Ogata. In 2018, he was awarded the Monodzukuri Nippon Grand Awards by The Ministry of Economy, Trade and Industry (METI).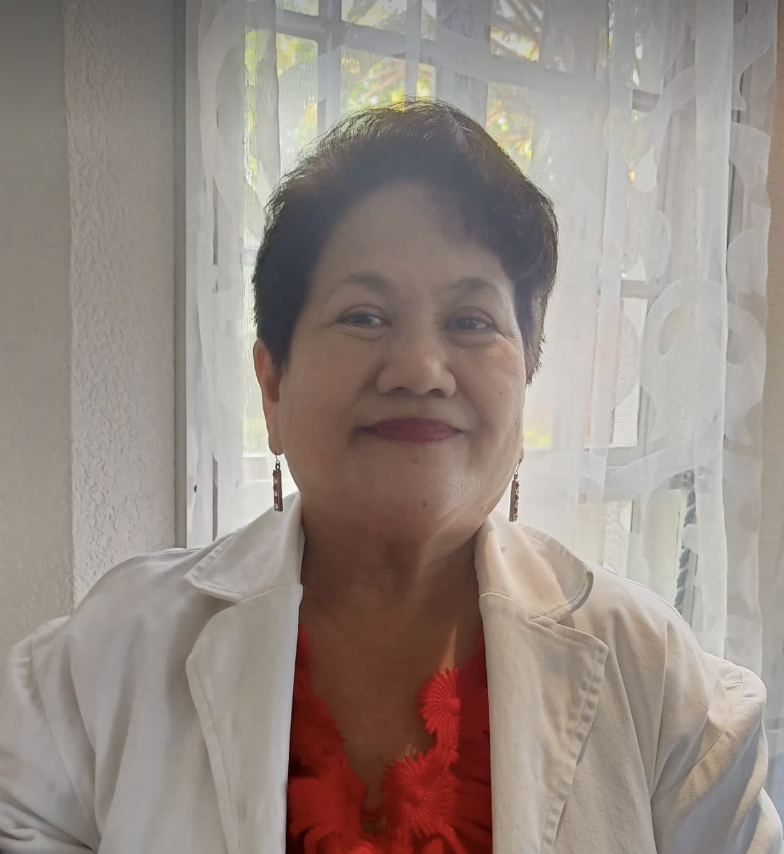 Cecilia T. Dulla, MD, DPAFP
Medical Officer
Jaro 2 Main Health Center Iloilo City
Dr. Dulla is from Iloilo City and holds a Diplomate in Family Medicine with the Philippine Academy of Family Physicians (PAFP), and also specializes in Industrial/Occupational Medicine. She was one of the pioneer students of the West Visayas State University College of Medicine, and has experiences as a retainer physician in various settings such as schools and companies. She has also been active in local medical associations, serving as the Secretary of the Iloilo Medical Society for 10 years, as a Board of Director and then Secretary of the PAFP Iloilo Chapter, for a total of 11 years, and was awarded as Outstanding Chapter Secretary by the Philippine Medical Association in 2005. She currently works as a Medical Officer at the Jaro 2 Main Health Center, does private practice, and is also currently working with Melody International to try out their technology in the Philippines.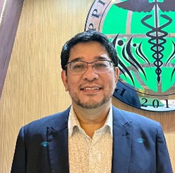 Luis Ramon V. Rodriguez, MD, MDM
CEO & President
KARL Group Holdings, Corp.
Dr. Luis Ramon V. Rodriguez (LRVR) serves as the founder and guiding light of several medical companies through Karl Group Holdings Corporation. Each subsidiary forms part of his advocacy in bringing quality and advanced healthcare, medical education, health care insurance, and other medically related projects all over the Philippines. By profession, LRVR is an ENT-Head and Neck Surgeon, an established medi-preneur, doing medical business for more than 25 years, who also served as a board member in various organizations and hospitals local and international. LRVR played an active role in promoting health & wellness by being the founding member/board of directors of various organizations.
---
The Hyper Interdisciplinary Conference (HIC) in the Philippines 2022 is the flagship conference of the Leave a Nest Group that aims to bring together people from different disciplines and walks of life, with the belief that a good level of diversity is the key to successful innovation. This year, the conference will return to its original face-to-face implementation with the theme "Philippines in 3D: Data-Driven Deep Technology"
Conference Details
Date: November 5, 2022
Time: 9:30 AM – 6:30 PM
Venue: Philippine Trade Training Center (Pasay City, Philippines)
Program Timeline
Time 
Activity

9:30 – 9:45 AM

Opening Ceremony

9:45 – 10:45 AM

Keynote Session 

(

Fusing the Framework of IT and Deep Technologies)

10:45 – 11:30 AM

Research Splash

11:30 – 12:30 NN

Poster Session 

12:30 – 1:30 PM

Lunch Break

1:30 – 2:30 PM

Panel Session 1 

(Tuning-in to Digital Health: Growing Disparity in Prenatal Care)

2:30 – 3:30 PM

Engineering Splash

3:30 – 4:30 PM

Panel Session 2 

(Cyber-focused Ecology: Mapping the Seeds through Environmental Analytics)

4:30 – 5:30 PM

Panel Session 3 

(Powering with AI and Metrics: Enhancing Hybrid Energy Systems)

5:30 – 6:30 PM

Awarding, Investment Announcement and Closing Ceremony
To know more about the conference and panelists, watch out for future announcements on this website, our official Facebook Page (Leave a Nest Group) or official LinkedIn account (Leave a Nest Philippines, Inc.).
For other questions and concerns, you can also contact Leave a Nest Philippines, Inc through: