The Very First HIC in Vietnam: Successfully Bridging Vietnamese Researchers for Improvement of QoL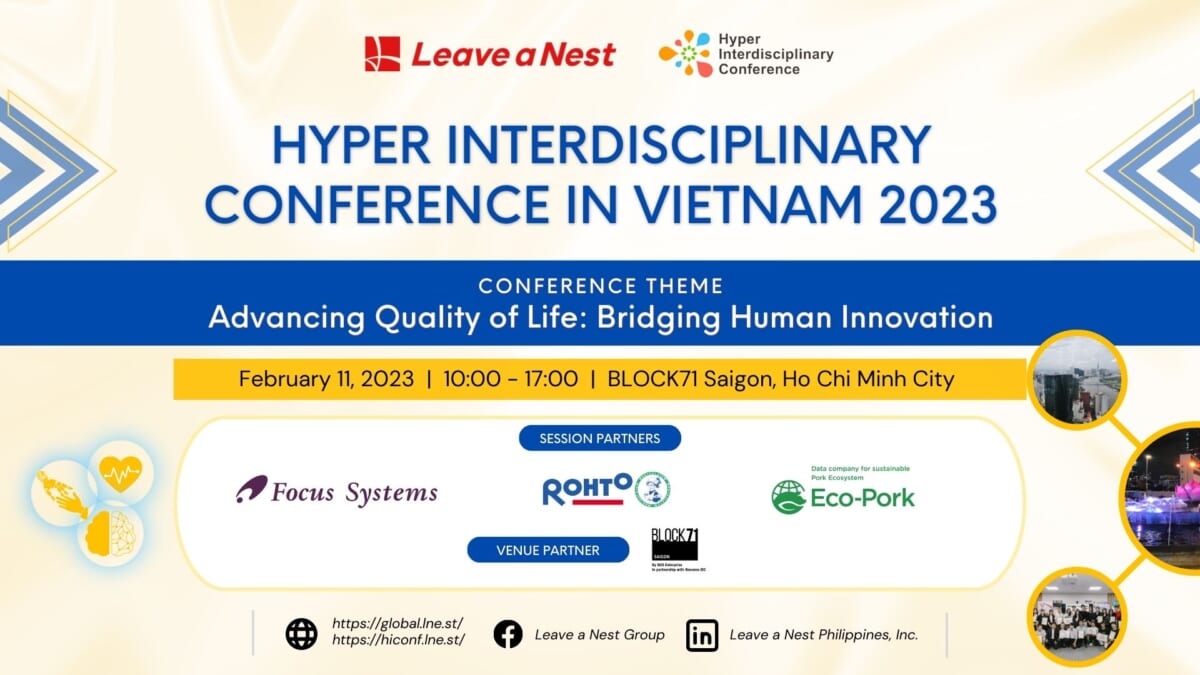 This 11th of February 2023, a monumental event has just happened as the very first Hyper Interdisciplinary Conference in Vietnam was held in Ho Chi Minh City. With an overall theme of "Advancing Quality of Life: Bridging Human Innovation", researchers from different fields gathered together to discuss of their innovative studies which could potentially help improve the quality of living of the people. The event was held fully face-to-face at the premises of BLOCK71 Saigon in partnership with Focus Systems Corporation, Rohto-Mentholatum (Vietnam) Co., Ltd., and Eco-Pork Co., Ltd. It was thanks to their support that the event was made possible and brought into full completion.
The event started with an opening speech by Mr. Ronrick Arayata, the project leader of this year's HIC Vietnam, as he discusses about the complexity of improving quality of life and the importance of bridging the ideas and solutions of one another in order to help bring our technological innovations to society. The current theme of the event dwells around these ideas and he was sure to set the tone of the event by making the audience understand this concept and keep it at the back of their minds throughout the entirety of the event.
Next, Dr. Ha Thi Thanh Huong gave a Keynote speech about the importance of health in improving the quality of life of the people. The overall theme of the session was "Aspects Surrounding Quality of Life" and health was definitely one of the key aspects of quality of life as every person would want to live a healthy life without illnesses or diseases. Dr. Huong was especially able to dive in the subject matter of mental health and how this is actually very important in today's society. After the keynote speech, a panel session was conducted which included Mr. Shunsuke Shinoda and Mr. Yu Inaba who gave some key comparisons between Vietnam and Japan's healthcare system. These differences and similarities indeed gave some ideas on how to further improve each other's health sector as each panelist got an idea on which kind of research they would want to tackle next after the session.
The Technology & Research Splash was then conducted right after the keynote session. A total of 16 researchers presented their studies to the crowd in a fast-paced but informational manner in which they were given 3 minutes to give a general info of their research to everyone in the audience. Most of the research shared in the conference were related to the medical field such as studies about the brain, while there were also some studies about ecology and aquaculture mixed in. Everyone exuded passion and knowledge in each of their research which let to some of the partners in the event to gain interest in those studies of theirs.
The afternoon then started with the poster session in which the 16 Splash presenters went to their respective posters to explain their studies in more length to those who got interested in their research. Everyone in the venue was seen constantly discussing with one another in all kinds of language as there were a mixture of Vietnamese, Japanese, and Filipinos in the event. A lot of bridges were definitely built for the researchers that day as each participant connected their ideas to one another. Members of Focus Systems were especially interested in the Dr. Hang's research about LogiOT which is an "Optimal Logistics System for Organic Recycling" and Mr. Shinoda of Rohto was also interested in certain researchers studying the brain as well as the studies relating to bioactive compounds. We would be carefully watching the growth of these researchers as possible collaborations starts to sprout right here.
The first panel session of the afternoon was then held after, where they discussed about the importance of education being one of the most important foundations in improving the quality of life. With the overall topic being "Inspiring the Next Generation, Securing QoL of the Future", the panelists discussed in much detail about the issues that the education sector is experiencing such as the declining interests of students to Science and the dwindling support of the masses towards education, and how they could solve these issues through several ways such as having competitions, giving more opportunities to students, and using the power of technology to get back their interests to Science.
Starting off the second and last panel session was Mr. Takashi Kambayashi from Eco-Pork, who presented about their company and the importance of the pork industry sustainability in maintaining our quality of life especially in our food. A discussion followed afterwards with the theme of "Bridging Smart Industries for Society", which tackled the developments in technology in a general sense and how they helped improve the quality of life of the people. Issues and problems about the implementation of technology to society were highlighted such as the avoidance of the older people to new technologies, lack of support and funding, as well as not having the right mindset in starting a new business. Several solutions were also given to the table such as the importance of bridging and connecting people from other parts of the world in order to bring different minds together and form solutions to these long-term complicated problems. Mr. Kambayashi especially shared that Leave a Nest is one of the key players in forming these solutions, as the company has bridged Eco-Pork from Japan to Vietnam. Through this, Eco-Pork was able to present their technology to others, while also hearing different local issues and possible solutions from other people, which in turn further helped improve the growth and development of Eco-Pork as a company.
At the end of the whole event, we had the awarding of GaraSTEM who was one of the Finalists from TECH PLANTER Vietnam 2018 and they have done several activities with Leave a Nest such as Science workshops with students using their self-made robot kits. They were then invested in by Leave a Nest last 2022 due to their potential to solve the issues of decreasing interest in education especially Science and robotics. Through this awarding, Leave a Nest will continue to support GaraSTEM by using their robot kits for more Science workshops with students all across South-East Asia, starting with the Philippines.
And with that, the very first Hyper Interdisciplinary Conference in Vietnam 2023 officially comes to an end, but this would just serve as the start of Leave a Nest's activities in Vietnam. Through this event, we were able to tap a small section of researchers from Vietnam and we were able to bridge them to people who could possibly accelerate their research further into completion. In future events and activities, we would expand our operations to not just in Ho Chi Minh City but also in other areas such Hanoi and Da Nang in order to reach out to other key players in the research and industry sectors of those regions. Leave a Nest will continue to bridge more researchers as well as the different sectors of society in order to further fulfill our grand mission of "Advancing Science and Technology for Global Happiness".
For more information about the HIC in Vietnam 2023, please visit our website below
https://hiconf.lne.st/conference/vietnam2023/
For any concerns or questions about this event, email the following members below: