Ateneo Intellectual Property Office (AIPO) partners with Leave a Nest to support research and entrepreneurial development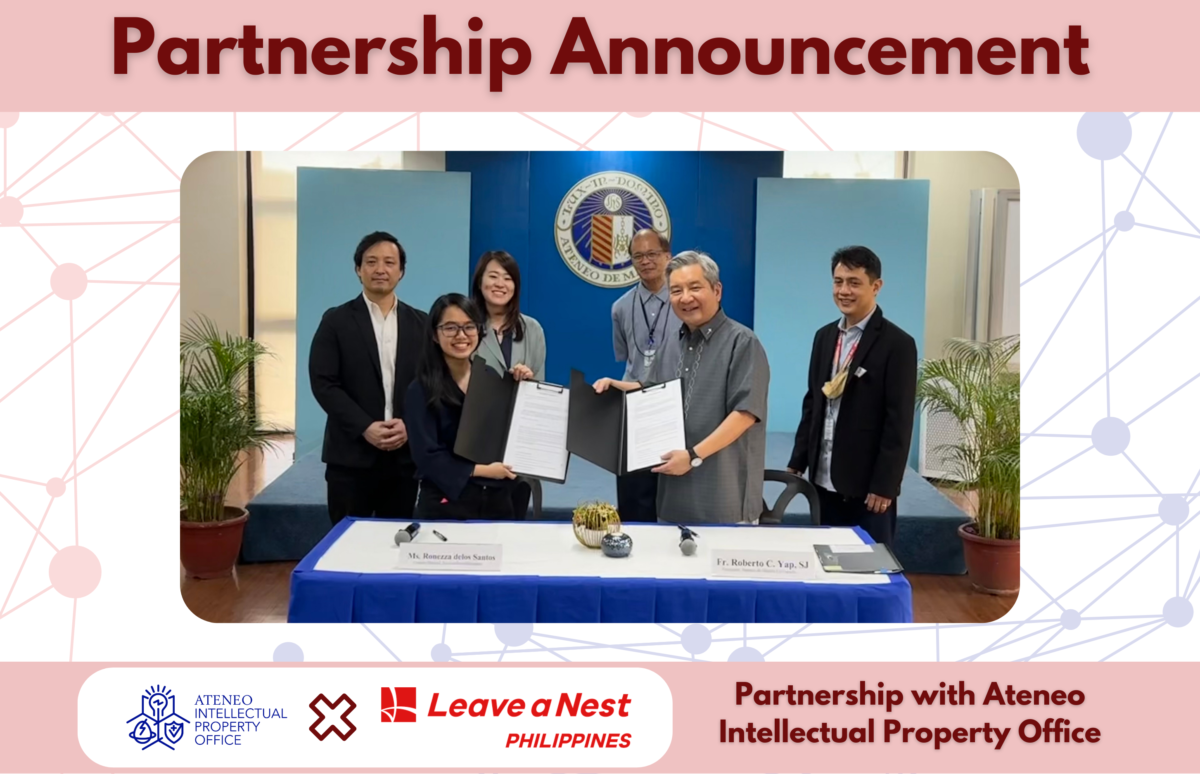 On March 17, 2023, another milestone was achieved by the Leave a Nest Philippines, Inc. as they started a partnership agreement with the Ateneo Intellectual Property Office (hereinafter referred to as AIPO) of Ateneo de Manila University (hereinafter referred to as ADMU). 
The ceremonial signing was done at the campus grounds of ADMU, represented by Ronezza Delos Santos, Director of Leave a Nest Philippines, Inc., along with Roberto C. Yap, S. J., the President of ADMU, The contract was witnessed in the presence of AIPO's Head of Commercialization and Business Incubation, Engr. Benjamin Mirasol, Leave a Nest Philippines Director, Dr. Yuko Ueno, and Leave a Nest Group CEO, Dr. Yukihiro Maru.
This signing is the inauguration of future projects and collaborations between Leave a Nest Philippines and AIPO. The purpose of this partnership agreement is to foster technological innovation, entrepreneurial mindset, and socio-civic passion to ADMU's community of researchers and entrepreneurs through the help of Leave a Nest and its current partners.
AIPO is responsible for the ADMU's intellectual property protection. Their mission is to promote nation-building through support, protection, and commercialization of innovative ideas that solve issues deeply rooted in Philippine society. 
Leave a Nest Philippines was established on March 10, 2021. In its two years of existence, it was able to achieve projects that aim "To Harmonize Science and Technology for the Empowerment of Filipinos". Such projects include the Leave a Nest Forest Project and entrepreneurship programs with DOST-SEI and ISAT-U.
The Leave a Nest Group and AIPO will work together in various programs such as an issue-based program for startups and research teams (e.g. TECH PLANTER), undergraduate immersion programs to introduce entrepreneurship and Japanese ways of doing business, and events that support research development. Leave a Nest Philippines' obligation is to facilitate engagements, suggest incubation strategies, and provide adoption and technology transfer opportunities to ADMU's researchers and startups. AIPO's obligation is to promote engagements and collaboration between their network and Leave a Nest Philippines' network. 
Leave a Nest Philippines is happy that their goal is in line with AIPO's goal of developing the startup and research ecosystem of the country. Leave a Nest Philippines is hoping to support initiatives that serve as a stepping stone towards advancing science and technology for global happiness. 
[Inquiries]
For more information and any question about Leave a Nest's partnership with AIPO, please contact Leave a Nest at [email protected]