Call for participants for the Food-Biotech Immersion Program in Japan is now open!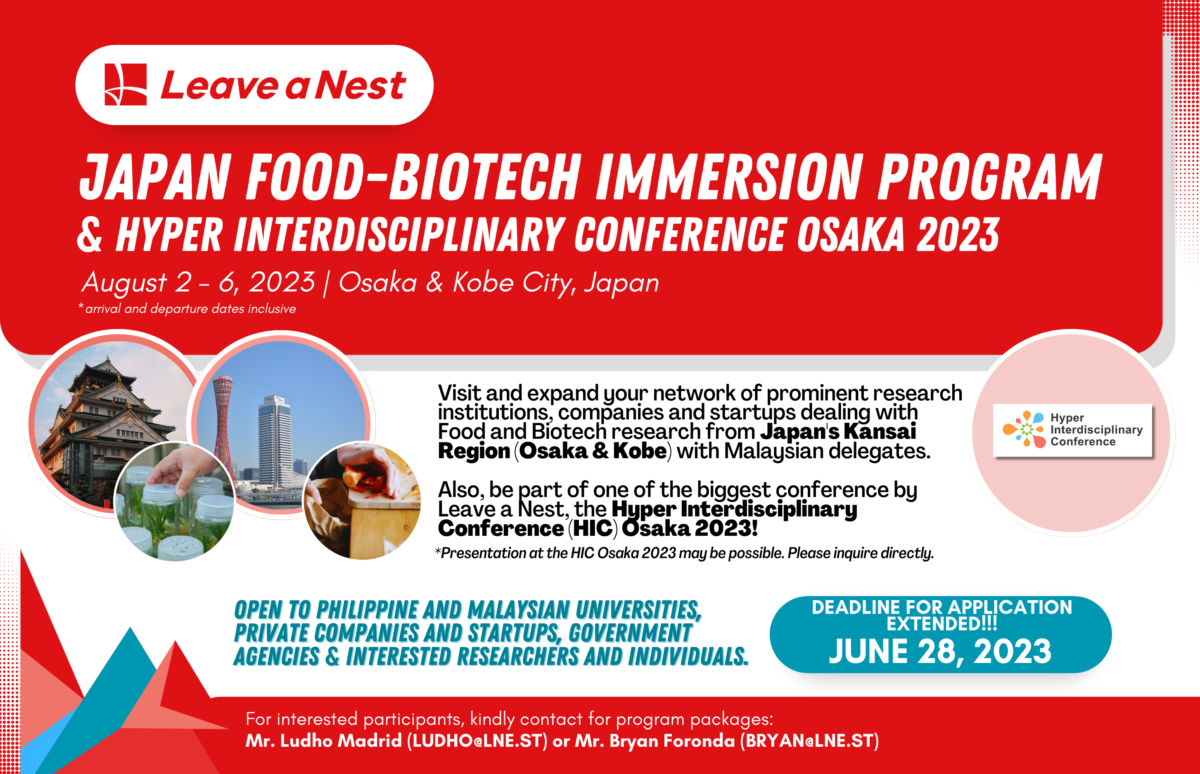 The Philippines has been developing its biotech and food sectors in recent years, but there are problems such as limited infrastructure and resources. On the other hand, Japan has made significant advancements in both biotechnology and food technology. The Kansai region, especially Osaka, is one of Japan's centers of food and biotech research and startup innovation. 
Therefore, in line with our initiative of improving the Philippines by connecting to Japanese technology, we encourage researchers, startups, companies, and government officials in the Philippines to join the Japan Food-Biotech Immersion Program from August 2 – August 6, 2023 (arrival and departure dates included) in Osaka City and Kobe City. 
The program contains a 2-day tour to Japanese research facilities, startups, and companies who are doing great innovations in food technology and biotechnology. The last day of the program is the Hyper Interdisciplinary Conference (HIC) in Osaka, an academic conference aimed to bring researchers, large companies, manufacturers and startups together to create solutions to solve social issues. Participants in the immersion program are open to present their research projects from any field at the HIC.
Summary of Itinerary
August 2, 2023

Arrival at Kansai International Airport

August 3, 2023

Program Orientation

Visit to Research Facilities and Startups

August 4, 2023

Visit to Corporate Facilities and Startups

August 5, 2023

Hyper Interdisciplinary Conference in Osaka 2023

(English parallel sessions are available)

August 6, 2023

Departure from Kansai International Airport

(Participants can opt to depart on August 7, with August 6 as a free day)
UPDATE: Deadline of statement of intent to join is extended on June 28, 2023. For more information about the program (tentative itinerary, packages, application timeline) you may contact Ludho Madrid ([email protected]) or Bryan Foronda ([email protected]).