TECH PLANTER in Vietnam 2023: Announcement of the Complete Set of Judges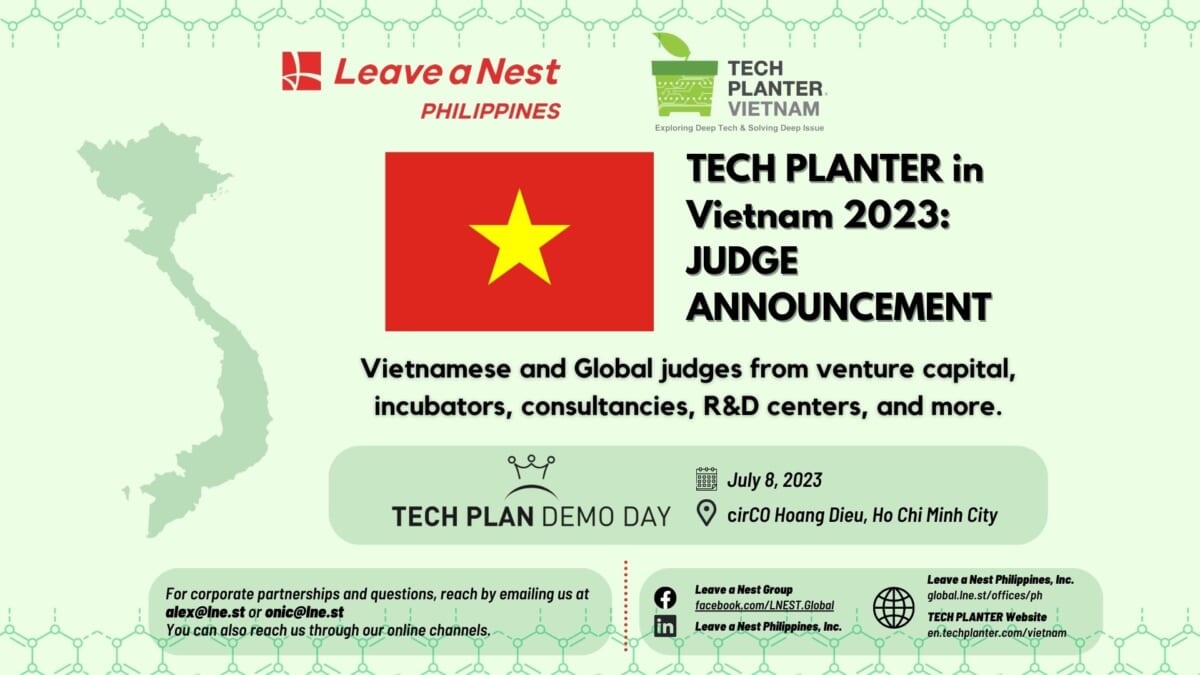 Leave a Nest is delighted to announce that the second half of the 2023 season of TECH PLANTER ASEAN will commence in July. We are excited to bring the next Demo Day to Vietnam! Following successful events in the Philippines, Indonesia, and Singapore, we are now preparing for an event where nine finalists will present their groundbreaking innovations. Esteemed judges from Vietnam, as well as global judges representing venture capital firms, incubators, consultancies, R&D centers, and more, will be present at the TECH PLAN Demo Day in Vietnam 2023. We are proud to announce the full list of judges for this highly anticipated pitching competition.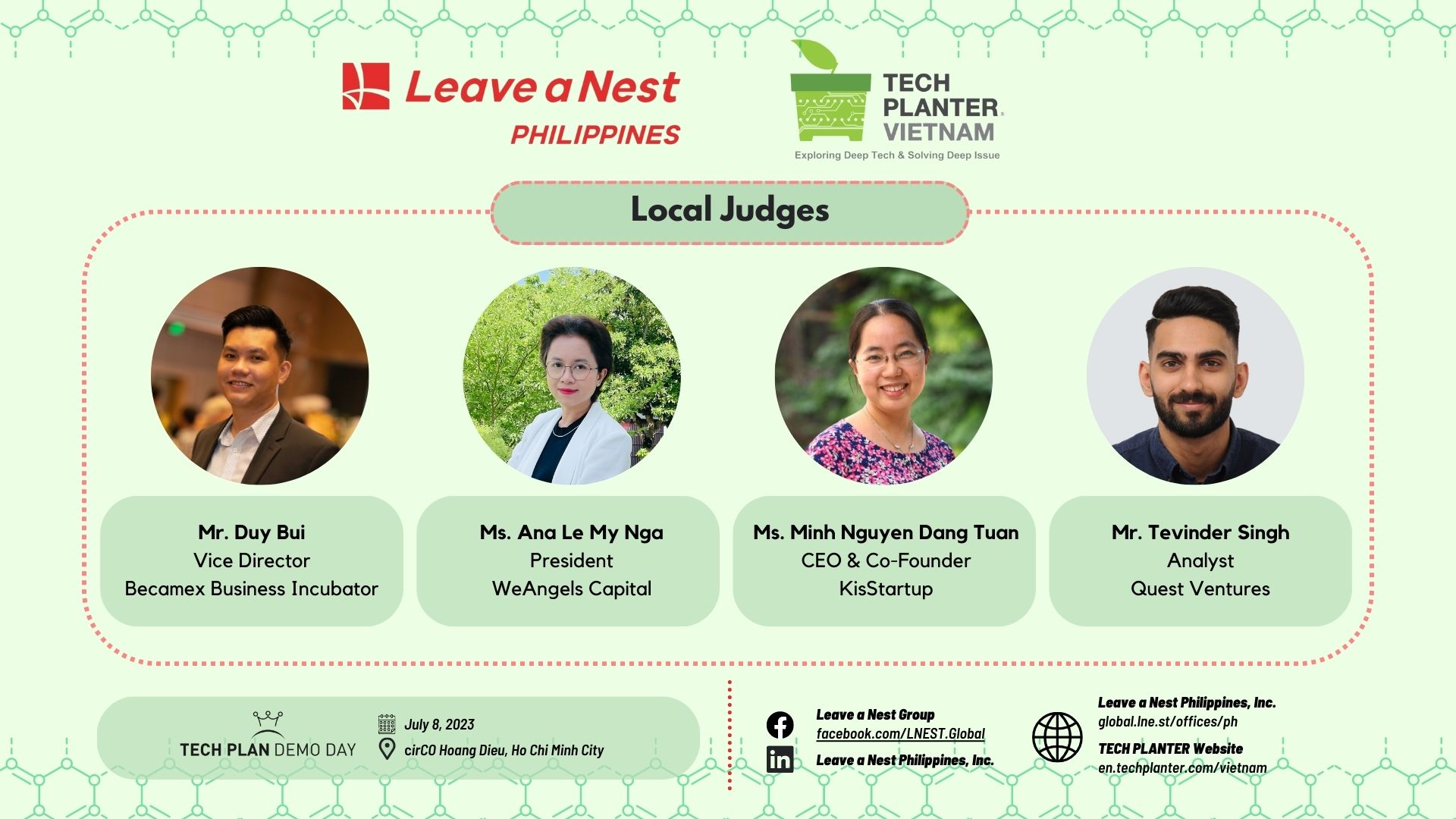 Local Judges
Mr. Duy Bui

|

Vice Director, Becamex Business Incubator

Duy Bui is a Vice Director at Becamex Business Incubator with a strong passion for helping startups deliver innovative solutions and create value for the market. With over three years of experience specializing in startup consulting and entrepreneurship education, Duy is an active partner who embraces and supports new ventures. He focuses on developing an entrepreneurial mindset and ecosystem by providing infrastructure and academic guidance to startup companies. As an ex-Program Manager at BLOCK 71 Saigon, Duy has been able to use his experience to create a robust entrepreneurial ecosystem within the Becamex Business incubator. His contributions have earned recognition from the incubated members and the startup community at large.

Ms. Ana Le My Nga | President, WeAngels Capital

Ms. Ana Le My Nga is the President of WeAngels Capital (previously Hermes Management Group) and the Vice President of Vietnam Innovation Hub. WeAngels is an angel investment fund provider along with mentoring and strategic consulting services to startups. Since 2017 until the present time, Ana has done various activities such as being a startup advisor, a judge, or a speaker at various events of universities and incubators including the Hack4Growth, Project Runway, FLAGUP, and Hult Prize, Global Social business creation competition of HEC Montreal university Canada. She has obtained the Excellent Global Educator award 2022 organized by HEC Montreal University – Canada.

Ms. Minh Nguyen Dang Tuan | CEO & Co-Founder KisStartup

Nguyen Dang Tuan Minh (Ms.) is the founder of KisStartup Innovation Consulting, Coaching, Mentoring. Minh is among 16 women leaders from 13 countries in the world selected to join Fortune – U.S. Department of State Global Women's Mentoring Partnership in 2018. She is one of 12 Innovation Coaches certified by the Ministry of Science and Technology of Vietnam and Ministry of Foreign Affairs of Finland. With 15 years of experience working and researching in entrepreneurship, business development, management and digital enterprise management and startup; 5 years of experience in teaching in English of e-business, innovation & entrepreneurship, Minh also contributes to the innovation community by both intensive innovation coaching, mentoring and researching. Minh serves as the Manager of SME Mentoring 1:1 in Hanoi. Minh is also an author of the book "Innovation & Entrepreneurship – Mindset and Tools". She serves as Head of Investment Matching Department at Techfest 2016, 2017, 2018, and 2020. Since 2022, Minh has been taking charge of the Head of Corporate Innovation Village – TECHFEST.

Mr. Tevinder Singh | Analyst, Quest Ventures

Tevinder Singh is an Analyst at Quest Ventures, a top venture capital firm in Asia. He works closely with startups to accelerate their growth through a combination of acceleration services and programmes. He is also responsible for market access initiatives for key markets in Southeast Asia. Tevinder was previously with Pace Enterprise where he was responsible for commercial growth through customer analysis, sales forecasting, and planning. In addition, he worked on the development and implementation of sales strategies suitable for the company at its stage of growth. He attends startup events as a guest speaker and panelist. He is also a frequent host for international technology and startup delegations to Vietnam. Tevinder is a Quantitative Finance major from the National University of Singapore. For leisure, he enjoys football, poker and travelling.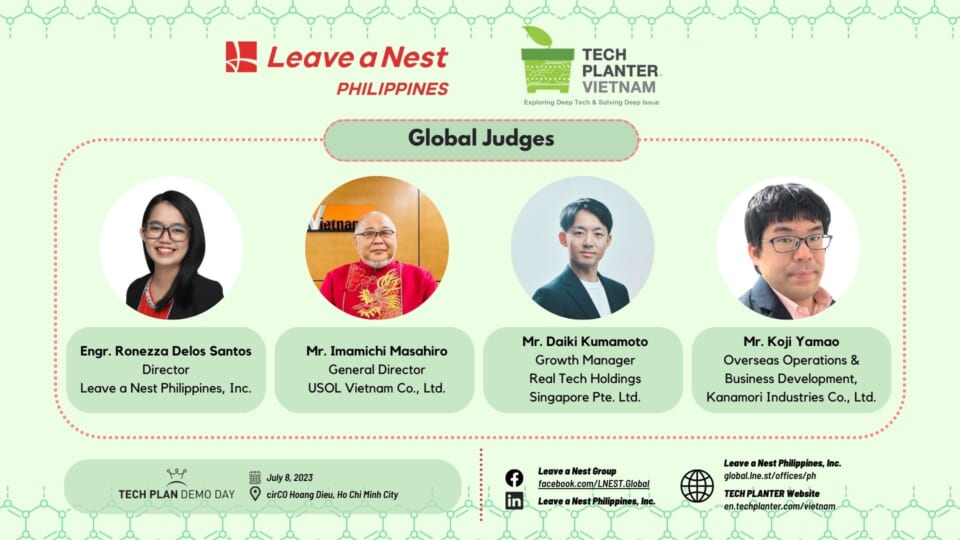 Global Judges
Engr. Ronezza Delos Santos | Director, Leave a Nest Philippines, Inc.

Ronezza "Ezza" Delos Santos is a licensed Chemical Engineer who graduated from the University of the Philippines Diliman. After taking an internship for Leave a Nest's TECH PLANTER in the Philippines 2021, she took the challenge to be one of the pioneer members of Leave a Nest's Philippine subsidiary. She is committed to help unleash the potential of the Philippines and Filipinos in science and technology for the advancement of the country, and in March 2023, she became a Director of Leave a Nest Philippines. As part of the Leave a Nest Group, she is also excited in manufacturing new knowledge by communicating and collaborating with passionate researchers and startups from other countries in Southeast Asia such as Vietnam.

Mr. Imamichi Masahiro | General Director, USOL VIETNAM Co., Ltd.

After engaging in software development and operation of core systems of Japanese financial institutions, he expanded the application of US-made software to the Japanese market. Around the year 2000, he led a team and participated in work focused on architectural design of system development projects, contributing to the completion of over 100 projects for the BIPROGY group. Since around 2010, he has been in the research department of the BIPROGY group, promoting incubation of internal and external software technology through joint research and commercialization studies with various companies and organizations. Over the past few years, he has been reforming and expanding the offshore development organization and expanding business in Vietnam at a BIPROGY group company in Vietnam.

Mr. Daiki Kumamoto | Growth Manager, Real Tech Holdings Singapore Pte. Ltd.

Daiki Kumamoto is the growth manager of Real Tech Fund as well as the leader of Global Fund, mainly investing into deep-tech startups in Southeast Asia. He invests in startups that bring solutions to care / welfare, serving as a director of aba; developing sensors for excretion detectors for elderly care. For investments in Southeast Asia, he is in charge of NDR Medical, Austrianova, Karana, ceEntek and many more. Before joining Real Tech in 2018, he was the president of the AIESEC, the largest NPO in Japan that commits in supporting young entrepreneurs globally. He graduated from Keio SFC University with a bachelor in management.

Mr. Koji Yamao | Overseas Operations & Business Development, Kanamori Industries Co., Ltd.

Since 2010, Mr. Koji Yamao has been involved in overseas sales of a valve manufacturer, and in 2016, he established a local subsidiary of a printing trading company and manufacturer in Vietnam. Using these experiences, he engaged with a robot venture company from Kagawa University in 2019 to do overseas sales and business development in India and the Middle East. He was able to contribute to the sale of a cleaning robot for solar panels in a 400-MW powerplant in Dubai, UAE. He joined Kanamori Industries Co., Ltd., "Your Innovation Partner" in 2023, who is planning to expand to Vietnam in the near future.
Lastly, the upcoming Demo Day would not be possible without the invaluable contributions of our partners. Leave a Nest would like to extend its sincere gratitude to all the partners for their unwavering support in fostering innovation and nurturing entrepreneurship during the TECH PLAN Demo Day in Vietnam 2023.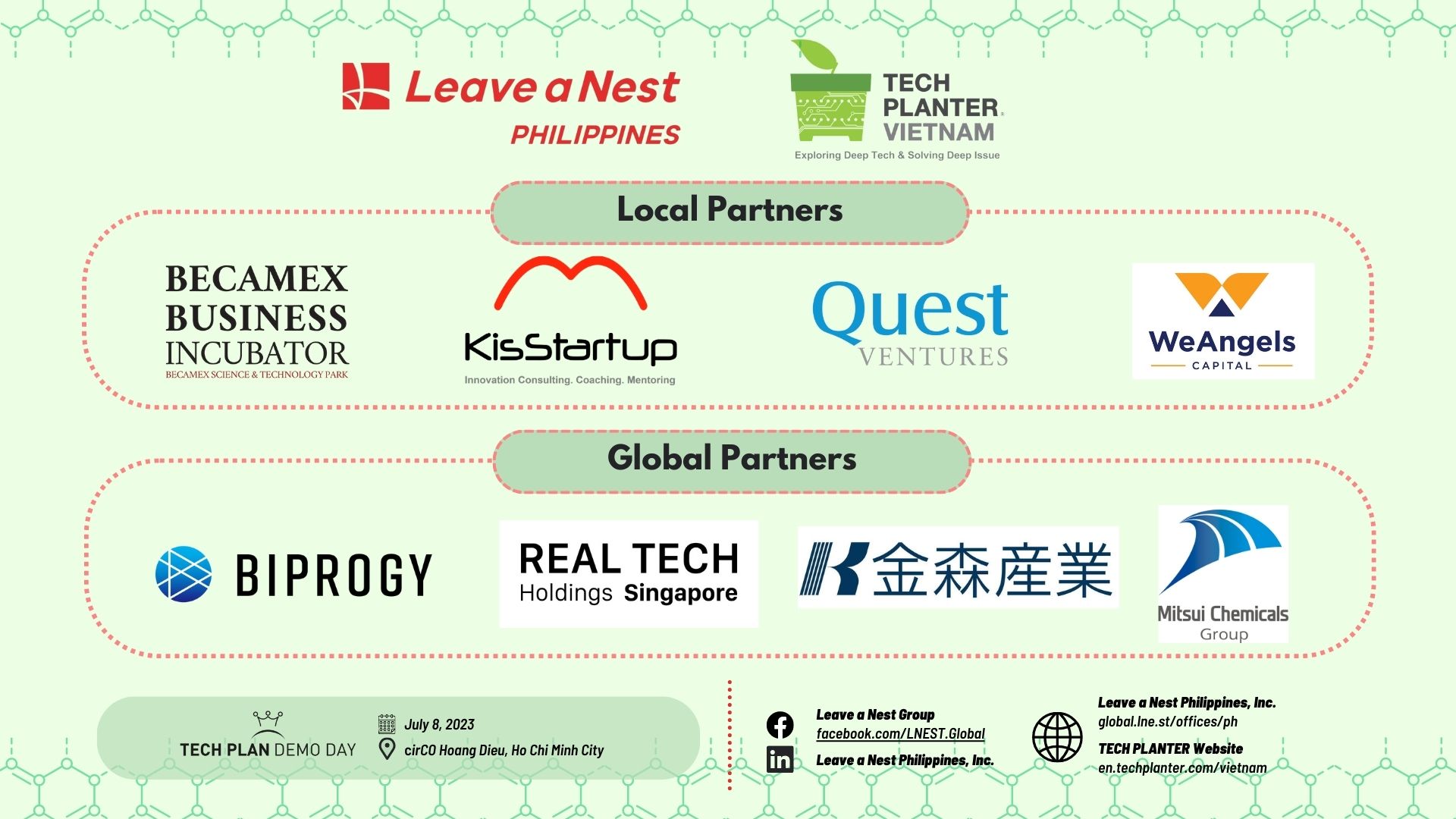 For any inquiries about TECH PLAN Demo Day in Vietnam 2023, please contact [email protected] or Alexander Gali ([email protected]).