TECH PLANTER Vietnam 2023: Unveiling Innovation on Demo Day, July 8th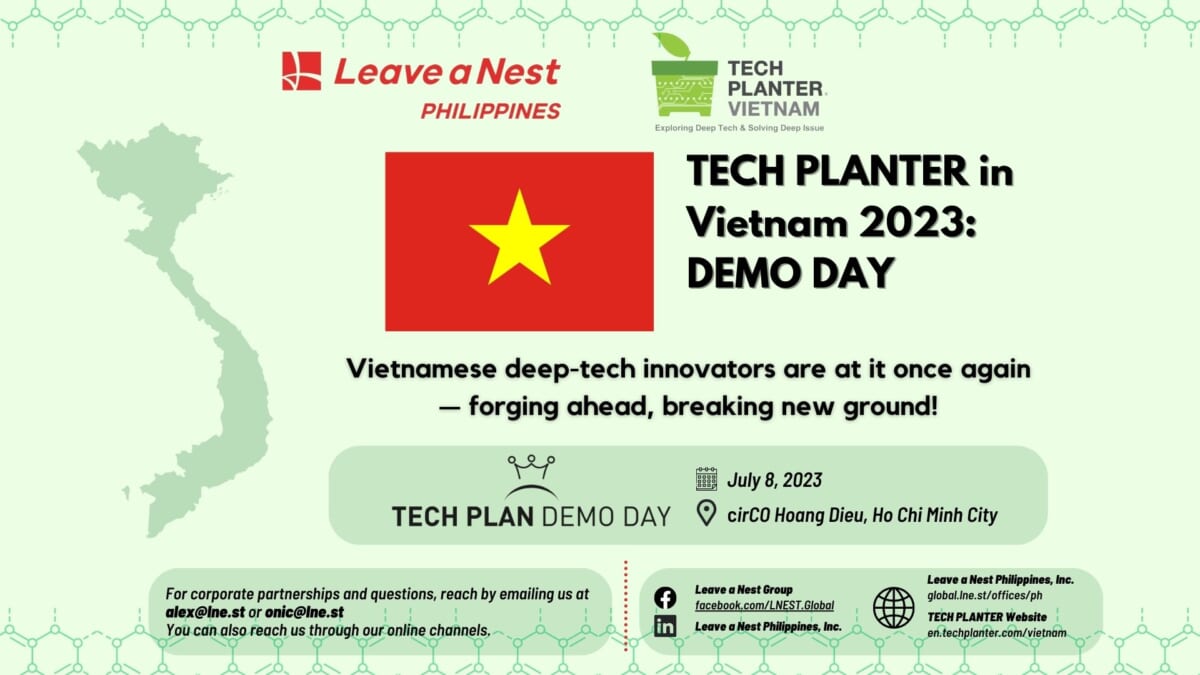 In order to help bring deep technologies into society, TECH PLANTER has again started a new season this 2023. TECH PLANTER is a platform that Leave a Nest started back in 2014 to support startups around the world. Leave a Nest is conducting this program in 6 countries across the ASEAN region. Our platform allows support to startups including prototyping support, IP strategy, and investments. Essentially, it is focused in connecting startups to large corporates, especially from Japan. Leave a Nest envisions a future where the deep technology ecosystem grows to be more cohesive and more robust to solve the deep and urgent issues that we face today.
The TECH PLAN Demo Day is a semi-closed event that brings together various stakeholders who are involved in developing innovative solutions for the betterment of society. Leave a Nest is dedicated to inspiring the next generation of tech entrepreneurs and researchers who want to bring their technologies into society, providing them with opportunities to learn practical knowledge and support for establishing a viable startup and connect with experts from diverse fields.
Nine standout finalists have been selected to pitch and compete in the highly anticipated TECH PLAN Demo Day for the prestigious title of TECH PLANTER in Vietnam 2023 Grand Winner. These finalists will come together to showcase their groundbreaking technologies, driven by a passion to address various pressing challenges faced not only in Vietnam but globally as well.
You can read about our amazing finalist teams from this previous news release:
TECH PLANTER in Vietnam 2023: Finalists and Lightning Talk Teams Announcement
Distinguished judges, comprising of representatives judges from Vietnam and global from venture capital firms, incubators, consultancies, R&D centers, and more, will assess each finalist's presentation and innovation.
You can also know more about our prestigious judges from the news release below:
TECH PLANTER in Vietnam 2023: Announcement of the Complete Set of Judges
Lastly, the upcoming Demo Day would not be possible without the invaluable contributions of our partners. Leave a Nest would like to extend its sincere gratitude to all the partners for their unwavering support in fostering innovation and nurturing entrepreneurship during the TECH PLAN Demo Day in Vietnam 2023.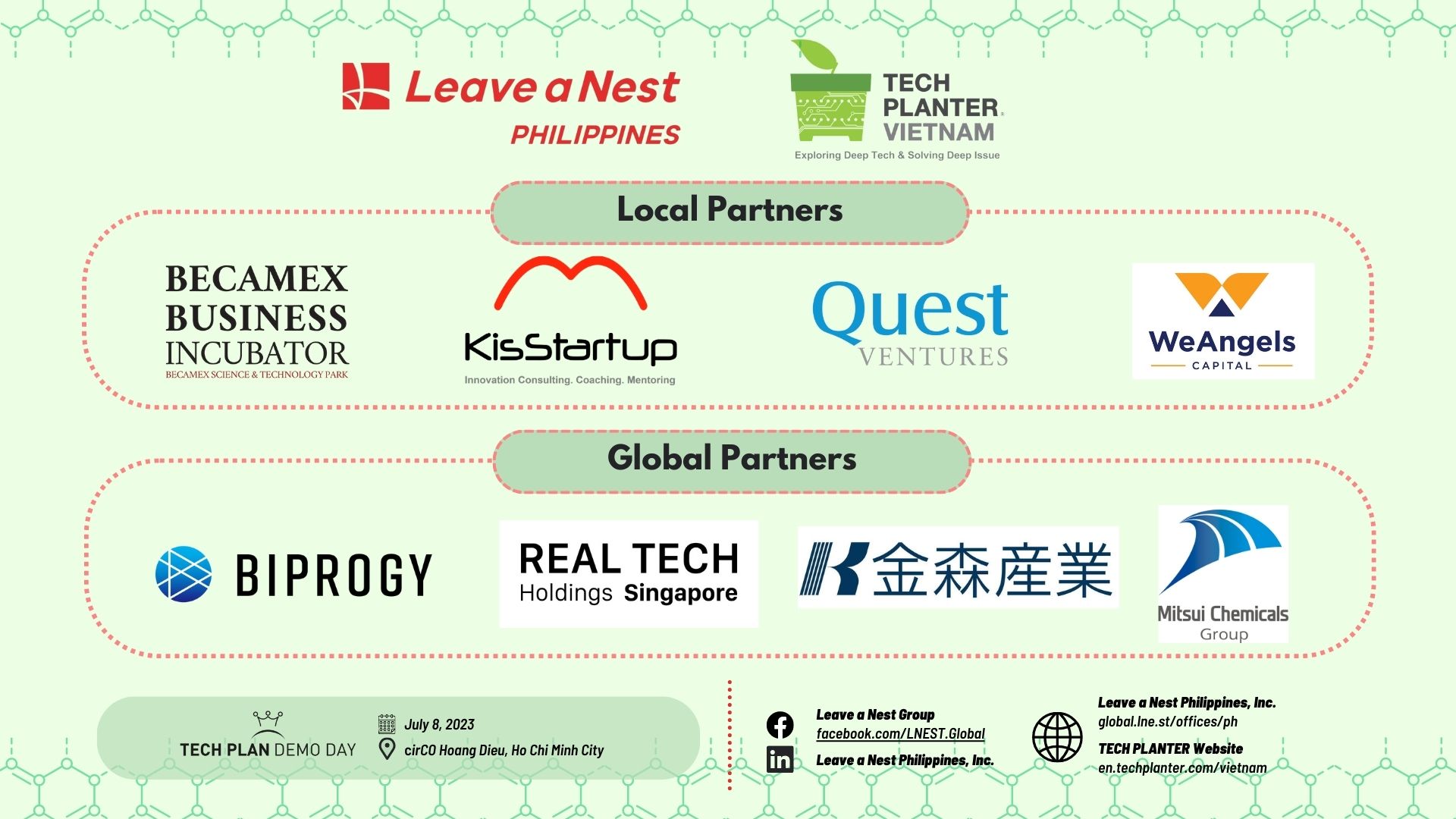 ___________________________________________________________________________________
Program Details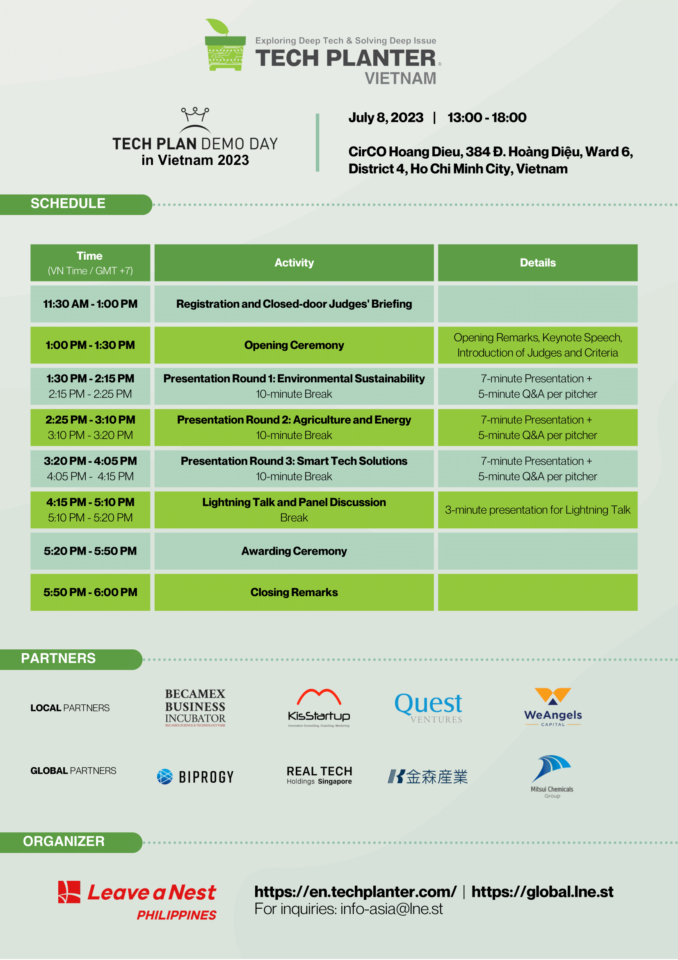 For any inquiries about TECH PLAN Demo Day in Vietnam 2023, please contact [email protected] or Alexander Gali ([email protected]).