Leave a Nest Philippines' Pugad Agham Science Experiment Workshops launched to hatch young Filipino scientists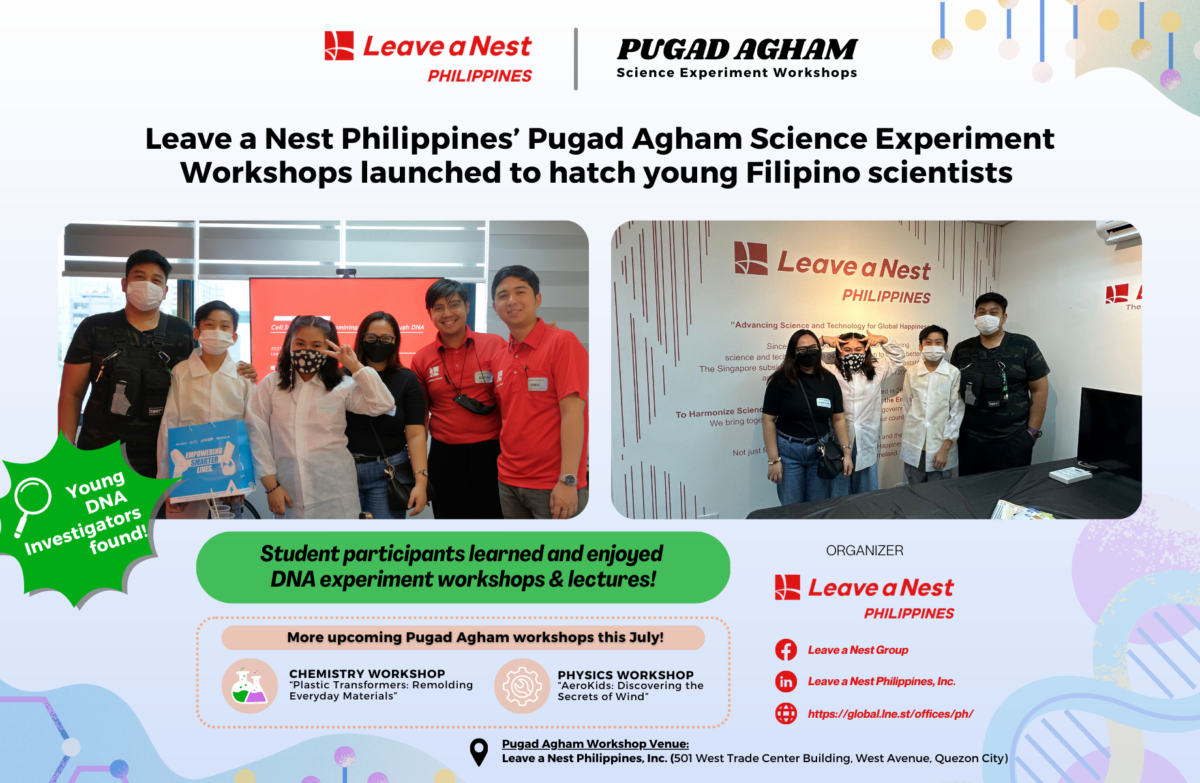 Being a subsidiary of the Leave a Nest Co., Ltd. (Japan) and part of the Leave a Nest Group, Leave a Nest Philippines is proud to announce that it has started to conduct Science Experiment Workshops for primary and secondary school students under the name Pugad Agham (Filipino translation of "The Science's Nest"). Science Experiment Workshops were the original flagship programs and one of Leave a Nest Group's ceaseless initiatives since 2002, gathering traction from different schools who want to create better scientists & leaders and industry partners who believe in the power of cultivating better understanding of scientific and technological concepts as productive investments. 
As a group, Leave a Nest puts emphasis in creating programs and avenues to spark interest and influence lifelong scientific journeys among the younger generation through easy-to-understand science workshops fused with universally-relatable messages that the students will gain value and inspiration from. It also hopes to increase science education, and the number of the next generation of talents, scientists and engineers here in the Philippines.
Under the Education Development Division of Leave a Nest Philippines, the first-ever "Pugad Agham" on-site workshop was organized last June 25, 2023 at the Leave a Nest Philippines Headquarters in Quezon City. The workshop focused on teaching about Cell Biology, more specifically in the merging concept of DNA, and the important work of healthcare practitioners  to Grade 5-6 students by Leave a Nest's team of teaching managers and teaching assistants.

Grade school students from the University of the Philippines Integrated School and Holy Family School of Quezon City, Inc. participated in the workshop, where they were able to experiment individually and also as a team as part of the workshop scheme. The workshop involved experimental DNA extraction on fruits, which utilized easily accessible materials that allow the students to repeat and reproduce even after the workshops, and learning through live and written short question and answers and drawing activities. 
Through this Pugad Agham implementation, the participant students, together with their respective parents, witnessed and enjoyed the science behind DNA and extracting it from things commonly around them, which interested them as they experienced it first in the said workshop. Assisted by the workshop's message and framework, the students also found teamwork, creating collaborations and advocating collaborative environments were helpful in achieving their goals – hopefully later on as researchers themselves. The participants' parents also echoed their belief that other students of similar ages and grade levels would appreciate and enjoy science by participating in Pugad Agham workshops.  


Utilizing its teaching framework and passion to cultivate science and technology in the society, Leave a Nest Philippines have created and continuously organize more Pugad Agham workshops as a service and hope to bring this program to more primary and secondary school students all over the country. 
The next Pugad Agham workshops will focus on Chemistry and Physics and will be conducted on July 15, 2023 (Saturday) at the Leave a Nest Philippines Headquarters. 
To get updated by the latest Leave a Nest Philippines' Pugad Agham workshops and other initiatives, you can follow Leave a Nest Group's Official Facebook Page and Leave a Nest Philippines LinkedIn page. If you have any questions or inquiries regarding Pugad Agham and/or other initiatives of Leave a Nest Philippines, please reach us through this website's contact page.