HIC in the Philippines 2023 Panel Session 1 – The Outlook of Education: Exploring the Integration of Cyber Technology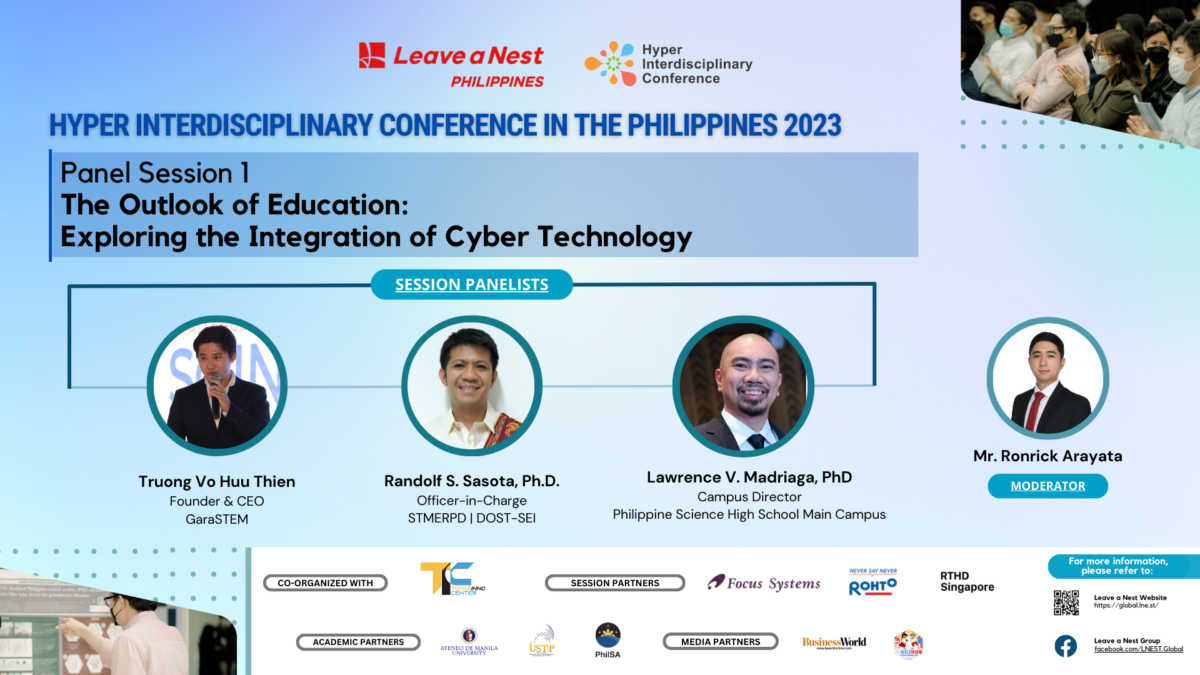 Leave a Nest Philippines will again be conducting the Hyper Interdisciplinary Conference in the Philippines this coming November 11, 2023! With the general theme of "Convergence of Reformative Technologies for Localized Solutions",  the conference aims to tackle how various innovative technologies coming into the Philippines strive to address the unique challenges that we have in the country. The conference will be having 3 panel sessions mainly exploring the fields of education, health, and environment.
This first panel session will be within the field of education with the theme of "The Outlook of Education: Exploring the Integration of Cyber Technology". In this session we will discuss the issues that the education sector is facing in seeking to develop its systems, not just in the Philippines setting, but also in its neighboring countries as well. The participants are expected to learn of the various actions that these different people are taking in order to advance our education, while getting a glimpse of the future that these different sectors of society are visualizing for the development of education – and hopefully be encouraged to utilize these technologies in their institutions as well.
For this endeavor, we have invited a startup company from Vietnam called GaraSTEM to share their experience in striving to expand their scope to help the education sector of the Philippines. They are a well-known robotics education company in Vietnam who is trying to bring their robot kits to the Philippines in hopes of encouraging the students to take more robotics related courses. We have also invited a school director from the Philippine Science High School to talk about their experience about this paradigm shift and how they managed to adapt to the shift. And lastly we have a representative from DOST – SEI who has had extensive experience in the educational field and they will give us a government perspective on this issue of cyber technology as well as their actions they would like to take for the future. Take a moment to get to know them all below.
---
Session Partner : Focus Systems Corporation

Session Panelists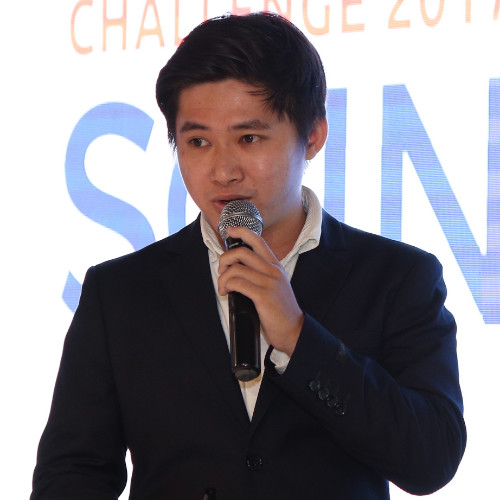 Truong Vo Huu Thien
Founder & Chief Executive Officer
GaraSTEM
Mr. Truong Vo Huu Thien has had a passion for computer technology from a young age. After graduating with his Bachelor degree in Vietnam, he received a scholarship for a Master's degree in Computer Science at the Institute of Advanced Science and Technology in Japan. After completing his Master degree, he returned to Vietnam and established GaraSTEM Educational Technology Joint Stock Company with his desire of bringing STEM education closer to Vietnamese students. With over 8 years of experience and expertise in the field of Entrepreneurship and Information Technology, he has made GaraSTEM become one of the top STEM education companies in Vietnam. Especially in 2022 where the Computer Science 10 and 11 textbooks – Computer Science Specialty, which he participated in the compilation, was officially put out into a teaching program in high schools in Vietnam.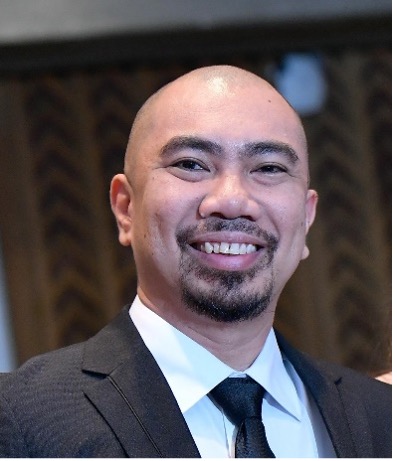 Lawrence V. Madriaga, PhD
Campus Director
Philippine Science High School Main Campus
Lawrence V. Madriaga is currently the campus director of the Philippine Science High School Main Campus (PSHS-MC). Lawrence graduated from the University of the Philippines Diliman with undergraduate and Master's degrees in Metallurgical Engineering and a PhD in Materials Science and Engineering. Prior to his current position, he was a member of the faculty of the Mapua University, then became a manager in a semiconductor manufacturing company as well as a telecoms software company.  As an educator, Lawrence handled courses in Thermodynamics of Materials, Mechanical Properties of Materials, and mentored research teams in both undergraduate and graduate levels. In semiconductor manufacturing, Lawrence managed teams that delivered technical training to engineers and technicians and was in charge of the company's in-house Master of Science program. In telecoms software, he managed the company's external partners, local and international, in pursuit of various projects. Outside of work, Lawrence is a foodie who spends time cooking local dishes for personal consumption.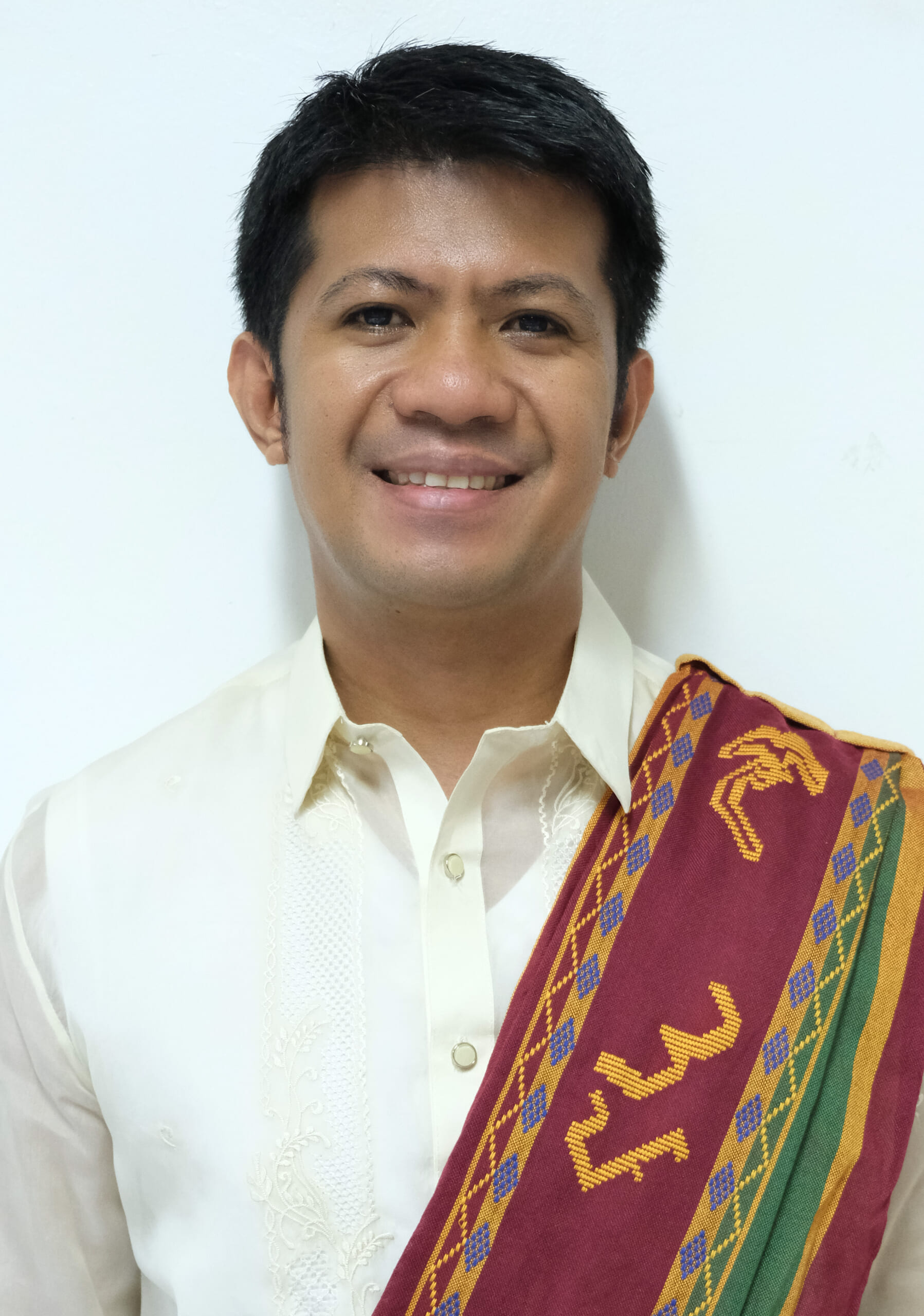 Randolf S. Sasota, Ph.D.
Officer-in-Charge
Science and Technology Manpower Education Research and Promotions Division
(DOST-SEI)
Dr. Sasota is a Supervising Science Research Specialist and the Officer-in-Charge of the Science and Technology Manpower Education Research and Promotions Division (STMERPD) of the DOST – Science Education Institute. He currently leads the division in the promotion of science to the youth, the conduct of research and evaluation studies related to science education and S&T human resource development, and the provision and implementation of the management information system in the Institute. Before heading STMERPD, he led pioneering research projects related to S&T human resource development. He authored the first comprehensive report on S&T professionals in the Philippines. He also played a crucial role in producing the Migration of S&T Human Resources reports. His research article titled "Will-Skill-Tool Model of Technology Integration in Teaching Science and Mathematics in the Philippines" received the 2021 DOST International Publication Award from NAST. Outside his regular government role, he serves as a Senior Lecturer at the UP – Diliman College of Education. Additionally, he works as a research and evaluation consultant for organizations like UNESCO and USAID, and he frequently conducts data analysis training for schools and universities.
---
This panel session would not be possible without our Session Partner, Focus Systems, which is an IT security company from Japan. They also aim to further develop the education sector of various countries by integrating their innovative technologies and solutions to each schools for the betterment of the future. Together, we aim to develop Science and Technology for global happiness.
Conference Details
Date: November 11, 2022
Time: 9:30 AM – 5:30 PM
Venue: University of Santo Tomas (Sampaloc, Manila)
Program Timeline
Time
Activity
9:30 – 10:00
Opening Ceremony
10:00 – 11:00
Keynote Session:
Convergence of Reformative Technologies for Localized Solutions
11:00 – 11:30
Research Splash 1
11:30 – 12:00
Poster Session 1
12:00 – 13:00
Lunch Break
13:00 – 14:00
Panel Session 1
The Outlook of Education: Exploring the Integration of Cyber Technology
14:00 – 14:30
Research Splash 2
14:30 – 15:00
Poster Session 2
15:00 – 16:00
Panel Session 2
Peeking into the soul of the Filipino: How important is eye care?
16:00 – 17:00
Panel Session 3
Forest Resource Utilization: Taking Advantage and Care of Philippine Biodiversity
17:00 – 17:30
Announcements and Closing Remarks
To know more about the conference, watch out for future announcements in the HIC website below:
Hyper Interdisciplinary Conference in the Philippines 2023
For other questions and concerns, you can also contact Leave a Nest Philippines, Inc through:
Hannah Balisi ([email protected])
Ronrick Arayata ([email protected])