[Session Keynote Speaker] Dr. Shuichiro Takahashi, Chief Operating Officer of Leave a Nest, will talk about the Leave a Nest Forest Project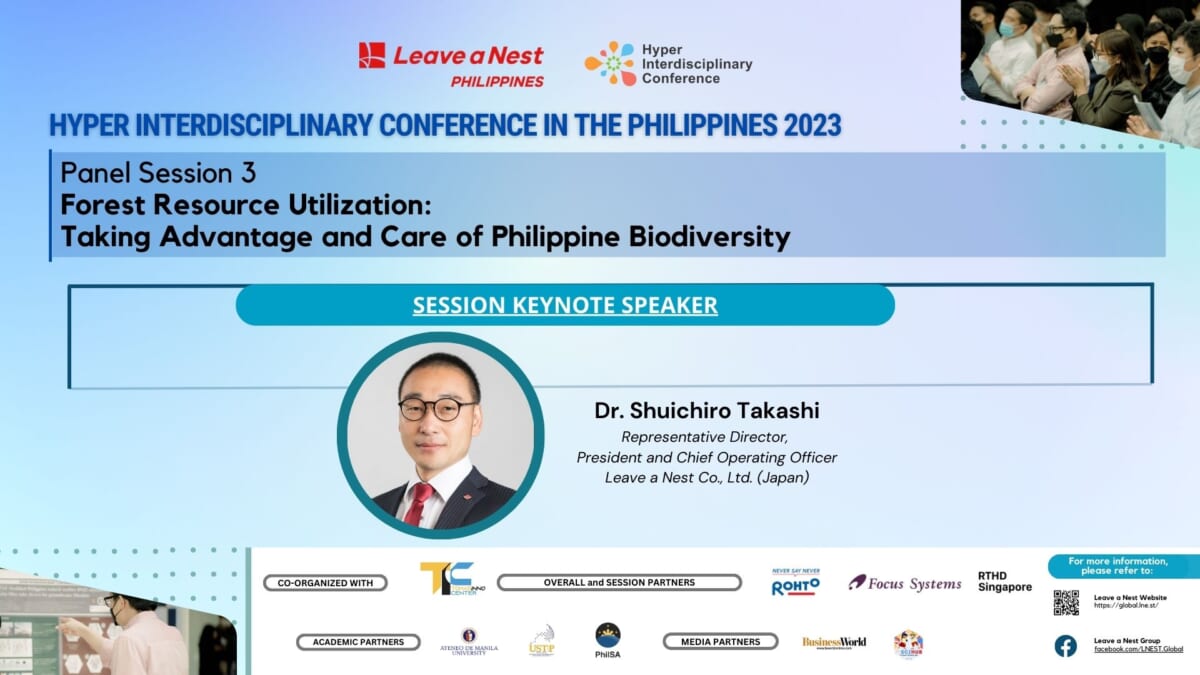 This year's Hyper Interdisciplinary Conference in the Philippines theme, "Convergence of Reformative Technologies for Localized Solutions", revolves around the different ways where Filipinos can utilize local or foreign resources and knowledge to create solutions that can deal with local issues. One of the sessions, Panel Session 3, is entitled "Forest Resource Utilization: Taking Advantage and Care of Philippine Biodiversity", which will focus on how Filipinos can use local resources, like our forests, while taking care of it properly to ensure sustainability.
We are happy to announce that Dr. Shuichiro Takahashi, Representative Director, President, and Chief Operating Officer of Leave a Nest Co., Ltd. (Japan), will be joining us as a keynote speaker for Session 3. He will be speaking as the representative for the inaugural Leave a Nest Forest Project – which was initiated by the Leave a Nest Group to create a platform for those who want to use their technology, knowledge, and other resources to "Realize an autonomous social system between forests and people".
*the Leave a Nest Forest Project has already started working with Filipinos – please refer to the links below to learn more:
Jay Arniel Gajudo, Co-Founder and CEO of Galansiyang Inc. gave a keynote speech at the 「Hyper Interdisciplinary Conference Kagawa Forum 2022」
Japanese mine reforestation researchers visit Mindanao Island in the Philippines, which has areas in need of mine rehabilitation
Dr. Takahashi will talk about the Leave a Nest Forest Project as a context to how important it is to involve people from different disciplines, different sectors, and even different countries to be able to utilize what Mother Nature has created for us – but at the same time make sure that we are doing so with care to make sure that it will be something that can be sustained.
Join us as we discuss the various ways in which issues related to our forests can be solved, and how to utilize our resources properly. This session will serve as a guiding point for institutions that are trying to do reforestation initiatives, as well as researchers who are looking for the diverse possibilities that lie in our forests – and we hope that by joining this session, you will be able to collaborate with the appropriate stakeholders to make sure that your reforestation initiatives or technologies are meaningful and sustainable.
Conference Details
Date: November 11, 2023
Time: 9:30 AM – 5:30 PM
Venue: University of Santo Tomas (Sampaloc, Manila)
Program Timeline
Time
Activity
9:30 – 10:00
Opening Ceremony
10:00 – 11:00
Keynote Session:
Convergence of Reformative Technologies for Localized Solutions
11:00 – 11:30
Research Splash 1
11:30 – 12:00
Poster Session 1
12:00 – 13:00
Lunch Break
13:00 – 14:00
Panel Session 1
The Outlook of Education: Exploring the Integration of Cyber Technology
14:00 – 14:30
Research Splash 2
14:30 – 15:00
Poster Session 2
15:00 – 16:00
Panel Session 2
Peeking into the soul of the Filipino: How important is eye care?
16:00 – 17:00
Panel Session 3
Forest Resource Utilization: Taking Advantage and Care of Philippine Biodiversity
17:00 – 17:30
Announcements and Closing Remarks
You can register as an attendee through the link below:
https://hiconf.lne.st/hicph2023-guests
To know more about the conference, watch out for future announcements in the HIC website below:
Hyper Interdisciplinary Conference in the Philippines 2023
For other questions and concerns, you can also contact Leave a Nest Philippines, Inc. through:
Hannah Balisi ([email protected])
Ronrick Arayata ([email protected])