[Speakers announcement] HIC in the Philippines 2023 Panel Session 2 – Ensuring the Future of Filipinos: the Different Angles of Health and Wellness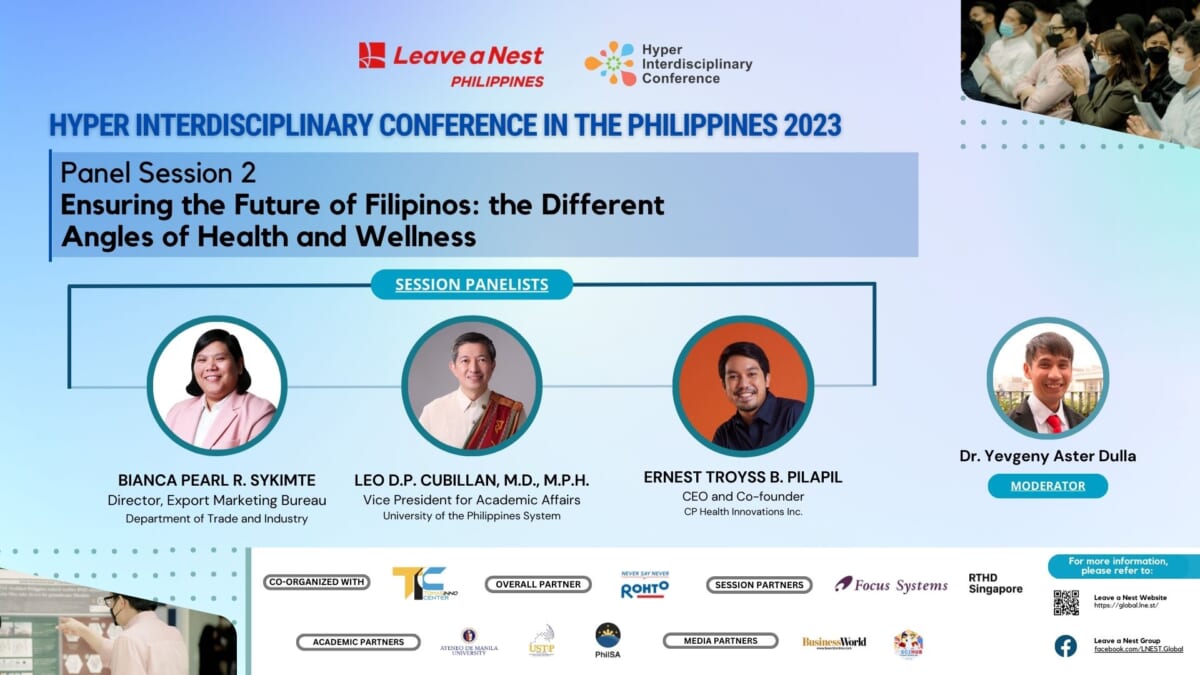 Leave a Nest Philippines will again be conducting the Hyper Interdisciplinary Conference in the Philippines this November 11, 2023. With the theme of "Convergence of Reformative Technologies for Localized Solutions",  the conference aims to see the different ways we can provide tailored solutions for issues that are still yet unsolved in the Philippines, and the different aspects involved in the creation and development, as well as the bringing of these technologies into society. We will have three (3) panel sessions circling around issues and technologies related to education, health, and natural resources.
Our 2nd panel session, entitled "Ensuring the Future of Filipinos: the Different Angles of Health and Wellness", will focus on one key thing that the Philippines should give a lot of focus on: the health and well-being of its citizens. The Philippines is still currently experiencing a steady increase in its population, and this is still expected to happen for a few more decades. This is a very good thing of course, because having a big and young population would contribute a lot to the labor workforce of the country and will lead to more economic development. On the other hand, in order to make sure that the workforce could properly function, we also need to make sure that everyone is healthy and well – and to do this, technologies will be playing a key role. However, creating technologies to make sure that people are healthy will not be enough. In this session, we will discuss different aspects that need to be considered in providing health and well-being related solutions – from start to finish.
This time around, we have invited people from 3 different sectors: government/business, academia/professional, and also industry/startup, to give light on how people who are involved, or are wanting to be involved, in the creation of healthcare solutions should take action.
---
Session Panelists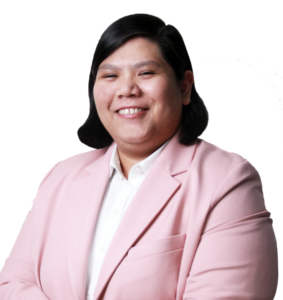 BIANCA PEARL R. SYKIMTE
Director, Export Marketing Bureau
Department of Trade and Industry
Ms. Sykimte is the Director of the DTI-Export Marketing Bureau. She oversees the development and implementation of export promotion strategies and initiatives and the provision of exporter services such as trade facilitation, business matching, information services, and market intelligence. Prior to her current role, Ms. Sykimte managed initiatives under the Industry Development Program of the DTI-Board of Investments. These included policy analysis and formulation, industry promotion, and capacity-building programs. Ms. Sykimte also served as Senior Trade and Industry Development Specialist of the DTI-Bureau of International Trade Relations. Her work in the Bureau significantly contributed to the signing of the Philippines-European Free Trade Association (EFTA) FTA and the inclusion of the Philippines in the European Union (EU) Generalized Scheme of Preferences-plus list of beneficiaries. As Associate Market Analyst for IDC Philippines, she authored/co-authored papers on: (1) Philippines Small and Medium-Sized Enterprise IT Buying Behavior and Adoption Plans; (2) Philippine Hardcopy Peripherals Industry: A Closer Look at End-User Segmentation; and (3) Philippines 2010 Top 10 Predictions: Year of Recovery and Transformation. Ms. Sykimte obtained her Master's degree in Applied Business Economics from the University of Asia & the Pacific (UA&P) and her Bachelor's degree in Commerce major in Economics from the University of Santo Tomas.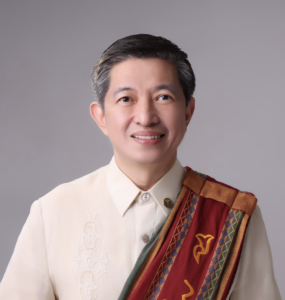 LEO D.P. CUBILLAN, M.D., M.P.H.
Vice President for Academic Affairs
University of the Philippines System
Dr. Leo Cubillan is a leading advocate of eye health in the Philippines. He took his undergraduate in the University of the Philippines (UP) Diliman, majored in biology (magna cum laude). He finished his medical degree from UP Manila College of Medicine (most outstanding intern) and obtained his master's degree in Public Health from University of California Berkeley (highest honors). He then completed his fellowship on Cornea, Uveitis, and External Diseases at the University of California San Francisco. He was the immediate past Director of the Philippine Eye Research Institute, National Institutes of Health, UP Manila. He spearheaded various eye health projects and policies with both national, regional, and international institutions for the prevention of blindness and improvement of eye health care among Filipinos. He played an active role, in collaboration with the DOH and DepEd, in the policy development of the National Vision Screening Program (NVSP) for the Kindergarten (Republic Act 11358). He is currently the Vice President for Academic Affairs of the UP System.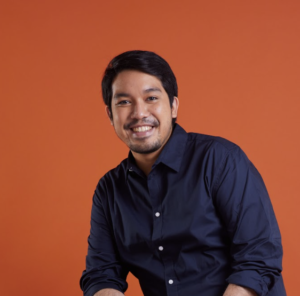 ERNEST TROYSS B. PILAPIL
CEO and Co-founder
CP Health Innovations Inc.
Ernest Troyss B. Pilapil is a co-founder and CEO of CP Health Innovations, a health tech startup that creates digital health solutions to advance health equity in the Philippines. The company has worked with local and international health authorities to develop digital interventions for public health investment planning, automating health information dissemination, and strengthening health financing and operations in private clinics, and rural health units. CPHI's products and projects are deployed in five regions and multiple facilities in the Philippines, impacting the health of thousands of Filipinos.  Through this Troyss was recognized as a Gen T. Leader of Tomorrow by Tatler Asia in 2022 for making rural healthcare more efficient and comprehensive. He was an immunology researcher at the Research Institute for Tropical Medicine where he gained expertise in recombinant vaccine development and antibody production. He took MSc Microbiology from UP Diliman and BS Biology from UP Manila.
Moderator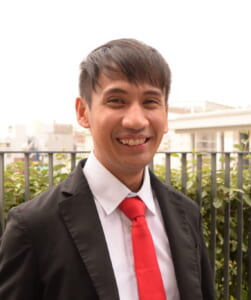 YEVGENY ASTER T. DULLA, PhD
Frontier Development Division, Leave a Nest Co., Ltd. (Japan)
Managing Director, Leave a Nest Philippines, Inc.
Yev was born and raised in Iloilo City, Philippines. He graduated with a degree in BS Chemistry from the University of the Philippines – Visayas, after which he worked as an instructor at the University of the Philippines – Manila. He came to Japan in 2013 to pursue graduate studies through the HIGO Program of Kumamoto University, and acquired his Masters in Health Life Sciences in 2015 and his PhD in Pharmaceutical Sciences in 2018. He worked at a business consultancy company in Tokyo in 2019 to help bring biotechnology and medical companies from abroad into Japan. In 2020, he joined Leave a Nest Co., Ltd. and is currently under the Frontier Development Division. He is also a Balik Scientist Awardee for 2021. In the same year, he co-founded the Leave a Nest Philippines office and is its current Managing Director.
---
Conference Details
Date: November 11, 2022
Time: 9:30 AM – 5:30 PM
Venue: University of Santo Tomas (Sampaloc, Manila)
Program Timeline
Time
Activity
9:30 – 9:45
Opening Ceremony
9:45 – 10:45
Keynote Session:
Convergence of Reformative Technologies for Localized Solutions
10:45 – 11:15
Research Splash 1
11:15 – 11:45
Poster Session 1
11:45 – 13:00
Lunch Break
13:00 – 14:00
Panel Session 1
The Outlook of Education: Exploring the Integration of Cyber Technology
14:00 – 14:30
Research Splash 2
14:30 – 15:00
Poster Session 2
15:00 – 16:00
Panel Session 2
Ensuring the Future of Filipinos: the Different Angles of Health and Wellness
16:00 – 17:00
Panel Session 3
Reimagining Production Systems for the Environment
17:00 – 17:30
Announcements and Closing Remarks
To know more about the conference, watch out for future announcements in the HIC website below:
Hyper Interdisciplinary Conference in the Philippines 2023
For other questions and concerns, you can also contact Leave a Nest Philippines, Inc through:
Hannah Balisi ([email protected])
Ronrick Arayata ([email protected])