Ten Innovative Japanese Companies in a rare discussion session @Biopolis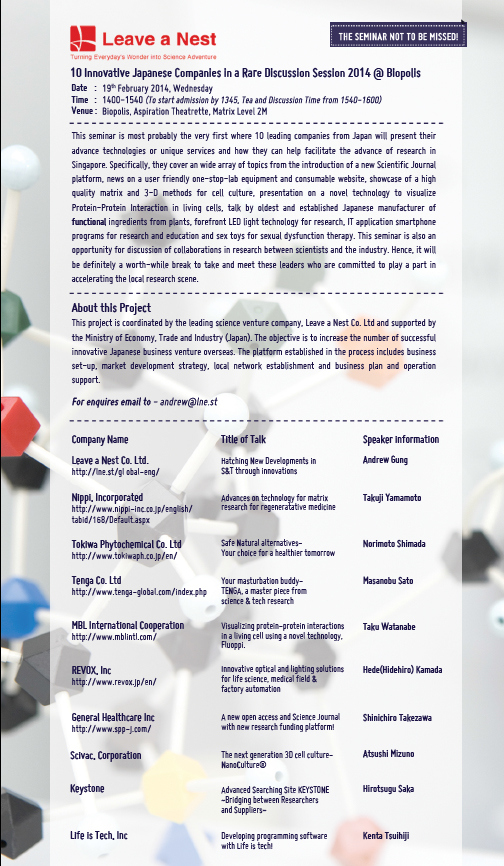 Date: 19th Feb 2014
Time: 1400-1540 (To start admission by 1345, Tea and discussion time from 1540-1600)
Venue: Biopolis, Aspiration Theatrette
 Ten Innovative Japanese Companies in a rare discussion session @Biopolis
This seminar is most probably the very first where 10 leading companies from Japan will present their advance technologies or unique services and how they can help facilitate the advance of research in Singapore. Specifically, they cover an wide array of topics from the introduction of a new Scientific Journal platform, news on a user friendly one-stop-lab equipment and consumable website, showcase of a high quality matrix and 3-D methods for cell culture, presentation on a novel technology to visualize Protein-Protein Interaction in living cells, talk by oldest and established Japanese manufacturer of functional ingredients from plants, forefront LED light technology for research, IT application smartphone programs for research and education and sex toys for sexual dysfunction therapy. This seminar is also an opportunity for discussion of collaborations in research between scientists and the industry. Hence, it will be definitely a worth-while break to take and meet these leaders who are committed to play a part in accelerating the local research scene.
About this Project
This project is coordinated by the leading science venture company, Leave a Nest Co., Ltd. and supported by the Ministry of Economy, Trade and Industry (Japan). The objective is to increase the number of successful innovative Japanese business venture overseas. The platform established in the process includes business set-up, market development strategy, local network establishment and business plan and operation support.
For enquires mail to [email protected]
Company Info:
No
Company Name
Title of Talk
1
Leave a Nest Co., Ltd.https://lne.st/global-eng/
Hatching New Developments in S&T through innovations
2
Nippi, Incorporatedwww.nippi-inc.co.jp/english/tabid/168/Default.aspx

Advances on technology for matrix research for regeneratative medicine

3
Tokiwa Phytochemical Co., Ltdwww.tokiwaph.co.jp/en/
Safe Natural alternatives- Your choice for a healthier tomorrow
4
Tenga Co., www.tenga-global.com/index.php
Your masturbation buddy-TENGA, a master piece from science & tech research
5
Medical & Biology Laboratories Co., Ltd.http://www.mblintl.com/
Visualizing protein-protein interactions in a living cell using a novel technology, Fluoppi.
6
REVOX, Incwww.revox.jp/en/
Innovative optical and lighting solutions for life science, medical field & factory automation
7
General Healthcare www.spp-j.com/
 A new open access and Science Journal with new research funding platform!
8
SCIVAC Life Science, Inc.
The next generation 3D cell culture-NanoCulture®
9
Keystone Co., Ltd.

Advanced Searching Site KEYSTONE

~Bridging between Researchers and Suppliers~

10
Life is Tech, Inc.
Developing programming software with Life is tech!