We are proud to announce prestigious panel of judges for 2018 TECH PLAN DEMO DAY in SINGAPORE 2018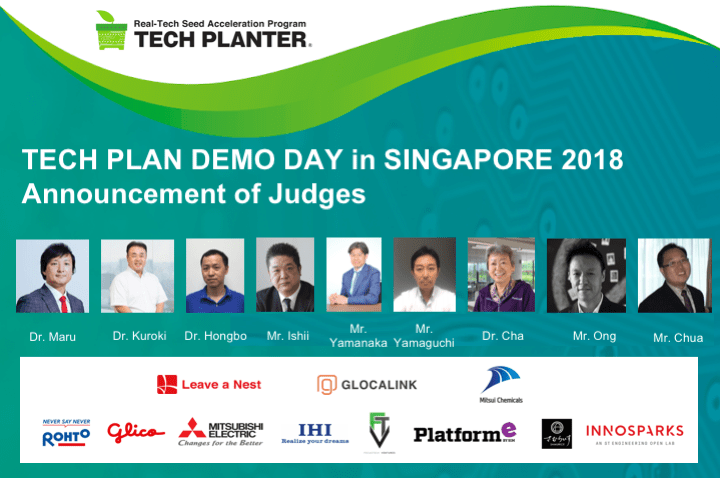 TECH PLANTER in SINGAPORE is an acceleration program specifically designed for early stage deep-tech startups & pre-startup researchers who are passionate about business especially in the field of Biotech, robotics, agri-tech, healthcare, IoT, nanotech.
For the final round of TECH PLAN DEMO DAY in SINGAPORE 2018, 15 top finalists (5 teams are the regional TP DEMO DAY) will pitch their business ideas to judges who are from Japanese corporations, Singapore based investment agencies and companies.
We are honoured to announce the judges for TECH PLAN DEMO DAY in SINGAPORE as below.
Dr. Yukihiro Maru
Founder and CEO, Leave a Nest Group
Dr. Yutaka Kuroki
Director, Glocalink Inc.
Dr. Hongbo Wang
Research Scienctist, Mitsui Chemicals Singapore R&D Centre, Pte. Ltd.
Mr. Tsuyoshi Ishii
Deputy Division Manager, Basic Research Development Division, Rohto Pharmaceutical Co., Ltd.
Mr. Satoshi Yamanaka
Senior Manager, Exploring Group, Center for Future Innovation, Mitsubishi Electric
Mr. Makoto Yamaguchi
General Manager, R&D Centre, IHI Asia Pacific Pte. Ltd.
Mr. Kelvin Ong
CEO, Focustech Ventures Pte. Ltd.
Dr. Virginia Cha
Professor in Residence, PlatformE
Mr. Malcolm Chua
Head of Incubation Innosparks, ST Engineering Open Lab
TECH PLAN DEMO DAY in SINGAPORE 2018 details:
Date : 21st July 2018 (Saturday)
Time : 13:00 – 19:30
Venue : PlatformE, 41 Namly Ave. Singapore 
For any enquiries about TECH PLAN DEMO DAY in SINGAPORE, please contact:
Mr. Kevin Ng
Email: [email protected]
Tel: +65 8338 7685