HDB Cool Ideas Enterprises Award to FytoSol Pte. Ltd., TECH PLANTER Alumni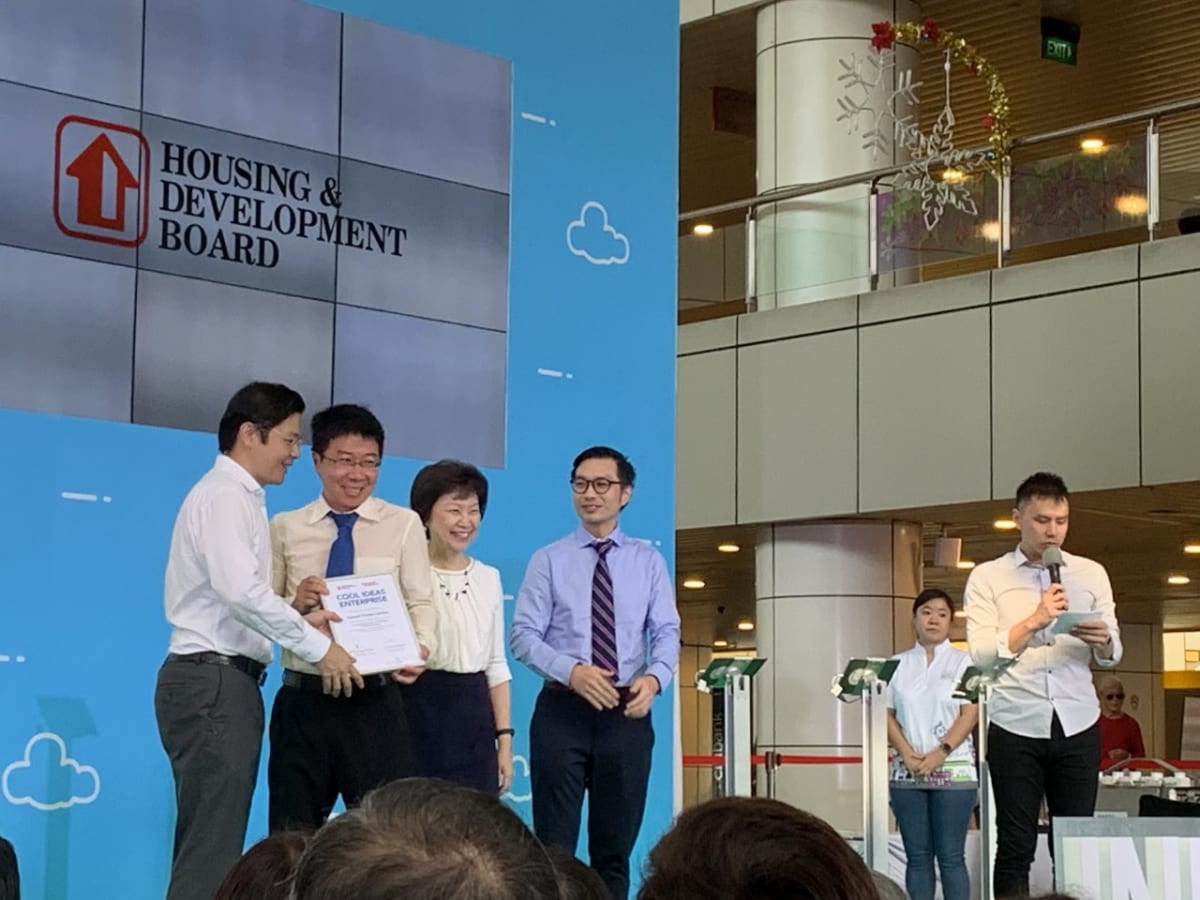 FytoSol Pte. Ltd. is one of the finalist teams in TECH PLANTER program in Singapore 2018 and was receiving Singapore Housing & Development Board (HDB)'s inaugural Cool Ideas Enterprises Award. This award was presented by Minister of National Development & Second Minister for Finance, Mr. Lawrence Wong to Director of Plant Research, Professor Dr. Chen Zhong. HDB will be partnering and working with the company to carry out test bedding and assist in implementation.
The HDB inaugural festival showcases innovative solutions and programmes that could improve the living environment in HDB estates, spanning the domains of app development, construction technology, urban greenery and sustainable development. This program helps aspiring entrepreneurs and enterprises with products or solutions that are ready for implementation can apply for funding and seek mentorship to help fine-tune or scale up their solutions for implementation. Where necessary, HDB may also allocate test-bedding sites for them to test-bed their solutions. Around $5 million has been set aside by Enterprise Singapore to support the programme over two years starting from November 2018. The programme is run by HDB in partnership with Enterprise Singapore, and supported by the Action Community for Entrepreneurship (ACE) and the Intellectual Property Intermediary (IPI).
FytoSol's product, RetentsolTM is a 2-in-1 formulation that has dual functions: as a soil wetting agent and as a mini smart 'water bank'. Together, these functions reduce water wastage through run-offs and soil drainage, and the chances of plant dehydration. The formulation is capable of storing a substantial amount of water during irrigation, 'locking' the water to minimise evaporation and releasing water in times of need.
The formulation contains highly water absorbent, non-toxic nanosize gel particles that swell remarkably to retain water molecules under wet conditions. However, when drier conditions resume, the water is returned to the ground under passive controlled release through osmosis and the slight change in soil pH level.
FytoSol Pte. Ltd. is invited to attend 8th Hyper Interdisciplinary Conference in Japan which will take place from 8th to 9th of March 2019. This is where specialist from various fields, ranging from academia, startups, engineer and large corporate will meet and create new knowledge that brings change to the world or solve social issues.
Leave a Nest will continue to search for passionate entrepreneurs and seeds for innovation in academia throughout the world, and assist them to maximize the value of science and technology.
For more details, kindly refer to FytoSol Pte. Ltd. official website: https://fytosol.com/
Media release article: https://www.straitstimes.com/singapore/housing/hdb-ties-up-with-data-analytics-and-telco-firms-for-resident-friendly-app-launches