[Call Applicants] Ota City Superfactory Prototyping Program -Find your manufacturing partners in Japan!-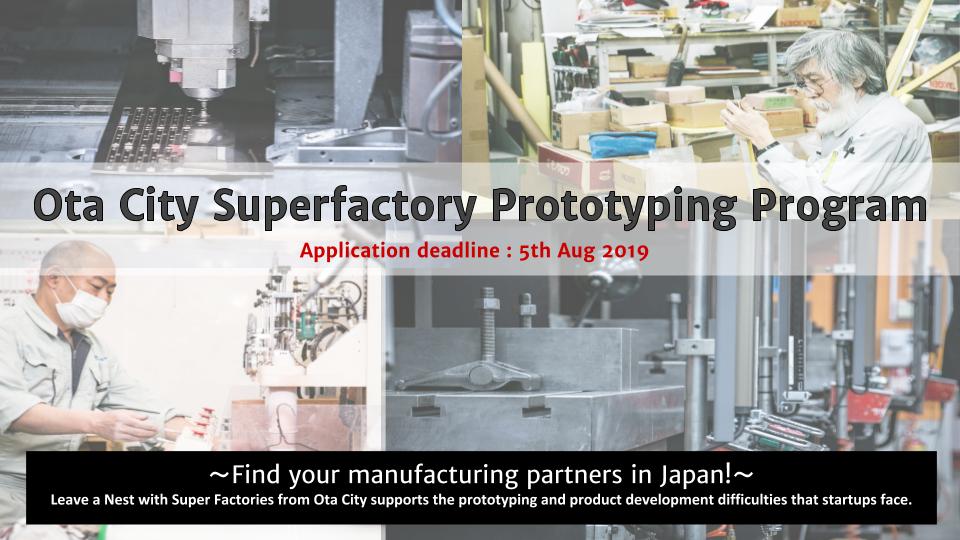 Dear all real-tech startups in ASEAN region
Leave a Nest Group is honor to announce our program to meet your prototyping needs with Super Factory partners in Japan! We call applicants from ASEAN startups, who wants to find your manufacturing partners in Ota City in Japan.
In Ota City, the heart manufacturing spot in Tokyo, project to enhance collaboration between Southeast Asia startups and Super Factories from Ota City has started with leadership from its local government. The project consists of connection to startups with prototyping issue that has synergy to its local Super Factories and supporting the prototyping fee. To this project in 2018, total of 52 application has gathered mainly from Leave a Nest's TECH PLANTER applicants and alumni. Then 3 projects were selected to fund prototyping fee. Each project had succeeded to find their Super Factory partner to conduct 5 months prototyping program, then exhibited the newly made products and machines at the end of year final presentation in Feb 2019.
Now we are calling for the next batch who wants to challenge this program in 2019!
*to apply, log in by gmail account is required
[Application overview]
Period : From 1st May ~ 5th Aug 2019
Deadline : Monday, 5th Aug 2019
Target : Startup companies in Singapore, Malaysia, Thailand, the Philippines, Indonesia, Vietnam,

who have issues in prototyping inside your own country
who have strong passion to create new manufacturing & business partners in Japan
who have vision to change the world

Operated by Leave a Nest Co., Ltd. / Sponsored by 

Ota City, Tokyo, JAPAN
Flyer : Download file from here!  [Flyer_Ota City Super Factory Prototyping Program 2019]
Application form : fill in your information from the link

here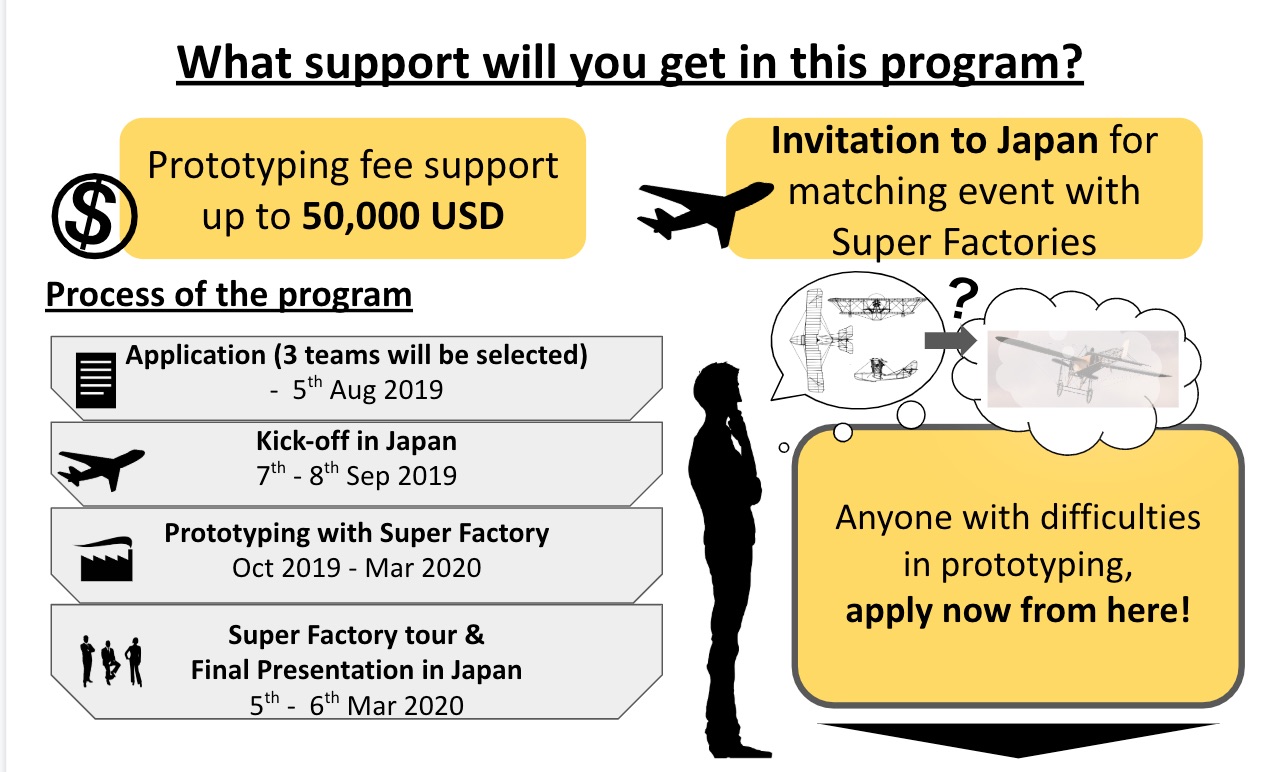 [Program flow]
STEP 1 
APPLICATION
Discuss with your colleagues to identify needs and issues in prototyping. Leave a Nest communicator can support to give you consultation if you have some questions to write application!
STEP 2
SELECTION
Leave a Nest organizers will review your application document and select 3 startups based on criteria : 1) Have issues in prototyping, 2) Have potential to grow business globally after prototype & business development, and 3) Have vision to change the world.
STEP 3

MEETUP



Once you selected, you will come to Japan and have chance to meet your new manufacturing partner. You will bring your product and discuss with Superfactory owner.

You will make presentation at Kick Off event on 8th Sep 2019.

STEP 4
DEVELOPMENT


During prototyping phrase, you will have about 5 months to finish prototype. During this course, you start discussion with Superfactory owner from making blueprint, fixing size and materials, making plans to install in your lab etc. Sometimes you join international online video meeting, or your Superfactory partner can come to your lab in SEA to proceed development face-to-face.
STEP 5
FINAL PRESENTATION


Lastly in March 2020, you will come to Japan again to join Superfactory tour on 5th March 2020, and present final prototype in front of various researchers from academia and industry at world conference "Hyper Interdsciplinary Conference" in Tokyo on 6th March 2020. This is another great chance for you to find business partners to bring your company to the next step.
YOUR JOURNEY WILL CONTINUE…
Download file from here!  [Flyer_Ota City Super Factory Prototyping Program 2019]
*to apply, log in by gmail account is required
---
For more details,
Contact: Tsuyoshi Inoue/ Takumi Jindo (Leave a Nest Co., Ltd.) 
Email: [email protected]