Introducing the Keynote Speaker for Career Discovery Forum in Singapore 2019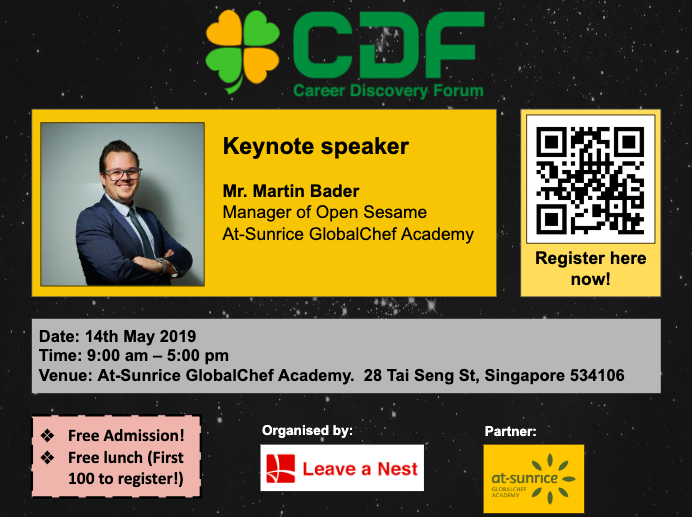 The Inaugural Career Discovery Forum in Singapore 2019 is just around the corner! If you haven't registered yet, there's still time! First 100 people who register gets free lunch!
You can register here: http://bit.ly/cdfsg2019
Introducing our Keynote Speaker from At-Sunrice GlobalChef Academy.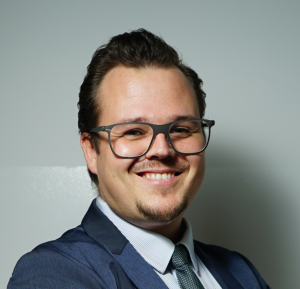 Martin is an accomplished high impact sales and marketing director with commercial problem solving skills for both emerging and established markets, backed by 15 years' experience within the Hospitality / Food & Beverage Industry. Currently, Martin is managing Open Sesame, a Food-Centric Innovation and Investment Platform that focus on innovation enablement for companies via a startup accelerator Eco-System and a platform for investors. It supports entrepreneurs with a Food-Centric Innovation, which is cross fertilised with one of six other disciplines: Education, Tourism, Well-Being, Journalism, Do Good, and Sustainability.
About At-Sunrice
At-Sunrice GlobalChef Academy is an EduTrust-certified institution that cultivates global chefs and F&B professionals in an environment of culinary authenticity. The Academy nurture skills and knowledge in East and West, Old World and New World cuisine, Herbs and Spices and Foodnovations driven by technology for Momentum Effect. A synchronised study-apprenticeship rotation enable the students to expand their horizons beyond the classrooms, maximising their employability and preparedness for careers as global chefs and F&B professionals upon graduation. At-Sunrice students are from 32 countries who choose At-Sunrice to pursue their passion in food, food service and entrepreneurship.
Come down and learn more about the potential career paths that lie before you!
Event: Career Discovery Forum (CDF) in Singapore 2019
Date: 14th May 2019
Time: 08:30 – 17:00 (registration from 08:30 – 09:00)
Venue: At-Sunrice GlobalChef Academy. 28 Tai Seng St, Singapore 534106 (Sakae Building, Level 5).
Register here: http://bit.ly/cdfsg2019