Biotech Venture Kick-start Programme – Join Us!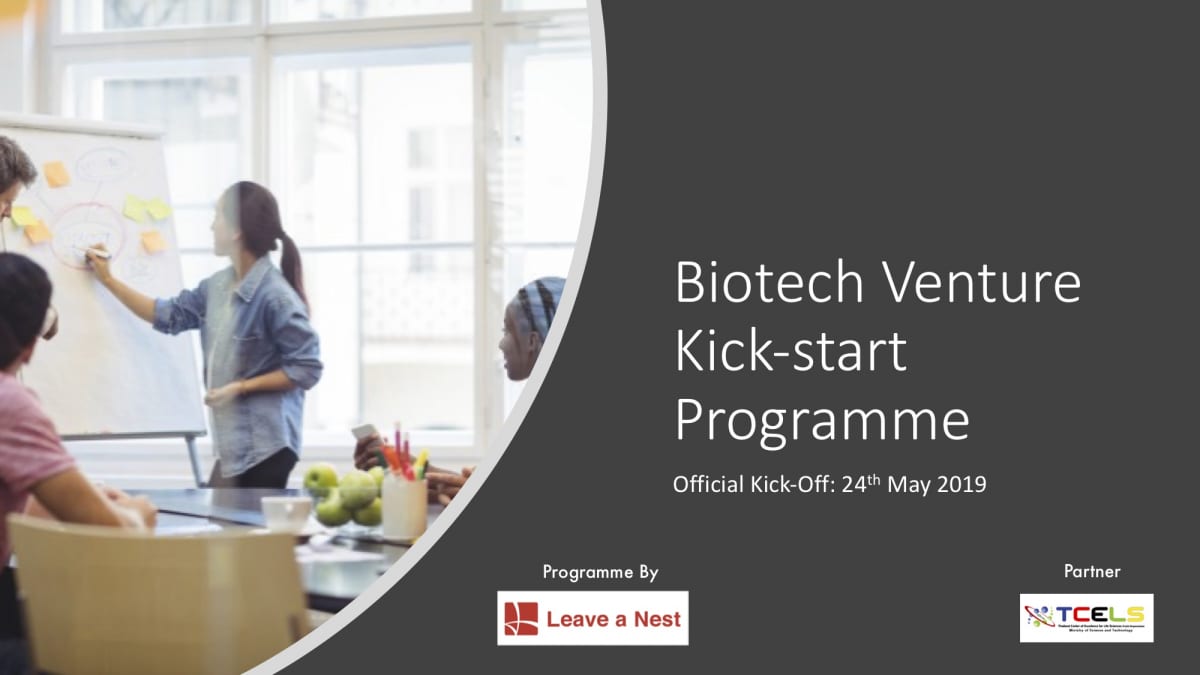 The Biotech Venture Kick-start is a communication programme developed by Leave a Nest and launched in partnership with Thailand Center of Excellence for Life Sciences (TCELS) to help research scientists and engineers turn their inventive technologies into commercially viable products and feasible business ventures.
This programme has been created with the aim to aid and equip researchers STEM fields of study and students in Thailand, to communicate their ideas to the general public, for example, business personnel, industry experts and researchers from other fields of study.
Leading up to 3 other events, the TECH PLAN DEMO DAY (6th July), Final Presentation Day for the programme (24th September) and TECH VENTURE MEET UP in THAILAND 2019 (27th September), participants can benefit from holistic guidance and opportunities to apply the learned concepts.
The programme will commence on 5th June 2019
Teams completing the course and selected by TCELS will receive a grant of 100,000 THB to support further research work in their project. The grant will be administered by TCELS.
As a participant, you will focus on learning three key principles:
Understanding the team's strength to start a business
Exploring business plan
Creating a Business pitch deck
Teams can look forward to obtaining professional advice from various industry experts and convert their research project/technology in the biotech field into exciting, sustainable, and investable businesses.
Through the workshops and mentoring sessions, teams will crystallize the idea of how to develop their technologies into commercial products and focusing and identifying viable commercialization pathways.
Participant Eligibility Requirement:
Researchers, Students with biotechnology or technologies related to the biotech industry
Startups established for less than 6 months
Available for the workshops on all dates
We are also recruiting mentors for this programme!
As a mentor, you will undergo mentorship to learn the following principles and apply them as you work with your assigned participants:
Effectively communicate science theories and business concepts

Expand your viewpoints

Shift your perspective
If you are a researcher, start-up founder, or student in any field of science with an interest in entrepreneurship education and contributing back to Thailand community, this is a chance for you to do so!
Join us now!
Key dates
** 5 June (Kick-Off Session): Understanding your passion and expertise
7-8 June: Roadmap to Success
24 June: Pitch Perfect – Insights To A Good Pitch Delivery
5 July: Pitch Perfect – Pitch at TECH PLANTER THAILAND 2019 (6 July)
10 July: Review and Brush up your Pitch
5 August: Critical Points of Partnership (how to find partners) – TO BE CONFIRMED
24 September: Final presentation of projects – TO BE CONFIRMED
27 September: Find a Potential Partner ‒ Experience Networking at TECH VENTURE MEET UP THAILAND 2019 – TO BE CONFIRMED
** Participants and Mentors to attend from 11am – 5pm for session on 5 June
Refreshments and Lunch will be provided!
For all other workshop sessions will be from 9am to 11am for participants and 2pm to 4pm for Mentors
All workshops will be held at:
Thailand Center of Excellence for Life Sciences (TCELS)
Address: อาคารเอสพีอี ทาวเวอร์ ชั้น 9 เลขที่ 252 Phahonyothin Rd, Samsen Nai, Phaya Thai, Bangkok 10400, Thailand
Join us now!
For enquiries, please contact:
Elizabeth
[email protected]