This Week in Thailand: A Look into Start-Up Community, Prototyping and IP Strategy in Thailand – TECH VENTURE MEETUP in Thailand 2019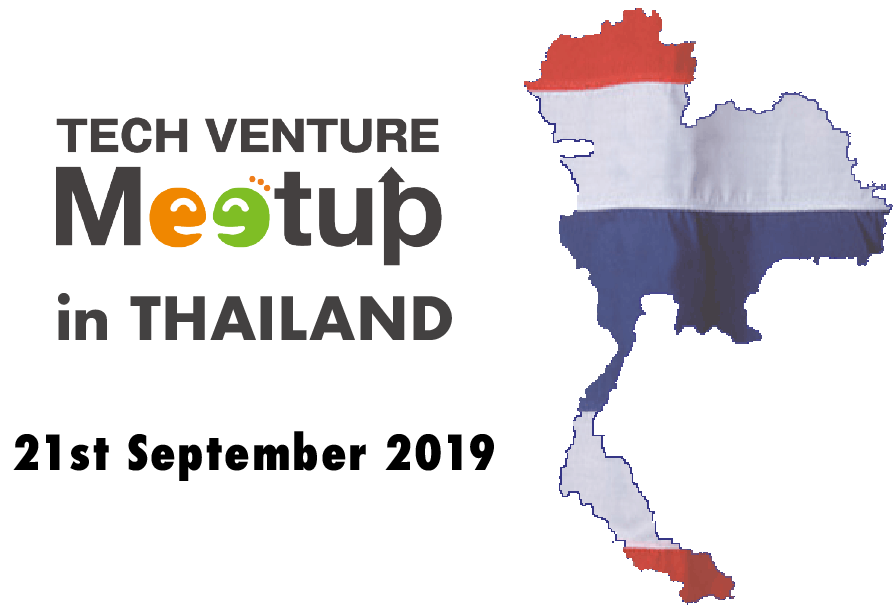 Event Details:
Date: 21st September 2019 (Saturday)
Time: 13:00 – 18:00 hrs (registration starts at 12:30)
Venue: HUBBA Silom, Silom Complex, 19th Floor, Si Lom, Silom, Bang Rak, Bangkok 10500
What is TECH VENTURE MEETUP?
TECH VENTURE MEETUP is the next step for entrepreneurs who have had some success and would like to expand their business or potentially get some pre-seed investments. In this event, we gather the startups, researchers and partner companies in Thailand as well as Japanese companies who are looking to expand their business in Southeast Asia. The above parties will be able to leverage on each other's strengths and networks, and explore business and investment opportunities.
Why join us at TECH VENTURE MEETUP in Thailand 2019?
If you are searching for a platform to grow and expand your business into the Japan market, explore business collaborations with Japanese conglomerates, seeking pre-seed investments or perhaps seeking for research collaborations with well-established corporations, this is the program for you. TECH VENTURE MEETUP in Thailand will help accelerate your startup and allow you to tap on our extensive Leave a Nest network.
Who can join TECH VENTURE MEETUP in Thailand 2019?
Similar to Tech Planter programs across the world, the program focuses on STEM (Science, Technology, Engineering and Mathematics) industries which include food tech, deep tech, agri-tech, robotics etc.
All past Tech Plan Demo Day applicants are welcomed to join us and leverage off our programs and platforms. If you have not yet joined any Tech Plan Demo Day programs, you are still eligible to join this program to accelerate your business with us. However, we would request you to sign up for next year's TECH PLANTER program in Thailand.
Program details
This year, the programme will be geared towards identifying prototyping and IP challenges in Thailand. We will have IP attorney from Yusarn Audrey IP Services(Thailand) Co., Ltd to give us an overview about IP Strategy in Thailand, a knowledge that is very important for researchers and startups in the community as they venture into research and innovation of new technologies.
Time
Main Session
12:30
Registration
13:00
Opening Ceremony
13:20
Partners Presentation
13:35
Startup Pitch (9 teams)
14:35
Break
15:00
Poster Exhibition Time / Business Matching Session
16:00
Panel Discussion "Prototyping – Challenges Faced By Deep Tech Startups"Targeted Panelists:

Mr Songpakorn Punongong, CEO and CTO, Readring
Dr Warangkhana Phanwanich, iVETModerator:
Dr Kihoko Tokue, Managing Director, Leave a Nest Singapore Private Ltd
16:40
Special Segment: IP in Thailand
Speaker: Ms. Kamonphan Minjoy, Yusarn Audrey IP Services (Thailand) Co., Ltd.
17:00
Closing Ceremony
17:30
Networking
Partner Companies
* Toppan Printing Co., Ltd. Singapore Branch
* Zendai Kogyo Co., Ltd
Guest Startups
* Nanolabs LRC Co., Ltd (The Philippines)
* Synbion Sdn Bhd (Malaysia)
* Eden Agritech Co., Ltd (Thailand)
* Pet Paw Co., Ltd (Thailand)
* Rehab Happy Walk Co., Ltd (Thailand)
* T-NET Co., Ltd (Thailand)
TECH PLANTER Alumni Startups
* Atapy Co., Ltd
* Brain Dynamic Technology Co., Ltd
* Panacura Co., Ltd
* ReadRing Co., Ltd
* UB Save Co., Ltd
Interested parties can also sign up and join us as audience for TECH VENTURE MEETUP in Thailand 2019!
Do spread the news!
If you have any enquiry about the event, kindly contact Ms. Elizabeth Wee or, Dr. Kihoko Tokue