Delight Explorer Award: Announcement of Award Winners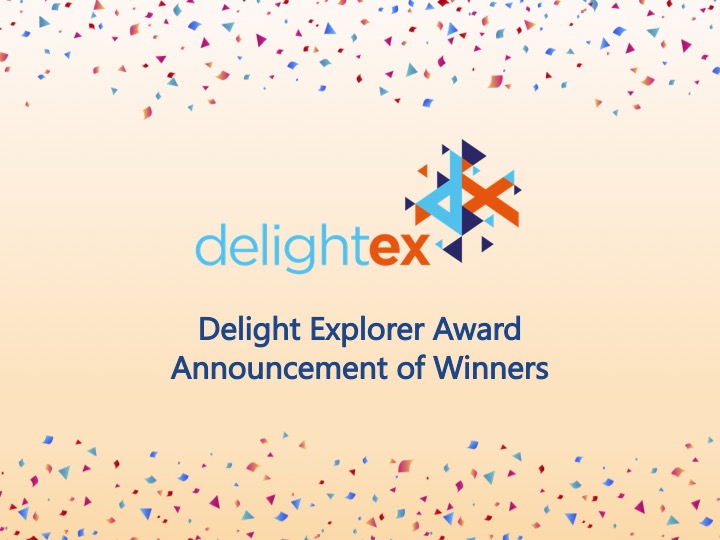 Winners for the Delight Explorer Award were announced on Friday, February 28.
The Delight Explorer Award is a regional idea generation contest organised by Delightex Pte. Ltd., and supported by Leave a Nest Singapore.
A total of 46 entries were received from students across Indonesia, Malaysia, Singapore and the Philippines. Of which, 39 entries were from Category A – University/Polytechnic/College, and 7 entries were from Category B – Middle and High School.
The submitted ideas were evaluated thoroughly by the committee to select the winners.
There are 4 winners from Category A – University/Polytechnic/College:
Yugananthini Muniaya
National University of Defence, Malaysia
Idea: Magical Orb which senses negative emotions and projects images of happy memories
Jovan Huang Tian Chun, Bryan Lim Cheng Yee
Nanyang Technological University, Singapore
Idea: Massaging Hat – Revolutionising massage by making it portable, one can look good and feel good at the same time
Mohit Prashant, Bisakha Das, Poorvi Ashok
Nanyang Technological University, Singapore
Idea: 3D printing of food
Eng Li Wen, Crystal Tan Shi En
Supervisor: Dr Heng Kiang Soon
Republic Polytechnic, Singapore
Idea: Recycling okara from Soy Manufacturing Process into functional products
There are 3 winners from Category B – Middle/High School:
Yusnisha Fatisha Binti Yusri, Nur Adlina Nadhirah Binti Rahmat, Myra Amani Bt. Amran, Aida Alyssa Binti Mohd Nasiruddin, Lyana Binti Zubir
Sekolah Seri Puteri, Malaysia
Idea: Soap product made from Sri Tanjung Plant (serves multiple functions)
Reivienne Jei P. Laxamana
Santa Rosa Science and Technology High School, The Philippines
Idea: To create a device to know what other people truly feel, to help people understand one another and be able to deal with relationship stress
Sanhita Subodh Mehta
School of Science and Technology, Singapore
Idea: Coffee Machine that tracks the user's emotions, which effects in  providing a customised drink and appropriate music for the user.
About the Delight Explorer Award
The Delight Explorer Award seeks to uncover innovative product experiences from the discerning and imaginative student population who will gradually make up the next generation of consumers.
Delightex is a Singapore-based company that is searching for unique, innovative (wearables, devices), traditional (food, drinks, plant derivatives) or non-conventional ("elusive bliss chemicals" which modulate brain-body communication) solutions of bringing "Ananda " (the Sanskrit word for delight), to people around the world, thus making the world a delightful place. As a venture builder with the capacity to co-invest with and/or acquire relevant businesses, Delightex seeks to create products and services that bring together cutting edge technologies, traditional natural substances and cultural experiences.
More about the Delight Explorer Award