【Event Report】TECH PLANTER Global Conference attracted over 200 participants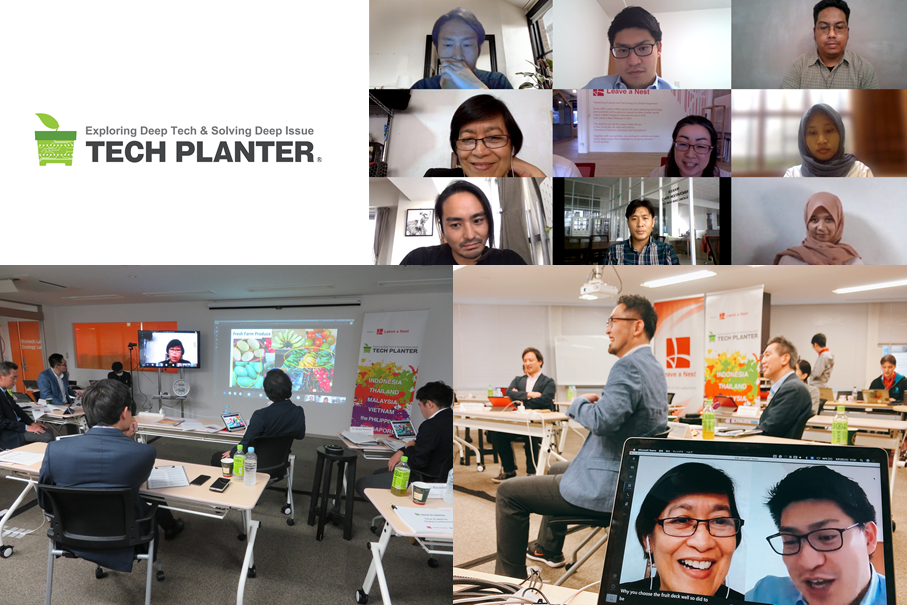 Event Report
TECH PLANTER alumni gathered together at TECH PLANTER Global Conference held on June, 2nd, 2020.
More than 200 audience from 7 difference countries connected via our online conference.
     TECH PLANTER Global Conference took place online (hosted by Leave a Nest Group & Real Tech Holdings Co., Ltd.) on June 2nd, 2020. We decided to have this online conference under the new standard to continue to work together with startups in South East Asia and bridge with partners from Japan.
We have called out for TECH PLANTER alumni from 6 countries (Indonesia, Thailand, Malaysia, Vietnam, Philippines, Singapore), with 2 teams from each country totaling up to 12 selected teams pitching. Fruitect from the Philippines received an award for Global Conference. 
     We also invited applicants for TECH PLANTER 2020 as well as local partner judges to get the feel of upcoming Demo Day in 2020 where we may be conducting the final pitch event in online format. Deep Tech Startups from South East Asia can still apply to join this exciting platform where you will be exposed to various partners from Japan as well as from your country. Unique part of this platform is that it is not created by the accelerator or incubators. Leave a Nest create knowledge based platform where we work as a team to solve deep issues in the world by bringing appropriate deep technology.
【Call for the registration to TECH PLANTER 2020】

If you are passionate pre-startup academic team or already started up early stage deeptech team, please register to our program described below.
 the Philippines round: deadline is June 12th, 2020.
Singapore round: deadline is June 26th, 2020
【About South East Asia TECH PLANTER 2020 in general】
Announcement of TECH PLANTER 2020 program
TECH PLANTER South East Asia 2020 will start from 4 July 2020 in Indonesia and continue until 22 August 2020 in Singapore.
【Past TECH PLANTER Ecosystem News】
INDONESIA
THAILAND
MALAYSIA
VIETNAM
the PHILIPPINES
SINGAPORE

【Inquiry】
・Leave a Nest Singapore Pte. Ltd.
・e-mail : [email protected]