Announcement of 9 Finalists for TECH PLAN DEMO DAY in the PHILIPPINES 2020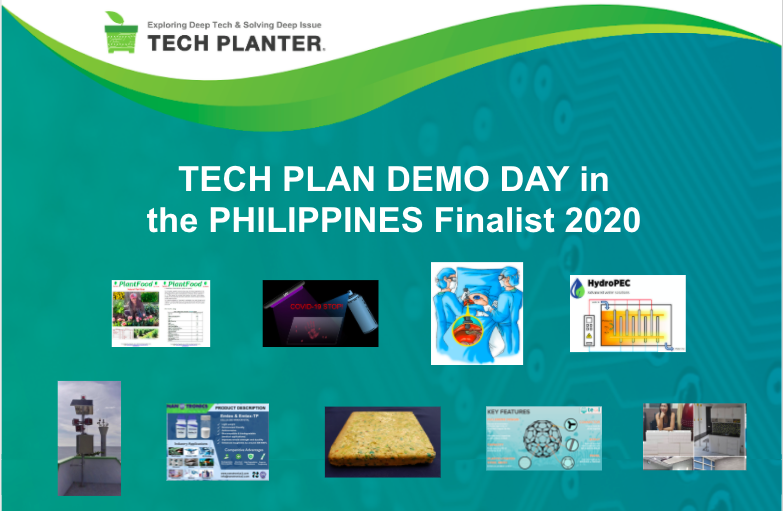 Leave A Nest is pleased to announce the finalists for TECH PLAN Demo Day in the PHILIPPINES 2020. We successfully received 34 applications from various fields, backgrounds and institutions. After going through the interviews and selection process, 9 finalist teams have been selected for this round.
All finalists will be presenting their technology and business ideas at TECH PLAN DEMO DAY in the PHILIPPINES 2020 via online meeting platform on 8 Aug 2020.
List of selected finalists are as shown:
1
Team name: Amazon Dots

Theme: Plant Food Fertiliser, nanotechnology enabled natural fertiliser made of plants, seaweeds and natural materials

2
Team name: NanoluminaX

Theme: Photo-luminescent metal nano clusters as virus/bacteria tracer/detector

3
Team name: Aumento Eterno

Theme: Innovation in the field of Laparoscopic Surgery

4
Team name: HydroPEC

Theme: Advanced photo-electro-catalytic wastewater treatment

5
Team name: WISER

Theme: Disaster risk reduction management technologies

6
Team name: Nanotronics Inc

Theme: High-Strength biodegradable nano material polymer for various industry applications

7
Team name: LESSTICS

Theme: Waste plastic as raw materials for housing construction

8
Team name: Domestiks

Theme: Structure applied to disaster shelters and fish pods

9
Team name: Po-lite Technology

Theme: Innovative green materials for building construction
All applicants of TECH PLANTER in the PHILIPPINES 2020 are invited to attend Demo Day event on 8 Aug 2020 as an audience. More information will be provided nearing the date.
Overview of TECH PLAN DEMO DAY in the PHILIPPINES 2020:
* Date: 8 Aug 2020 (Saturday)
* Time: 13:00hrs – 17:00hrs (Philippines Local Time)
* Online Platform: Microsoft Team Meet
* Contents: Presentation, Judges review
* Website: TECH PLANTER PHILIPPINES
For those who are interested in joining the event as an observer, please express your interest in the link here.