Food Innovation and Nutrition session ended but the journey starts from here.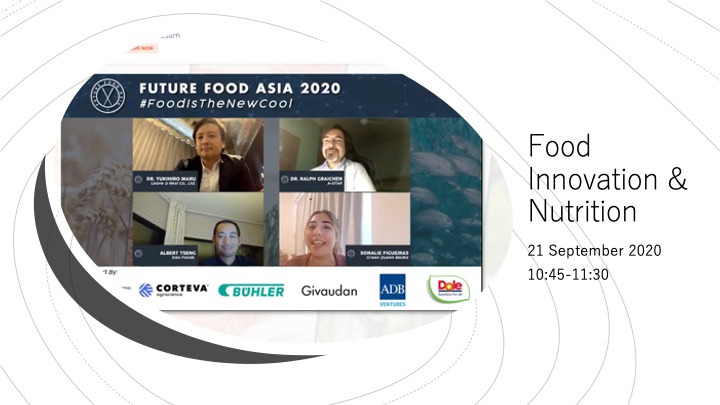 Future Food Asia 2020 this year is a virtual conference and it kick-started with opening remarks with a program overview speech by Ms. Isabelle Decitre. 
Leave a Nest Group founder and CEO, Dr. Yukihiro Maru joined the 2nd session on 21 Sept. 2020 along with Dr. Ralph Graichen Senior Director of Food and Consumer Cluster, A*STAR, Mr. Albert Tseng Co-founder Dao Food International as panelists. The session was moderated by Ms. Sonalie Ficueiras, Green Queen Media Founder and Editor in Chief.
"In Japan, Kamaboko (cured surimi) companies mimic crab meat, which is very expensive. And the nutritional content is very good. If plant-based meat can mimic Kobe beef, they will have a very good market opportunity." – Dr. Yukihiro Maru 
Future Food Asia 2020 highlights
Discussion started off with the hype of plant based alternative protein and how it may be able to become a part of the common diet for everyone anytime soon. Not only is it fashionable to eat alternative protein but how to further update people's diets so people can enjoy not only tasty food but nutritious food which is essential for healthy living. Below I will cover 3 issues which have been addressed during the session, Asian perspective, Japanese perspective and challenge of introducing "new food" to the world.
Since this discussion was done with panelists from Asia, we also touched upon Asian perspectives on our food culture and what nutrition we need as Asians. Historically, Japanese people suffered from lack of nutritional proteins. As a country surrounded by ocean, Japanese found a way to supply much needed nutritious protein by creating fish cakes (Kamaboko). How to attract people to bring fish cakes to their table is by creating an image of a high end product such as crab and creating "alternative crab meat" in the form of fish cake. For many Japanese, eating crab is associated with high end living and valuable delicacy. Japanese made fake crab meat (Kani-kama) made from fish cake to encourage the general public wanting to eat such fish cakes to complement their diet.
From Japanese perspective, eating plant based alternative protein mimicking "meat" especially what is already cheap and available in minced meat style (e.g. burger patties) may not be the best choice. Learning from the past success of Kani-kama, attracting Japanese consumers with high end meat like Kobe beef may be one way. It may be expensive and not sustainable to produce so much Kobe beef to feed a wide population. However, if plant based protein can imitate the texture and taste of Kobe beef, it can trigger to attract more to try plant based food. On top of that, incorporating more dietary fibre in their food to maintain gut microbiome with food for healthier living. In the future, we may no longer see the isle showing vegetables, meat, seafood, dairy and so on. Supermarkets may start to sell foods based on the function it can provide to us in the form of food. For that to happen consumers also need to learn about food and nutrition science to fully appreciate it.
Furthermore, with new food products comes the difficulty of branding as people are not familiar with the new food source. Dr. Maru has experience of this with introducing euglena to the world as a source of new food. We approached educating the public about this new food utilizing Science as a tool.
Whether it is food innovation or other types of innovation, Leave a Nest Group will continue to look into the deep issues which need to be addressed. We will also work together with partners to bring the deep technology to solve these deep issues. You will be able to see deep tech startups which include food and agriculture in TECH PLANTER ASEAN final coming up on Nov 28. 2020.