TECH PLANTER ASIA FINAL 2020 will happen on 28 Nov. in Singapore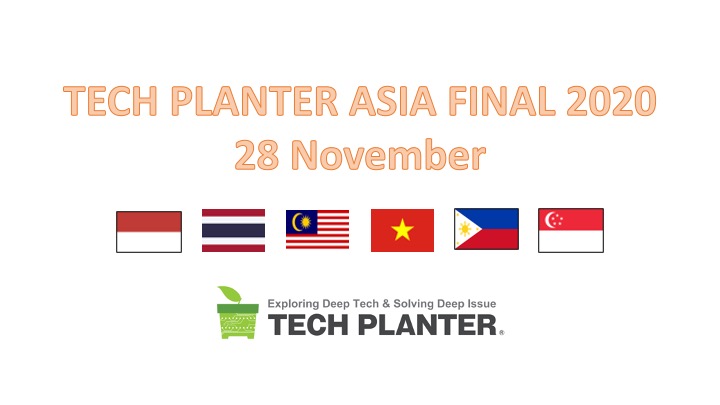 Leave a Nest Group has strengthen its deep tech start-up ecosystem through local institutions and more than 40 universities throughout Asia. Currently, in six Southeast Asian countries (Singapore, Malaysia, Indonesia, Philippines, Thailand, Vietnam), we have developed an ecosystem "TECH PLANTER" to discover and nurture real tech ventures, and about 800 start-ups and universities research teams has been gathered. It has grown into the largest deep tech discovery and nurturing platform in Southeast Asia.
In 2020, under the COVID19 epidemic, we held DEMO DAY in 6 countries in the form of an online conference, and were able to strengthen cooperation with local start-ups, government agencies, universities, VCs, etc. .. In addition, by bridging the participants with Japanese companies, we have identified various deep issues in Southeast Asia and explored for possible deep tech to solve these issues together. On Saturday, November 28th, we will hold an TECH PLANTER Asian Final. On the day, a total of 12 teams, including the winning teams from 6 countries DEMO DAY and the teams receiving the Leave a Nest Award will share their updates. This Asia Final will be a great opportunities for startups to see how to be part of this ecosystem, and for corporations and government organisations, this will be one way to understand how Japanese corporations explore deep tech startups from Southeast Asia as they will be a panel of judges for the event.
■ Program Overview
・ Date and time: Saturday, November 28, 2020, 13: 00-18: 00
・ Holding format: Online conference utilising Microsoft Teams
・ Language: English
・ Organiser: Leave a Nest Singapore Pte. Ltd. (Leave a Nest Singapore)
・ Co-host: Leave a Nest Co., Ltd.
・ Support: National Research and Development Corporation New Energy and Industrial Technology Development Organization (NEDO)
■ Timeline of the day (Singapore time)
| | |
| --- | --- |
| 13: 00-13: 30 | Greetings from the organiser, introduction of judges |
| 13: 30-14: 20 | Round 1 Indonesian 2 teams, Thailand 2 teams presentation |
| 14: 20-14: 30 | Break |
| 14: 30-15: 20 | Round 2 Malaysia 2 team, Vietnam 2 team presentation |
| 15: 20-15: 30 | Break |
| 15: 30-16: 20 | Round 3 Presentation by 2 Philippine teams and 2 Singapore teams |
| 16: 20-16: 30 | Break |
| 16: 30-17: 10 | Judging Committee |
| 17: 10-18: 00 | Announcement of examination results and awards ceremony |
■ ASIA Final Presentors
Country
Team Name
Short description
Indonesia
GreenWell Indonesia
Theme: Green Well: for water storage and better quality water
Issue: Drainage function during heavy rain and water storage technology during drought are not installed in urban areas.
HPV Strip
Theme: Detecting HPV Capsid Type 16/18 Trough HPV Strip
Issue: There is no system for early detection of cervical cancer, and delayed detection leads to high mortality.
Thailand
IQmed Innovation Co., Ltd.
Theme: Beating heart in a box
Issue: The quality of the heart deteriorates during transportation due to the lack of cooling capacity of existing organ perfusion devices.
Eden Agritech Co., Ltd.
Theme: The natural way to maintain freshness
Issue: In hot and humid areas, fruits overripe during transportation
Malaysia
iRADAR-GBSAR Sdn. Bhd.
Theme: Ground-based surface deformation monitoring radar
Issue: The technology for monitoring crustal movements such as landslides is not widespread, and human lives are likely to be lost.
Naturel Kiss
Theme: Roselle waste as emerging novel materials for wellness products
Issue: Poor quality cosmetics contain harmful artificial ingredients
Vietnam
Biomass Lab
Theme: Super material and potentially wide-use material from waste slurry
Issue: Not being able to utilise the large amount of slurry that is discarded from the paper mill
FO-tech
Theme: Modify FO membrane and design reusable FO bags for flood water treatment
Issue: In Vietnam, safe and clean drinking water is depleted during the rainy season floods from February to March every year.
Philippines
LESSTICS
Theme: Waste plastics as raw material for housing construction
Issue: Disposable plastic issues and non-employment issues
Aumento Eterno
Theme: Innovations in the field of Laparoscopic Surgery
Issue: Existing laparoscopic surgery has limited operability and visibility.
Singapore
CytoMed Therapeutics Pte., Ltd.
Theme: Cell therapy product for cancer immunotherapy
Issue: Lack of high quality iPS cells needed for cancer cell therapy
Hand Plus Robotics Pte., Ltd.
Theme: Robotics for Unstructured Picking in Logistics and Manufacturing
Challenge: Inconsistent software when procuring arms, grippers, sensors, etc. required for industrial robots individually
■ Partner companies (as of October 21, 2020)
・ Mitsui Chemicals Singapore R & D Centre Pte Ltd.
・ Real Tech Holdings Co., Ltd.
・ Mitsubishi Electric Corporation
・ GLICO ASIA PACIFIC PTE. LTD.
・ Nihon Unisys, Ltd.
・ Toyo Seikan Group Holdings, Ltd.
・ Autonomous Control System Laboratory Co., Ltd.
・ Ebara Corporation
■ Inquiries
・ Contact Person: Leave a Nest Singapore Pte. Ltd. Kihoko Tokue, Shohei Michael Maekawa
・ E-mail: [email protected]