[28 Nov. 2020] TECH PLANTER Asia Final 12 Panel of Judges will be meeting 12 teams from 2020 Demo Day from 6 Southeast Asia countries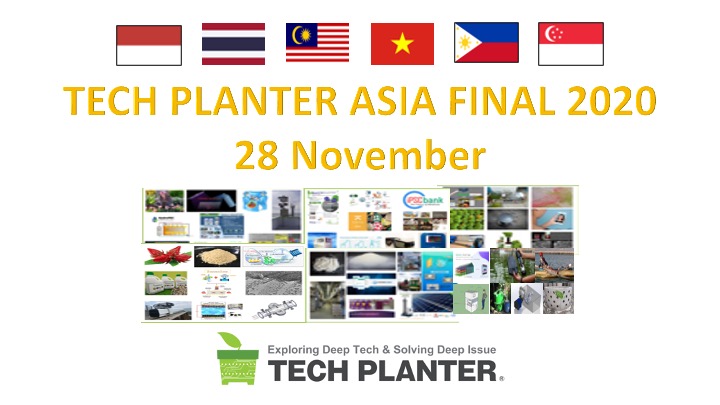 Leave a Nest Group has strengthen its deep tech start-up ecosystem through local institutions and more than 40 universities throughout Asia. Currently, in six Southeast Asian countries (Singapore, Malaysia, Indonesia, Philippines, Thailand, Vietnam), we have developed an ecosystem "TECH PLANTER" to discover and nurture deep tech ventures, and about 800 start-ups and universities research teams has been gathered. It has grown into the largest deep tech platform in Southeast Asia.
In 2020, under the COVID19 pandemic, we held DEMO DAY in 6 countries in the form of an online conference, and were able to strengthen cooperation with local start-ups, government agencies, universities, VCs, etc. .. In addition, by bridging the participants with Japanese companies, we have identified various deep issues in Southeast Asia and explored for possible deep tech to solve these issues together. On Saturday, November 28th, we will hold an TECH PLANTER Asian Final. On the day, a total of 12 teams, including the winning teams from 6 countries DEMO DAY and the teams receiving the Leave a Nest Award will share their updates. This Asia Final will be a great opportunities for startups to see how to be part of this ecosystem, and for corporations and government organisations, this will be one way to understand how Japanese corporations explore deep tech startups from Southeast Asia as they will be a panel of judges for the event.
■ Panel of Judges
・Mr. Yoshikazu Uehara,
Mitsui Chemicals Singapore R&D Centre Pte Ltd.
Managing Director
・Mr. Akitaka Wilhelm Fujii,
Real Tech Holdings Co., Ltd.
President
・Mr. Satoshi Yamanaka,
Mitsubishi Electric Corporation
Senior Manager, Center for Future Innovation
・Ms. Megumi Kijima,
Nihon Unisys. Ltd.
Corporate Planning Div. Team2030  Team Leader
・Mr. Norio Asahara,
GLICO ASIA PACIFIC PTE. LTD.
Regional R&D Director
・Mr. Atsushi Watanabe,
Toyo Seikan Group Holdings, Ltd.
Branch General Manager, Singapore Branch
・Mr. Satoshi Washiya,
Autonomous Control System Laboratory Co., Ltd.
President and COO
・Dr. Hirokuni Hiyama,
EBARA CORPORATION
Technical Superintendent Technologies, R&D Division
・Mr. Hiyoku Motomura,
East Japan Railway Company
Life-style Business Development Headquarters Shinagawa and Life Business Development Division
・Mr. Toru Okubo,
Rohto Pharmaceutical Co., Ltd.
Scientist, Cell Technology Group Basic Research Development Division & Global Human Resource Development Team
・Mr. Tsuyoshi Yoshida
New Energy and Industrial Technology Development Corporation (NEDO), Director General, Innovation Promotion Department
■ Chair of the Judges
・Dr. Yukihiro Maru
Leave a Nest Group
Founder and CEO
■ Program Overview
・ Date and time: November 28, 2020 (Sat), 13: 00-18: 00 (Singapore time)
・ Holding format: Online conference via Microsoft Teams
・ Language: English
・ Organizer: Leave a Nest Singapore Pte. Ltd.
・ Co-Organizer: Leave a Nest Co., Ltd.
■ Timeline of the day (Singapore time)
13: 00-13: 30 Greetings from the organizer, introduction of judges
13: 30-14: 20 Round 1 Indonesian 2 teams, Thailand 2 teams presentation
14: 20-14: 30 Break
14: 30-15: 20 Round 2 Malaysia 2 team, Vietnam 2 team presentation
15: 20-15: 30 Break
15: 30-16: 20 Round 3 Presentation by 2 Philippine teams and 2 Singapore teams
16: 20-16: 30 Break
16: 30-17: 10 Deliberation
17:10-18:00 Announcement of examination results and awards ceremony
■ News releases about the event
Presenter's information is on the below news:
TECH PLANTER ASIA FINAL 2020 will happen on 28 Nov. in Singapore
■ For enquiry
・e-mail: [email protected]
・Attn to  Kihoko Tokue, Shohei Maekawa, Leave a Nest Singapore