Leave a Nest Singapore Pte. Ltd. turns 10 in year on 20th Dec 2020.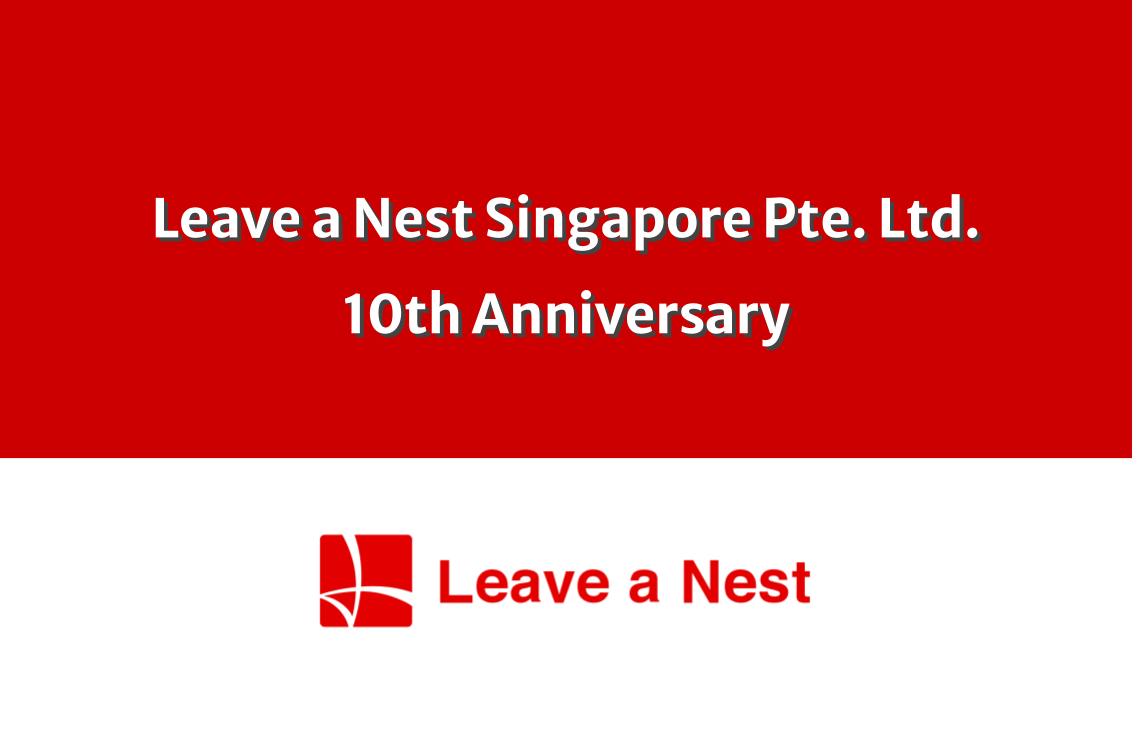 Leave a Nest Singapore Pte. Ltd. was founded by Dr. Andrew Gung, and Dr. Yukihiro Maru on 20th December 2010. The Singapore office is the first establishment outside Japan to Leave a Nest Group. Due to current circumstances, there will be no gatherings to celebrate this occasion as a physical event. We would like to take this opportunity to thank all our partners for joining us under the vision "Advancing Science and Technology for Global Happiness"
Leave a Nest Singapore Pte. Ltd. first started in Singapore as the parent company did by going to schools and sharing excitement of "turning everyday wonder into Scientific Adventure" We have worked closely with Singapore Science Centre for Ninja Science Workshops. As well as supporting Japanese Universities to learn from Singapore Tertiary institutions for creating interdisciplinary departments. Through networking with local schools and universities, Leave a Nest Singapore grew until 2014.
Turning point came around 2014, where Leave a Nest added a new program to our service called TECH PLANTER. Through this platform, Leave a Nest Singapore started to expand activities to surrounding Southeast Asian countries also through tight collaboration with fellow subsidiary Leave a Nest Malaysia Sdn. Bhd. This techplanter ecosystem has grown in 6 countries, Singapore, Malaysia, Thailand, Philippines, Vietnam and Indonesia.
From 2017, Leave a Nest Singapore started hiring local members for the first time and we have relocated our office from the 6th floor of Home Fix building (19 Tai Seng) to 5th floor co-working space Hatchery to accommodate more members. With increased members and partnership with corporates we have had 2 offices in 2018, our 2nd office was at Platform E where we have conducted both entrepreneurial and educational workshops and events. Currently we have 5 members working in the Singapore office and a total of 11 members are working in Southeast Asia. We are expecting addition in the Philippines in 2021. By 2030, we are expecting to have 3 subsidiaries in Southeast Asia with members around 30 Science Bridge Communicators working hard tackling deep issues.
Leave a Nest Singapore continues to bring much needed solutions to the society with relevant partners to achieve "Advancing Science and Technology for Global Happiness" Our doors are open all the time. We are currently looking for members who would like to build the next 10 years with us both in Singapore and Malaysia. 
Stay tuned for our upcoming events in 2021:
Hyper Interdisciplinary Conference in Singapore on 27th February 2021

Career Discovery Seminar 10th April 2021

TECH PLANTER ASEAN DEMO DAYs 14 & 29 May, 12 & 26 June, 10 & 24 July 2021