Hyper Interdisciplinary Conference in Singapore will be happening on 26th February 2022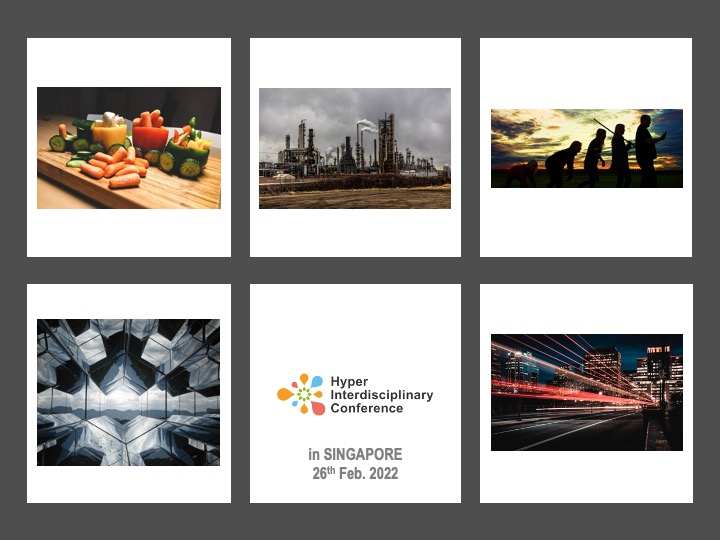 Hyper Interdisciplinary Conference in Singapore is happening again on 26th February 2022. The theme for 2022 is "What will Homo Sapiens be in 100 Years? ~Designing the future beyond mature economy~
Humans are faced with various issues and challenges. Our economy has been growing exponentially for the past decades however, we are coming to the plateau phase. How do we define growth and success for a mature economy? How should we run businesses for the future? Hyper Interdisciplinary Conference Singapore 2022 (HIC SG 2022) will bring together various stakeholders to discuss the issues and possible solutions for how we can design the future for mature economy.
Program:
Hyper Interdisciplinary Conference in Singapore 2022
"What will Homo Sapiens be in 100 Years? ~Designing the future beyond mature economy~
26th Feb. 2022
13:00-18:00
Session 1: Future of Mature Economy: What will be the role of each sectors
Session 2: Defining the future food culture, what will prevail?
Session 3: Singapore as Testbed for Health Care Tech
Session 4: Solving Global Issues with Project Design
Additional information on the session will be shared in coming weeks. Do watch out for the session panelist information and opening of registration form which will be coming released in sequence. Registration will open from 17 Dec. 2021.
Past HIC SG
2019   Solving Global Urban Challenges
2020   Breaking Out of Convention – Impactful Science for Today's Deep Issues
2021   Re-learning and Adaptability
If you are interested to be a partner to bring Hyper Interdisciplinary Conference together with Leave a Nest Group, please write to us.