TECH VENTURE Meetup SG 2021 Successfully Conducted!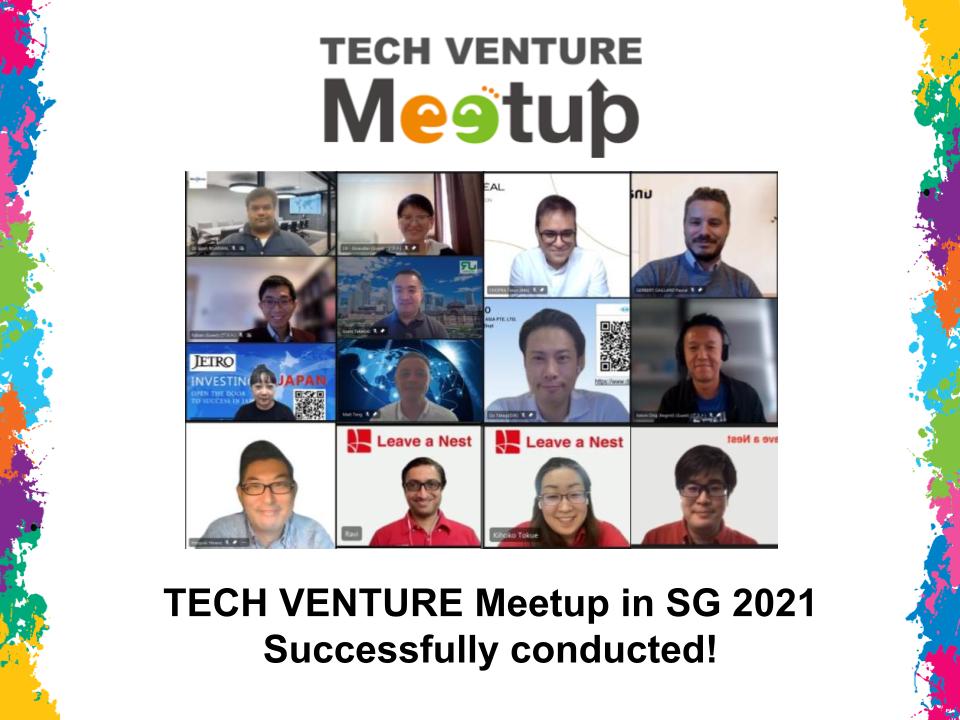 TECH VENTURE MEETUP in Singapore 2021 ended last Saturday 18th December 2021. It was an exciting day for all Leave a Nest members, and I hope it has been for all participants. This year, over 29 audiences participated, including large corporates, Government agencies and startups turned up for the event.
The main event kickstarted with the keynote session by Mr.Hiroyuki Hirano, Senior Business Development Manager of TRIA Pte. Ltd.. Following right after the keynote, we invited 8 cutting edge startups from Singapore in the field of Deep and Food Tech.
Deep Tech startups:
・Wavescan Technologies 
・Kegmil 
・Sentient.IO 
・Unabiz
Food Tech startups:
・Crust Group
・Austrinova
・Profileprint
・Shandi Global
During the startup pitching session we have invited members from large coporates to join the session to ask questions and leave comments towards the startups.
Commentator companies (in alphabetical order)
・Daiichi Jitsugyo Asia Pte. Ltd.
・Fei Siong Group
・Givaudan Singapore Pte Ltd
・JR East Business Development SEA
・L'Oreal Singapore Pte Ltd
・Nestlé R&D Center (Pte) Ltd
・Yokogawa Engineering Asia Pte. Ltd. 
Lastly, was the panel session by 3 key players to discuss about, "What is needed for scaleup of deeptech startups in cross border?". In this session, we invited members from startup (WaveScan Technologies), Japanese Government Agency (JETRO) and Singaporean Government Agency (Enterprise Singapore).
Through the event, we hope we can support to create new steps for the startup to find potential partners to bring them to next phase. Leave a Nest will be continueing various initiative to enhance collaboration between startups and corporates for solving deep issues across the world.
Upcoming programs in Leave a Nest in Asia:
For more information on our programs, please contact us at [email protected]