Announcement of the winners for Leave a Nest Grant Global Challenge Award in Singapore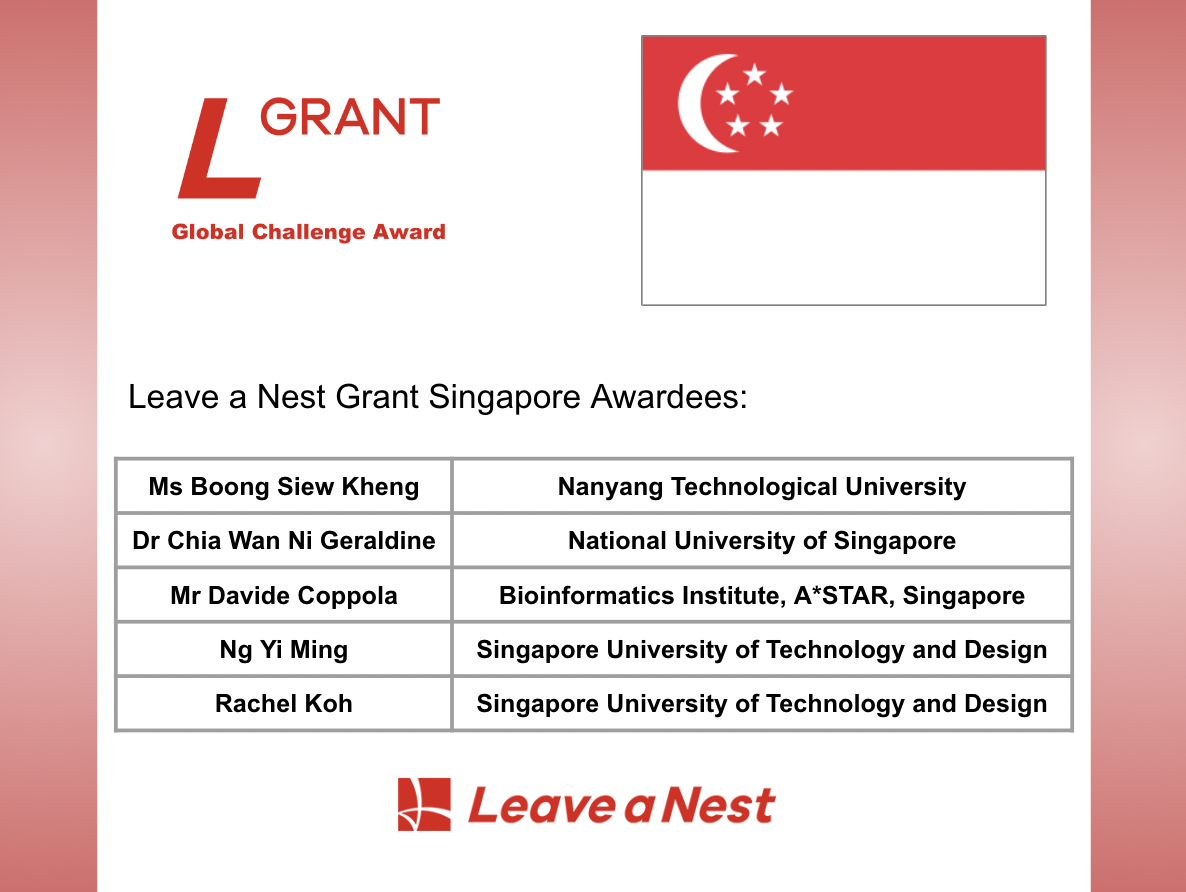 We are happy to announce that we have selected 5 award winners out of the 34 applications for
L-Grant  Global Challenge Award in Singapore. 
Learn more about L-Grant Global Challenge Award in Singapore:
We have:
Ms Boon Siew Kheng working on Efficient Nitrogen Fixation with Three-Phase Plasmonic Superlattices Design from NTU
Dr Chia Wan Ni Geraldine working on Novel optical probes for disease detection through liquid biopsy from NUS
Mr Davide Coppola working on Assessment of upper/lower limb drift in recovering stroke patients using mobile cameras in a clinical setting from A*STAR
Mr Ng Yi Ming working on Hybrid Organisations for Meaningful Work and Urban Community: The Case of Singapore's Volunteer-Run Public Libraries from SUTD
Ms Rachel Koh working on Decarbonizing the ASEAN power grid through water-energy system analytics from SUTD
We were overwhelmed by the great response from various institutions and Universities, we had a total of 34 applications for this award. We screened all of the applications by interviewing them and understanding their technology. There were 4 judging criteria, passion, practicability, novelty and whether it can bring about change to the world. After multiple selections and screenings, we came to a decision that these were the 5 most outstanding applications. 
We have selected 5 young dedicated researchers who spent a lot of time devoting themselves to science and technology, looking to solve deep issues within ASEAN or globally. 
Leave a Nest strongly believes that by supporting young researchers and helping them to fulfil their research, we will be able to solve deep issues and find other pressing issues that require our attention. Leave a Nest will definitely offer more of such opportunities for the researchers and would love to collaborate with them for the betterment of the society and to gather more support from the research community as well. Once again, congratulations to all of the 5 outstanding scientists!