[Announcement]: Two Singaporean Startups Selected for the Inagural "Manufacturing Support Program in Japan 2022"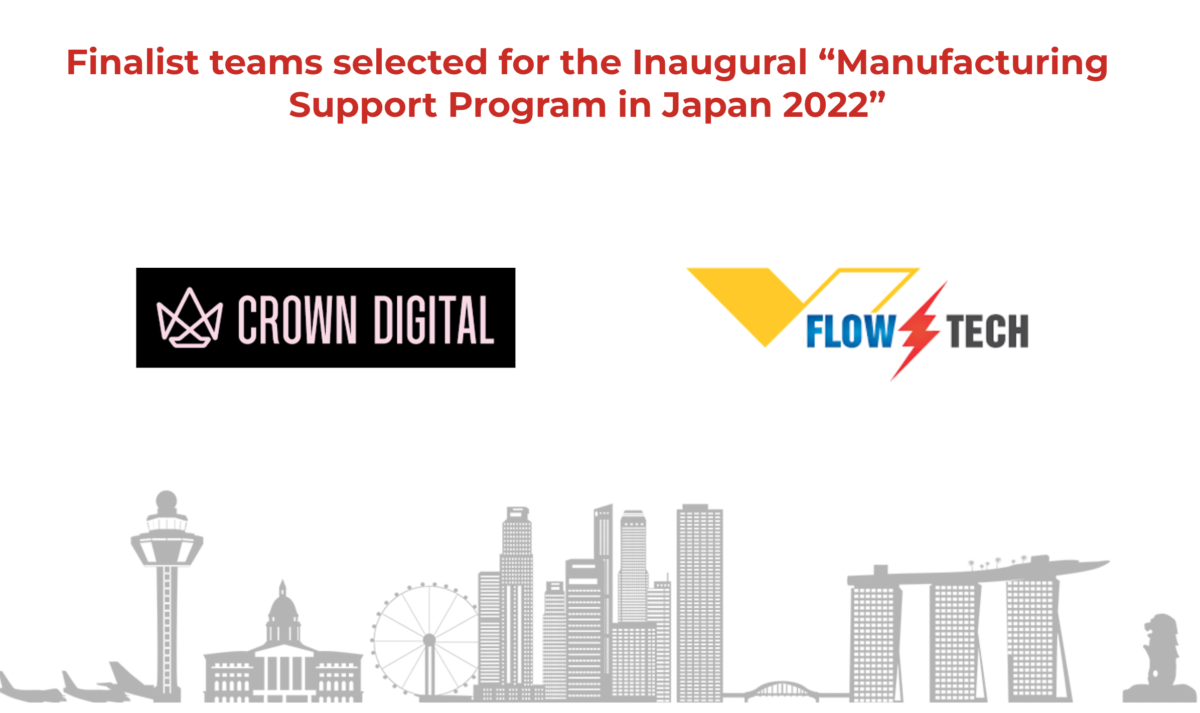 Manufacturing Support Program (Inaugural Batch)
Thank you to all the startups for their applications and response. We are happy to announce the two Singapore based startups that have been selected to participate in the very first batch of the Manufacturing Support Program in Japan 2022. Congratulations to the selected startups ! 
This is the inaugural batch is primarily aimed at Singaporean startups to support their precision manufacturing, localisation and sourcing needs in Japan. The program was also designed to cater to local founders who may not be aware of available manufacturing options a.k.a super factories in Japan, effectively communicate technical aspects in Japanese and ultimately find the right manufacturing partner. The initial call for applications was made early July 2022.
Due to the existing travel restrictions, the program will be completely virtual/ hybrid format. 
The two selected teams:
Startup Name
Product/ Brief description
Crown Digital

 

Sale of beverages via

Robotic Barista

V Flow Tech

 Redox Flow Energy Storage Solutions
The selected startups will participate in program Kick off followed by closed online pitching sessions towards Leave a Nest members, with expertise in Manufacturing and prototyping, along with 1-1 meetings with experts/ consultants/ sourcing partners from super factories based in Japan to discuss and refine design ideas.
Congratulations to the two startups  selected for this very first batch of the program. We look forward to working with you, towards achieving your manufacturing goals in Japan. For the startups who were not selected, fret not, your applications will be considered for the next batch of the program. 
For more information or enquiries :
Please do not hesitate to write to [email protected]
(Attention Ravi or Michael)