TECH PLANTER IN Singapore 2023 Finalists Announcement!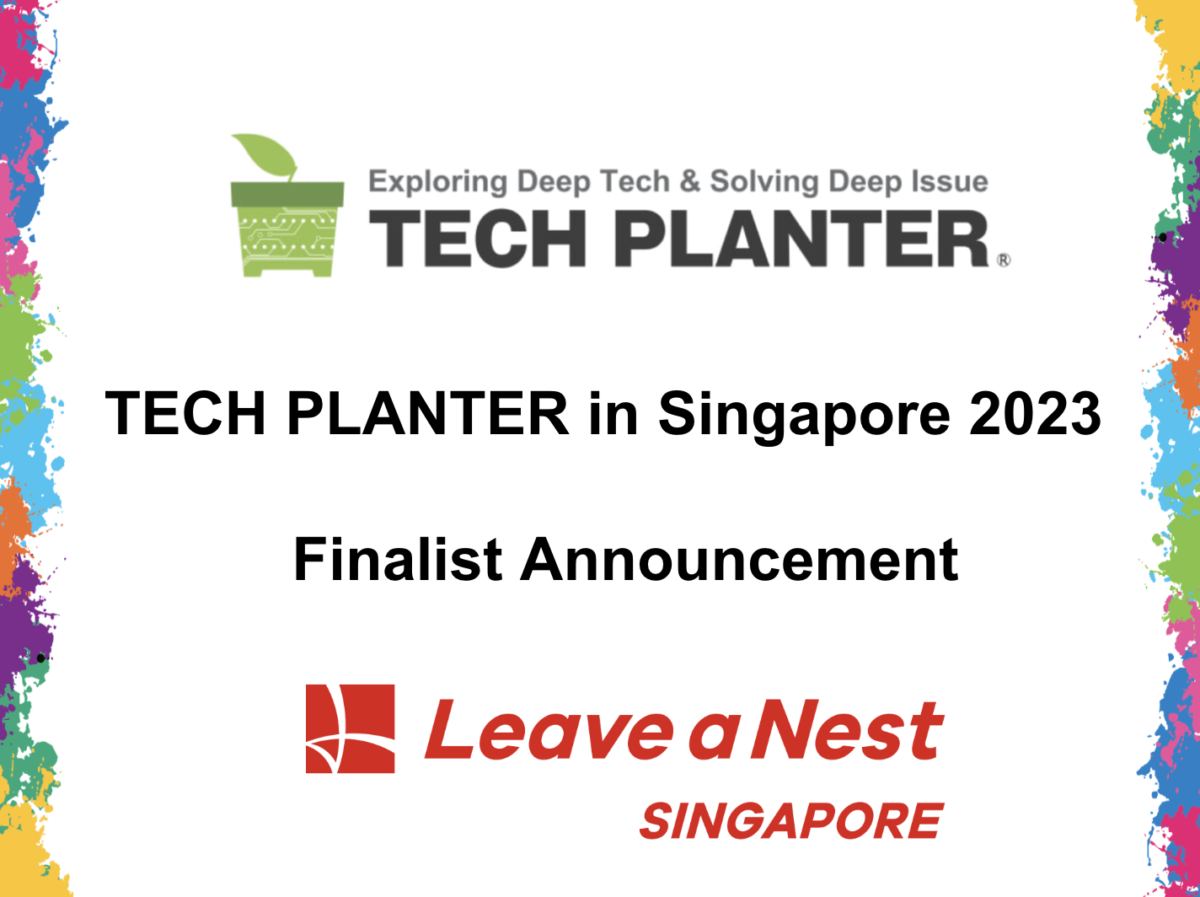 Leave a Nest working on with the vision of Advanced Science and Technology for Global Happiness. To attain our vision, Leave a Nest working with various programmes. TECH PLANTER is one of our core program towards Global Happiness. TECH PLANTER in Singapore 2023, coming to your with fully physical mode after 2019. TECH PLANTER is a platform that Leave a Nest started back in 2014 to support startups around the world. Leave a Nest is conducting this program in 6 countries across the ASEAN region. Our platform allows support to startups including prototyping support, IP strategy, and investments. Essentially, it is focused in connecting startups to large corporates, especially from Japan. Leave a Nest envisions a future where the deep technology ecosystem grows to be more cohesive and more robust to solve the deep and social issues that we face in today's society.
This year 9 finalist were selected among the 48 teams applied. For TECH PLANTER Singapore 2023, the 9 finalist were grouped into 3 categories of Bio / Med, Deep and Clean / Sustainable.
Finalists for TECH PLANTER in Singapore 2023
| | |
| --- | --- |
| Team Name | Theme |
| IImpacfat | Enhance the Taste and Nutrition of Alternative Meat with cultivated fish-fat. |
| Osteopore | Power in natural tissue regeneration. |
| HEALBAC | Novel antimicrobial peptides from differentiating adipose-derived stem cells against chronic wound infection. |
| Plant2hydrogen | Recycling Waste Vegetable Oils into Renewable Hydrogen. |
| NANOMATICS | Maximizing value recovery from waste. |
| Ailytics | Building Smarter with Video Analytics. |
| Enlipsium | High Energy Dosimetry. |
| Opsis | We make sense of Emotions. |
| KosmodeHealth | 3D printing in biomedical applications. |
Program Timeline
May 27, 2023 | Time: 13.00- 18.00 (SGT)

Venue: Shaw Foundation Alumni House

ACTIVITY
DETAILS
12:30 -13:00
Registration
13:00 – 13:30
Opening Ceremony
Opening Remarks
Keynote Speech
Introduction of Judges and Criteria
13:30 -14:20
Presentation Round 1
7 minute Presentation +
5 minute Q&A per team
14:20 -14:30
10-minute break
14:30 – 15:20
Presentation Round 2
7 minute Presentation +
5minute Q&A per team
15:20 – 15:30
10-minute break
15:30 – 16:20
Presentation Round 3
7 minute Presentation +
5 minute Q&A per team
16:20 – 17.30
Judging /Lightning Talks/
Poster presentation
Judging/ Lightning Talks /Poster Presebtation
17:30 – 18:00
Awards & Closing Ceremony
For more details, kindly visit our Official TECH PLANTER website
For inquiries, drop us an email at [email protected]