TECH PLANTER in Singapore 2023 happening in this Saturday!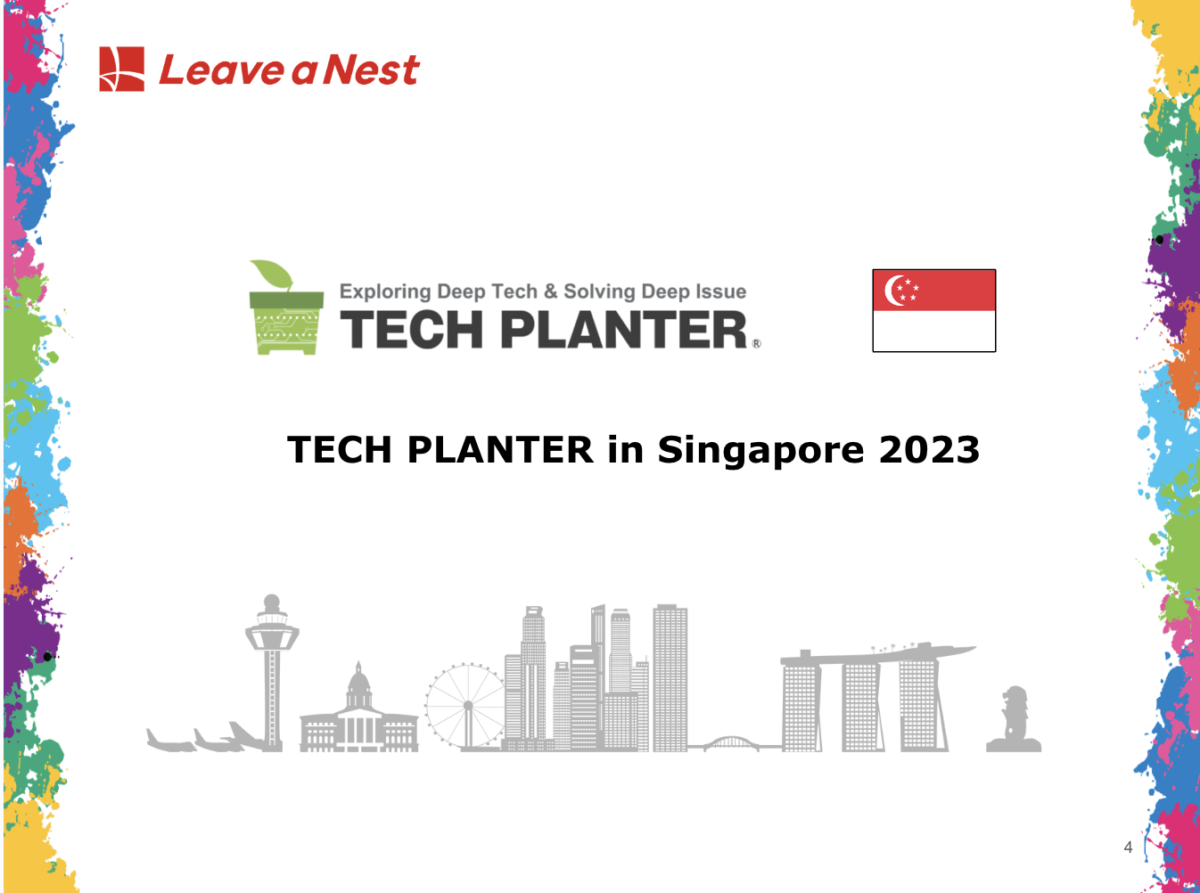 On 27th May 2023, 9  outstanding teams that was selected from 48 applicants, will be pitching and presenting their ideas and technologies physically in Singapore this Saturday. TECH PLANTER Singapore will be a great chance for the start-ups to showcase their work and how closely knitted they are within this ecosystem together with the corporations and government sectors. This event would also provide  teams from Singapore to understand how Japanese companies would like to explore deep tech startups. The panel of 11 judges from mainly are from Japan and would be able to bounce off ideas during the session.
PANEL OF JUDGES 
Dr. Kihoko Tokue, Managing Director, Leave a Nest Singapore Pte. Ltd. (Head Judge for TPSG 2023)
Dr. Tokue is the Managing Director of Leave a Nest Singapore and Founder of Leave a Nest Malaysia. She was born in Tokyo but raised in Southeast Asia, studied her bachelor degree in America and then moved to Australia for a Master and PhD degree carrying out field work. Currently she is creating a platform in ASEAN to nurture the next generation of innovators, startups involving business development partners from industry. Her dream is to one day bring changes to the world with advancement of science and technology with true understanding and appreciation for nature.
Ms Sophia Ng, Executive Director, Enterprise Singapore.
Ms Sophia Ng served more than 17 years in Singapore's public service. She is currently the Executive Director for Startup Development and SWITCH at Enterprise Singapore, a government agency under Singapore's Ministry of Trade and Industry.
Sophia works with startup founders, accelerators, venture capitalists, institutes of higher learning and various other partners to grow Singapore's startup ecosystem. She is also responsible for developing new strategies to bring the Singapore startup ecosystem for the next stage of growth. Sophia graduated with a Second Upper Honors Degree in Business Administration from the National University of Singapore.
Mr. Louis Tan, Commercial & Investment Manager, Innovate 360.
With a background in aerospace engineering, Louis dived into his family's business in seafood trading and distribution in 2016. In the last 7+ years, he led the company through a transformation during Covid-19, from a potential shutdown to strong profitability. Currently at Innovate 360 as a Commercial & Investment Manager, he has advised more than 80 agrifood-tech startups regarding go-to-market strategies, market insights, and industry connections. He also manages the investment pipeline for the Asia Food Sustainability Fund, a US$30m fund investing in early-stage startups.
Dr. Ho Chaw Sing, CEO, National Additive Manufacturing Innovation Cluster (NAMIC), A*STAR
Chaw Sing is the CEO of NAMIC, a Singapore government platform he co-founded that focuses on translational research to develop and scale industrial adoption of digital additive manufacturing technologies. Chaw Sing is active in the deep-tech startup scene and global AM community. He co-chairs the ISO/TC 261 Additive Manufacturing Chair's Advisory Group and Singapore Standards AM Technical Committee. He also serves as a Scientific and Technology Advisor at CREATE's Singapore-Hebrew University Alliance for Science and Technology among others. A prolific inventor in his early career, Chaw Sing holds several U.S. and internationally issued patents. He earned his Ph.D. and Bachelor's in Electrical and Computer Engineering from the National University of Singapore, where he also lectures part-time as an Adjunct Professor at NUS College of Design and Engineering. Chaw Sing is an ASTM International board member.
Mr. Anton Wibowo, CEO, Trendlines Agrifood Innovation Centre (AFIC)
Anton Wibowo has more than 12 years of diverse business, management, and investment experience in the Singaporean biotechnology and agribusiness communities.Today, Anton is CEO of the Trendlines Agrifood Innovation Centre (a subsidiary of The Trendlines Group), which manages the Singapore-based Trendlines Agrifood Fund and is responsible for the development of innovation-based agrifood tech companies that improve the human condition.
Mr. Norio Asahara,  Regional R&D Director, Ezaki Glico Co. Ltd.
Glico manufactures not only confectionery and ice cream, but also a wide range of food categories such as beverages, dairy products, processed foods and baby milk powder. Mr. ASAHARA is the director of research and development in Glico Asia Pacific. He is looking for new research partners as well as technical support, investment and opportunities for various collaborations such as buying of new ingredients. He is responsible for new business in Asia Pacific.
Mr. Takatoki Izumi, Business development, JR East
JR East Business Development SEA is a lifestyle business arm of East Japan Railway Company (JR East) in South East Asia. Mr.Izumi has been engaged in business development of JR East's lifestyle business for more than 15 years, and he has been in Singapore since 2017. In Singapore he manages a co-working space, One&Co. One&Co is an innovation platform bridging local and Japanese business communities.
Dr. Ryo Niishiro, General Manager, Mitsui Chemicals Singapore R&D Centre Pte. Ltd.
The corporate mission of Mitsui Chemicals Inc. is to contribute to society by providing high-quality products and services to customers through innovations and the creation of materials and products. Dr. Niishiro is scouting new ideas and technologies related to Mitsui Chemicals' four business domains; Life & Healthcare solutions, Mobility solutions, ICT solutions, and Basic & green materials. He has a strong desire to create new businesses in Southeast Asia by integrating the new innovative technologies and Mitsui Chemical's wide variety of products.
Ms. Risako Kawanaka, Assistant Manager at Business Innovation & DX Strategy Div., Mitsubishi Electric Corporation
Risako is engaged in the operation of "ME Innovation Fund", a CVC fund that can invest to startups around the world.  While considering investments, she builds a framework of collaboration between the startups and business division of Mitsubishi Electric. Also, she supports PoC experiments in such collaborative activities.
She was once deeply engaged in marketing of BtoB products in Japan and European markets. Also she had experience in launching a new product from scratch. This product was evolved with cloud service and DX functions where she led the business development.
Ms. SO Haruka, Global Market Development Division – ROHTO PHARMACEUTICAL CO., LTD. Director – Rohto Mentholatum (Kenya) Ltd.
SO Haruka is a market development member for Rohto Pharmaceutical Co., Ltd. Rohto Pharmaceutical has set "Connect for Well-being" as its comprehensive management vision, and aims to solve health issues that arise as a result of the rapidly changing social environment. In her career, she has handled main brands of Rohto Skincare as R&D and Marketing in Japan and developed new business in Vietnam. Also she has experiences of the business in South East Asian area like Vietnam and Indonesia, etc.
She is currently working for South Asian area and African area and was appointed as director of Rohto Kenya. She is promoting the projects that create new business of health care beyond national borders.
Mr. Louis Murayama,  Managing Director, Real Tech Holdings Singapore
Louis holds an M.Sc. from the University of Freiburg, Germany, and served as a Marie Skłodowska-Curie Fellow in at the Jagiellonian University, Poland. Louis has advised companies on M&A, PMI, and TSR maximization, and created new businesses using deep learning at Boston Consulting Group and ACES. He now serves as Managing Director at Real Tech Holdings Singapore, where he provides strategic advice to deep-tech startups.
FINALISTS 
1st round: Bio / Med Tech.
Team name: Impacfat
Theme:  Enhance the Taste and Nutrition of Alternative Meat with cultivated fish-fat.
Issues: Create fish cell-based fat as a nutrition reservoir and bring the healthiest, tastiest fat to everyone in a sustainable manner.
Solution: Cultivated fish fat
Uniqueness: Healthier and more natural, able to improve sensory properties of existing alternative meat
Team name: HEALBAC
Theme:  Novel antimicrobial peptides from differentiating adipose-derived stem cells against chronic wound infection
Issues: Current Wound Dressings do not prevent infections.
Solution: We developed novel short peptide analogues having both antibacterial and wound healing properties.
Uniqueness: Prevents AMR, show higher efficacy, exhibit significant antibiofilm effects
Team Name: Osteopore
Theme:  Power in natural tissue regeneration
Issues: people with tumors and broken bones may not always heal properly.
Solution: Bioresorbable polymer implants for neurosurgical, orthopedic, and maxillofacial surgery use.
Uniqueness: Harnesses the body's regenerative capacity to rebuild lost tissues
2nd round: Deep Tech
Team name: Ailytics
Theme:  Building Smarter with Video Analytics
Issues: Construction in SG is different, research needed to use tech analysis in construction
Solution: Insights for prevention
Uniqueness: Tech to convert 2D scenes to 3D which allows to detect complex and critical construction scenarios
Team name: Opsis
Theme:  We make sense of Emotions
Issues: To solve misunderstanding of human emotions
Solution: Read facial expressions,voice intonation, and body language. By leveraging advanced machine learning
Uniqueness: Circumflex model provides a more nuanced understanding of emotions. Valance and arousal
Team name: Enlipsium
Theme:  High Energy Dosimetry.
Issues: Today's method of dosimetry for PSQA lacks accuracy and precision for High Precision RT systems.
Solution: A system that reduces the time taken to analyze a patient's cancer cells from 12-24h to 5mins
Uniqueness: Allows for vision of small, highly accurate proton beams for precision surgery
3rd round: Clean / Sustainable Tech.
Team name: Plant2hydrogen
Theme:  Recycling Waste Vegetable Oils into Renewable Hydrogen
Issues: Current hydrogen production is too energy intensive
Solution: Generate plasma to burn oil into hydrogen, creating plasma with electricity
Uniqueness: Plasma as an energy source instead of flame
Team name: Nanomatics
Theme:  Maximizing value recovery from waste
Issues: Plastic waste management. most plastics are non recyclable due to different issues.
Solution: Electronics, materials and coatings and paints from carbon nanotubes recycling plastics
Uniqueness: Thermal treatment of plastic waste to convert it into carbon and hydrogen
Team Name: KosmodeHealth
Theme:  3D printing in biomedical applications
Issues:  The range of available scaffolds are too limited to meet the varied growth needs of 3D Bioprinting.
Solution: Plant Protein, being a natural protein, is conducive for cell growth and used as a scaffold.
Uniqueness: World's only PPC™ bio-ink for 3D scaffold printing.
LIGHTNING TALKS TEAMS
Team name: Accupredict
Theme:  Machines Run Forever
Issues: Mechanical failures due lack of preventive maintenance
Solution: Use vibration sensors to predict failures
Uniqueness: Wire less, more informative preventive maintenance
Team name: BiolabFx DMD Corp.
Theme:  iface simulators
Issues: Improve their professional skills without any potential harm to patients.
Solution: Design aesthetics device solution for helps the aesthetics industry to establish best practices.
Uniqueness: Technology sharpen practitioners practice skills and technique
Team name: Insectta
Theme:  Enabling Insects to Power our Healthcare and Electronics
Issues: chitosan is inconsistent and taken from different species, and has high toxic metals levels.
Solution: proprietary process to extract chitosan and melanin from insects
Uniqueness: only company to produce melanin at scale, and produces consistent chitosan
Team name: MEDS Venture
Theme:  DECAPLAN: End to End Industrial Decarbonziation Platform
Issues: NET zero 2050 decarbonation plan
Solution: Reducing carbon footprint with AI
Uniqueness: Enforced learning, Machine learning – forecasting of weather conditions
Team name: Team Asia
Theme:  Smart Factory Solution and Smart Switchgear Solution
Issues: factory visibility is not good, a lot of troubleshooting accidents inside factories
Solution: Smart factory with end-to-end Industrial IoT coverage, providing real-time insights.
Uniqueness: provide real-time insights and optimize production output
Timeline
May 27, 2023 | 13:00 – 18:00 (SGT)
Shaw Foundation Alumni House, 11 Kent Ridge Dr, Singapore 119244
TIME

(in SGT)

ACTIVITY
DETAILS
12:30 – 13:00
Registration
13:00 – 13:30
Opening Ceremony
Opening Remarks

Keynote Speech

Introduction of Judges and Criteria

13:30 – 14:20
Presentation Round 1

(Bio/ Med)

7 minute Presentation +

5 minute Q&A per team

14:20 – 14:30
10-minute break
14:30 – 15:20
Presentation Round 2

(Deep)

7 minute Presentation +

5 minute Q&A per team

15:20 – 15:30
10-minute break
15:30 – 16:20
Presentation Round 3

(Clean/ Sustainable)

7 minute Presentation +

5 minute Q&A per team

16:30 – 17:30
Judging Time
Lightning Talk &

Poster presentation

2-minute Presentations

for Lightning Talks;

Poster Presentation

17:30 – 18:00
Awarding & Closing Ceremony
To learn more about TECH PLANTER, kindly visit: https://en.techplanter.com
For more information or any inquiries or concerns, please send an email to Mr. Siva at [email protected]