Leave a Nest Singapore to accelerate collaboration with Thai Universities by sigining MoU with Knowledge Xchange, King Mongkut's University of Technology Thonburi (KX, KMUTT)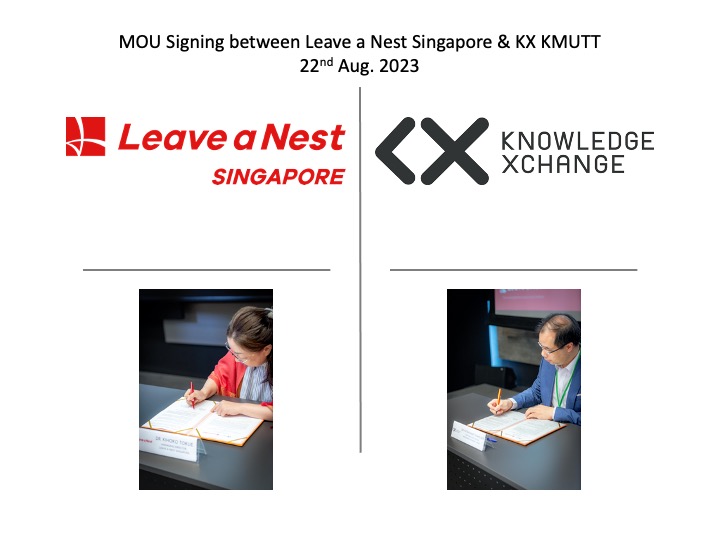 Bangkok Thailand – [July 22, 2023] – Leave a Nest Singapore, a leading science and technology company, and KX KMUTT, a prominent research and innovation agency in 
Thailand, have formalized their commitment to accelerate collaboration between Thai universities and Singapore by signing a Memorandum of Understanding (MoU) at the KX Building in Bangkok, Thailand. The signing ceremony took place on the July, 22, 2023 just before the start of TECH PLANTER DEMO DAY in Thailand. The MoU signifies a significant milestone in promoting collaboration and advancing technological innovation between the two renowed organizations. Moreover, the event coincides with the celebration of the 50th ASEAN – Japan Friendship and Cooperation Anniversary, further highlighting the significance of this partnership in fostering regional collaboration.
The MoU was signed by Dr.Patrachart Komolkiti,the CEO of KX KMUTT and Dr.Kihoko Tokue, the Managing Director of Leave a Nest Singapore,emphasising the importance and commitment of both organisations towards this partnership.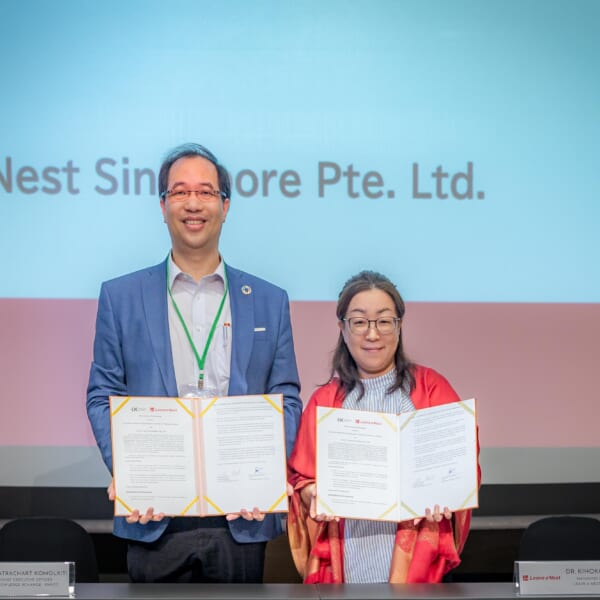 From Left: Dr. Patrachart Komolkiti (CEO of Knowledge Xchange), Dr. Kihoko Tokue (Managing Director of Leave a Nest Singapore)
The MoU solidifies Leave a Nest Singapore and KX KMUTT's commitment to promoting collaboration in technology and innovation between Thailand, Singapore and Japan. Dr. Tokue has a background as a researcher at King Mongkut's Technology of Thonburi (KMUTT), Bankhuntien campus. After joining Leave a Nest Group, she has continued to support researchers and deep tech startups from KMUTT through her connections. The MoU serves as a formalization of the existing ties between the two organizations. This MoU was signed by leveraging on respective expertise and resources, both organisations aim to drive economic growth through providing solution with deep tech, and foster a culture of innovation to solve deep issues in both countries. The commermoration of the 50th ASEAN – Japan Friendship and Cooperation Anniversary, this MoU highlights the strong historical ties and enduring partnership between the ASEAN region and Japan, showcasing the shared commitment to regional development, economic progress, and cultural exchange.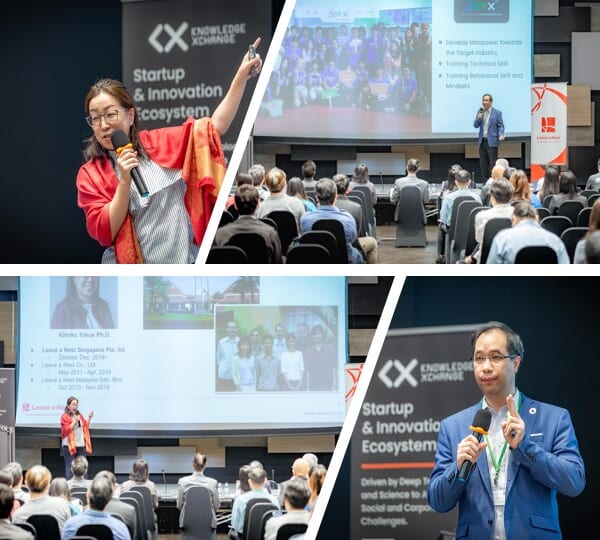 With this MoU in place, both organizations are optimistic that this MoU will pave the way for mutually beneficial collaborations, leveraging their combined strengths and expertise to drive technological advancements, promote entrepreneurship, and create a conducive ecosystem for innovation.
For media inquiries and more information, please contact:
Leave a Nest Singapore Pte. Ltd.
Email: info-asia "at" lne.st 
Website: https://global.lne.st/
For further information, please contact:
KX Knowledge Xchange
Email: contact "at" kxinnovation.com
Website: https://kxinnovation.com
About Leave a Nest Singapore:
Leave a Nest Singapore is a leading science and technology company committed to fostering innovation, supporting startups, and nurturing talents in Singapore and beyond. With a strong focus on science and technology education, Leave a Nest Singapore provides various programs and initiatives to empower individuals and organisations in driving technological advancements and contributing to society to build a strong knowledge hub.
About KX KMUTT:
KMUTT has designated the KX building to be the center for facilitating the exchanges of knowledge, technology, and innovation capability between, and among, KMUTT and its academic allies, forward-looking manufacturing enterprises especially SMEs in the strategic sectors, and public organizations, in order to elevate Thailand's technological and innovation competency, while KMUTT's faculties and students are granted with opportunities to gain experiences from "Real World" issues, and opportunities to work on real demand-driven researches.
Website: https://www.kmutt.ac.th/en/about-kmutt/campus/knowledge-xchange-for-innovation-kx/