MOU between National Science and Technology Development Agency and Leave a Nest Singapore: Towards building an entrepreneurship ecosystem in Thailand and Singapore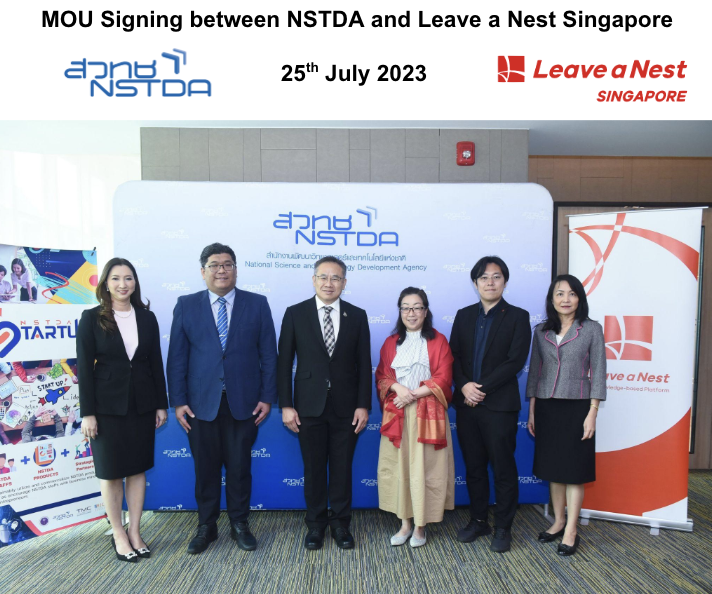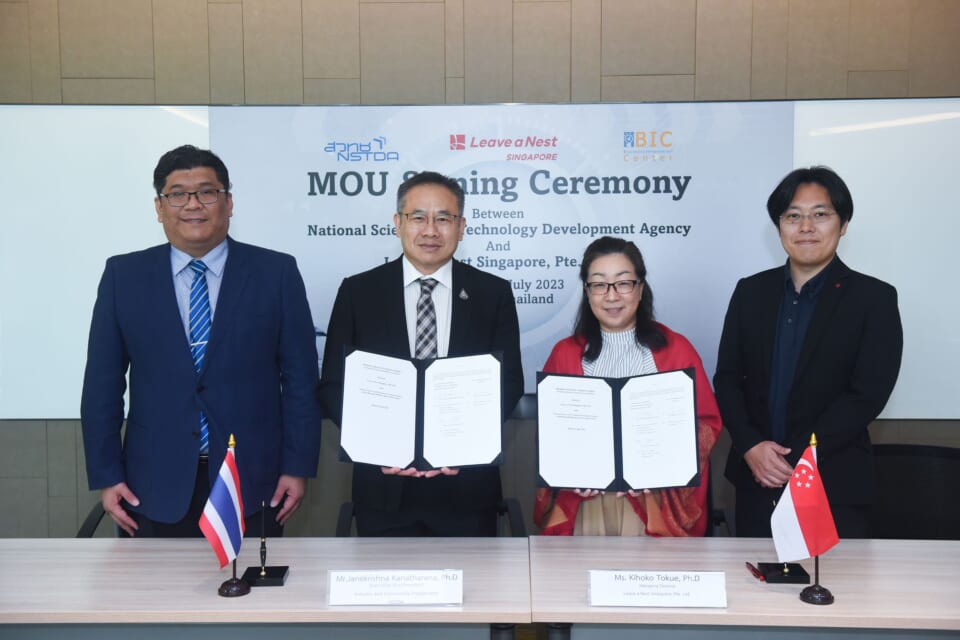 On 25th July 2023, Leave a Nest Singapore Pte. Ltd. signed a Memorandum of Understanding with the National Science and Technology Development Agency (NSTDA). This MoU formalized the partnership between the two parties to support the development of the entrepreneurship ecosystem among students, researchers, startups and entrepreneurs from both countries. The MoU was signed by Dr. Kihoko Tokue (Managing Director, Leave a Nest Singapore Pte. Ltd.) and Dr. Janekrishna Kanatharana (Executive Vice President, Industry and Community Engagement, acting for the President of NSTDA). The signing was witnessed by Mr. George Yoshida (CIO, Leave a Nest Co., Ltd.) and Mr. Adisorn Tuantranont, Ph.D. (Executive Vice President National Science and Technology Development Agency)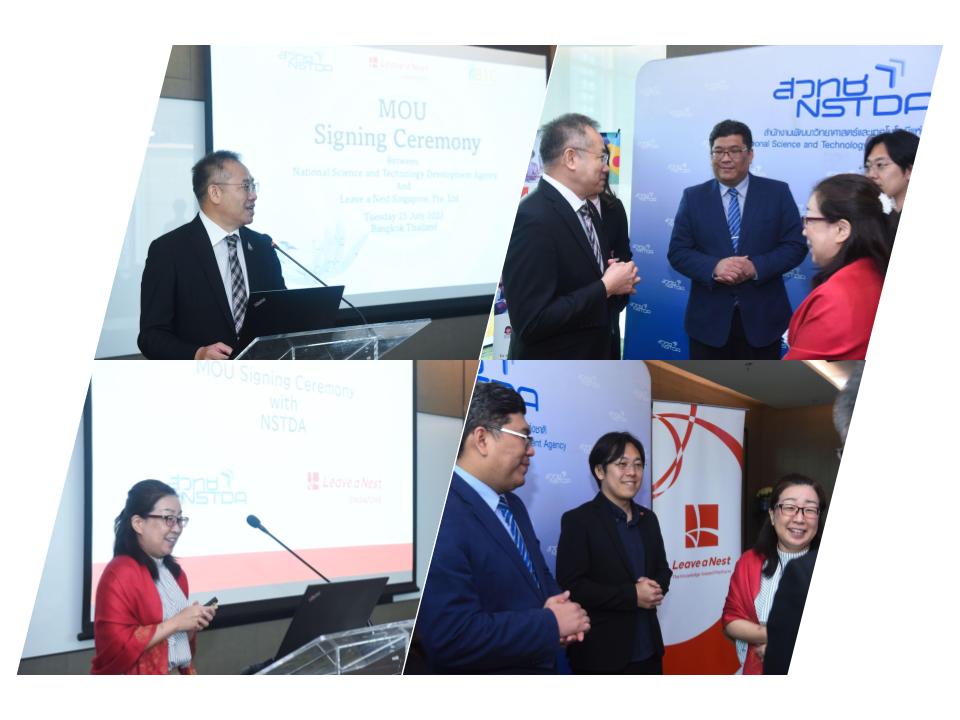 The entrepreneurship ecosystem is developing in Thailand, and connecting the ecosystem with Singapore to nurture students, researchers and startups is required for further development. Under this MoU framework, part of the understanding includes co-creation of programmes and activities to nurture students, researchers and spin off startups from science and technology point of view. Prior to this MoU Leave a Nest and NSTDA has been working closely from the past through activities such as TECH PLANTER to nurture researchers and spin off startups. For example, the recent Grand winner of the TECH PLANTER in Thailand 2023 was FleXARs from NSTDA, working on polymer films to prevent biofouling, and Leave a Nest helped in connecting the start up to the industry side. NSTDA, Dr. Janekrishna Kanatharana, is confident that through this MoU, we will be able to develop an even stronger relationship between Leave a Nest Singapore, Pte. Ltd. – NSTDA and to promote inclusive cooperation that complements mutually.
Leave a Nest believes that, not limiting to TECH PLANTER but co-running of existing activities from Leave a Nest as well as development of new activities will further enhance nurturing of talents and development of seeds of technology to solve the deep issues. Through this partnership and Singapore being a knowledge hub of the world, Leave a Nest will be able to help NSTDA to connect further to potential partners from other parts of the world too.
For media inquiries and more information, please contact:
Leave a Nest Singapore Pte. Ltd.
Email: info-asia "at" lne.st 
Website: https://global.lne.st/
About Leave a Nest Singapore:
Leave a Nest Singapore is a leading science and technology company committed to fostering innovation, supporting startups, and nurturing talents in Singapore and beyond. With a strong focus on science and technology education, Leave a Nest Singapore provides various programs and initiatives to empower individuals and organisations in driving technological advancements and contributing to society to build a strong knowledge hub.
About NSTDA:
The National Science and Technology Development Agency (NSTDA) is affiliated to the Ministry of Higher Education, Science, Research and Innovation, with the Minister serving as the chairman of NSTDA Governing Board. The mission of NSTDA is to perform and support Research and Development, Design and Engineering, Technology Transfer, Science and Technology Human Resource Development and Infrastructure Development. This mission is implemented through working with partners from academic, government, private, and non-government sectors, both domestically and internationally.
Website: https://www.nstda.or.th/bic/