[Announcement] Four Japanese startups selected for "Enter to Singapore Market Prog 2023"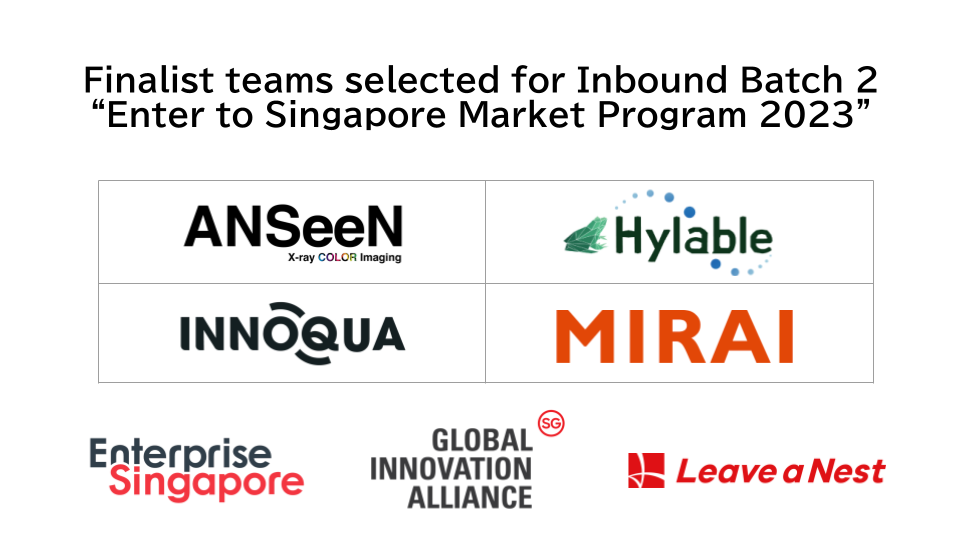 In partnership with EnterpriseSG, the Enter to Singapore Market Program (Batch 2) is under Global Innovation Alliance's Tokyo Acceleration Programme.
We would like to thank all the startups for their applications and response. We are happy to announce the list of the four Japan based startups selected to participate in the second batch of the Enter to Singapore Market Program.
The startups will be exhibiting at SWITCH (Singapore Week of Innovation & Technology) happening Oct 31 – Nov 2. If you would like to meet any team in particular, please notify Leave a Nest (via below) for us to ensure a time slot to visit.
The Finalists
Name 
Product/ Brief description

ANSeeN Inc.

(Non-destructive inspection)

Develops ultra-high resolution X-ray image sensors and X-ray colour cameras. The company's sensors can distinguish the wavelength of X-rays, making it possible to identify materials. Unlike the simple pseudo-colors used in conventional X-ray inspection at airports, these sensors can express physical differences such as the difference between food and explosives. This enables visualisation of metal casting parts of automobiles, railways, etc., which were difficult to visualise in the past.

Hylable Inc.

(Education/IT)

Analyses discussions quantitatively with our two core patented technologies, "Auditory Scene Analysis" and "Discussion Analysis," by focusing on who, when, and how much they talked. By utilising the technologies, they have developed a cloud service that analyses both offline and online discussions. The service has been used in various areas, mainly in schools and employee training.

 

(Sustainability)

The "environmental transfer technology" that the members at Innoqua are researching and developing, is a unique technological concept that reproduces the marine environment in an aquarium in a form close to nature. Using an AI/IoT device developed by Innoqua, a wide range of parameters such as water quality (dissolved concentration of more than 30 trace elements), water temperature, water flow, lighting environment, and relationships among organisms including microorganisms are controlled to model in order to reproduce an arbitrary aquatic environment in an aquarium.

MiraiKikai, Inc.

(Construction)

A world pioneer in the research and development of solar panel cleaning robots, and was the first in the world to commercialise an autonomous, handheld solar panel cleaning robot, introduced in the Middle East. Recently MiraiKikai has developed an automated marker robot for the construction field. This will be their entry model to the construction vertical.
As a next step, the selected startups will participate in program kick off followed by closed online pitching sessions towards Singaporean corporations/ Singapore based MNCs, where they will meet potential industry, business partners, Government agencies, clients, VCs, CVCs or prototyping partners. The program culminates in exhibiting at SWITCH.
Simultaneously, Leave a Nest is running a tour for Japanese startups and companies to Singapore. This includes an open pitch event, we welcome all interested parties!
Date: 2nd November 2023
Time: 10:00-12:00 (light refreshments provided)
Location: BLK71 Singapore – 71 Ayer Rajah Crescent, #02-01, Singapore 139951
Finally, we would like to congratulate the four startups selected for this program. We look forward to working with you, towards achieving your goals and missions in Singapore.
For more information or enquiries:
Please do not hesitate to write to [email protected]
(Attention Addi or Ravi)