[Keynote Speaker] Chief Culture Officer of Leave a Nest, Dr. Joe Inoue as Keynote of HIC Thailand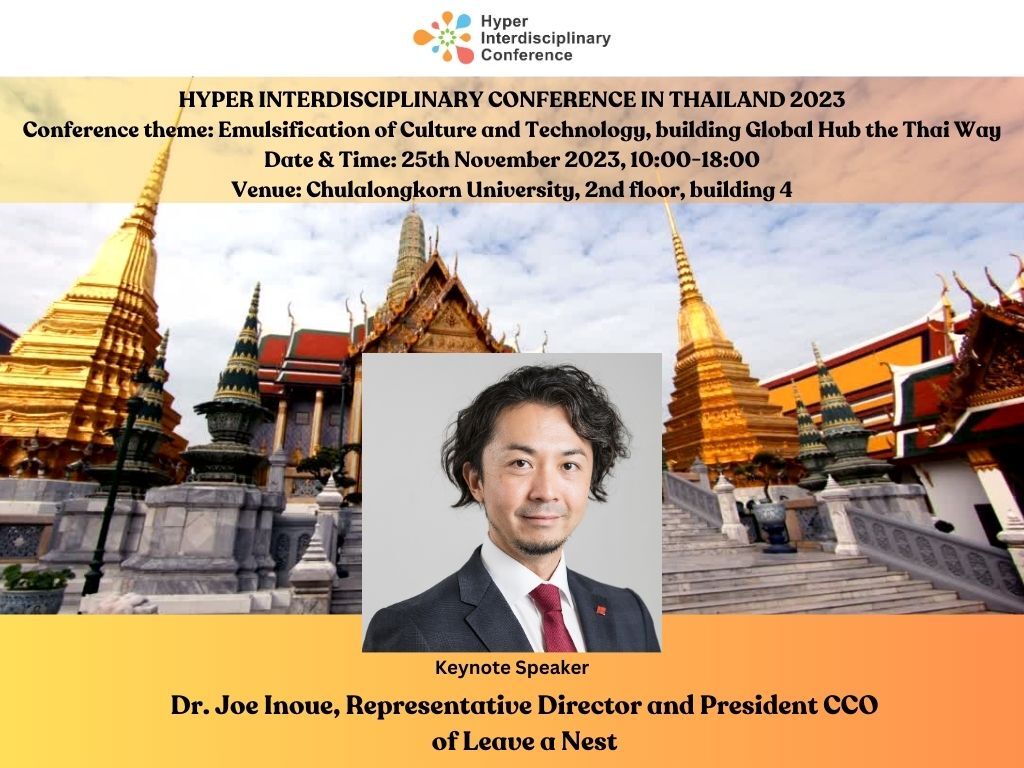 In alignment with this year's HIC Thailand, 'Emulsification of Culture and Technology, building Global Hub the Thai Way', we are happy to announce that Dr Joe Inoue, Co-Founder and Chief Culture Officer (CCO) of Leave a Nest Group, will be giving a Keynote Speech to start off our event.
Dr Joe Inoue received his Ph.D from Tokyo Pharmaceutical University Graduate School of Pharmaceutical Sciences. Currently, he is the Professor of advanced pharmaceutical sciences at the Faculty of Pharmaceutical Sciences at Kumamoto University and a Visiting Professor at the Faculty of Pharmaceutical Sciences at Keio University. Apart from his accolades in the pharmaceutical sciences, he is also involved with the Japanese government in the Ministry of Economy, Trade and Industry. Additionally, he is also a Visiting Professor at Musashino University Faculty of Entrepreneurship and took up the role as an advisor to numerous companies such as Humanome, Metagen, Cyding, BIOTA. With his rich experience, we believe that he will be a suitable person in delivering the keynote speech.
An aging population is an issue that is being faced by not just in Thailand, but in many different parts of the world. In respect to this, we are very fortunate to have Dr Joe Inoue to share his expertise through his keynote speech, on how the development of health-tech and life-tech can be important in making Thailand into a Global Hub. Do join us to hear an exciting presentation by him!!
We are currently gathering Research splash presenters and Poster presenters to present their novel research on this HIC platform. Additionally, we are also inviting experts and audiences to join us in this exciting event. I am looking forward to see everyone in this event and come join us!!
If you have any other questions, please do not hesitate to email me at cheah "at" lne.st or Mark at mark "at" lne.st.
Details on Hyper Interdisciplinary Conference in Thailand
Venue: Chulalongkorn University (Meeting Room Floor 2, Building 4)
Date & Time: 25th November 2023, 10:00 – 18:00
Research splash/poster presenters registration: Research splash/poster presentation
Audience registration: Audience