[Announcement]: 2 Teams selected for Batch 7 of the "Enter to Japan Market Program 2023"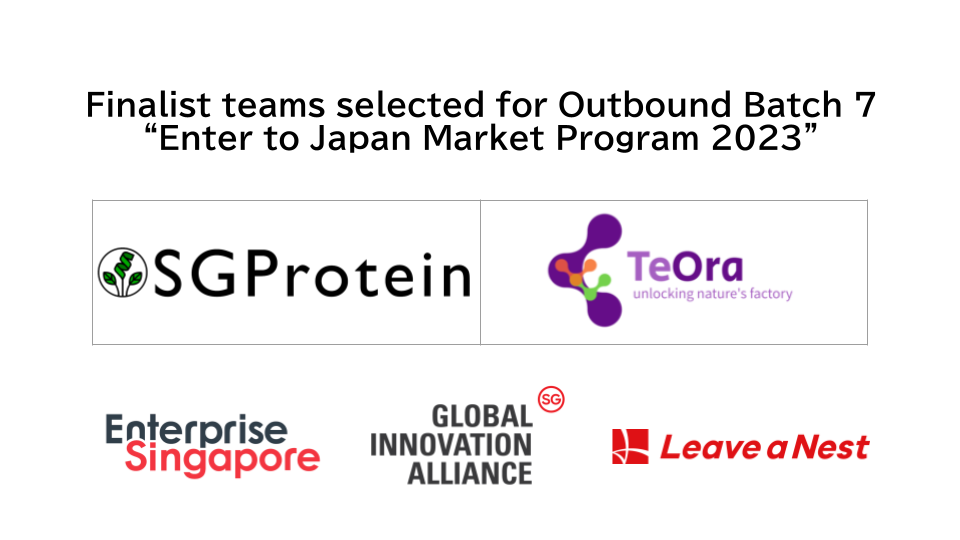 In partnership with EnterpriseSG, the Enter to Japan Market Program (Batch 7) is under Global Innovation Alliance's Tokyo Acceleration Programme.
We would like to thank all the startups for their applications and response. We are happy to announce the two Singapore based startups selected to participate in the seventh batch of the Enter to Japan Market Program.
Congratulations to SGProtein & TeOra!
| | |
| --- | --- |
| Team Name  | Brief Description |
| SGProtein | A Singapore-based contract manufacturing platform for plant-based meat, fish, seafood. Platform for producing or distributing plant-based product, replacing the need for major infrastructure. |
| TeOra | Through cutting-edge bioinformatics, precision fermentation-based methods and proprietary biofactories, we design and deliver clean, sustainable, and effective solutions for health and disease control compounds and peptides. |
The curated program will be conducted in person and online for 2 months in Singapore and Japan. In Singapore, the teams will undergo close mentoring by Leave a Nest, understanding strategic partners in Japan. This is leading up to the first week of August when a trip to Tokyo will bring Energeia Labs to meet Japanese corporates one-to-one. The Japan trip allows face-to-face meetings with only the most relevant parties with the highest potential of partnership/collaboration.
Leave a Nest Singapore is dedicated to supporting SGProtein & TeOra, towards achieving objectives and missions in Japan.
For more information or enquiries:
Please do not hesitate to write to [email protected]
Attention @ Ravi or Addi