UK's No.1 science magazine "New Scientist" features Leave a Nest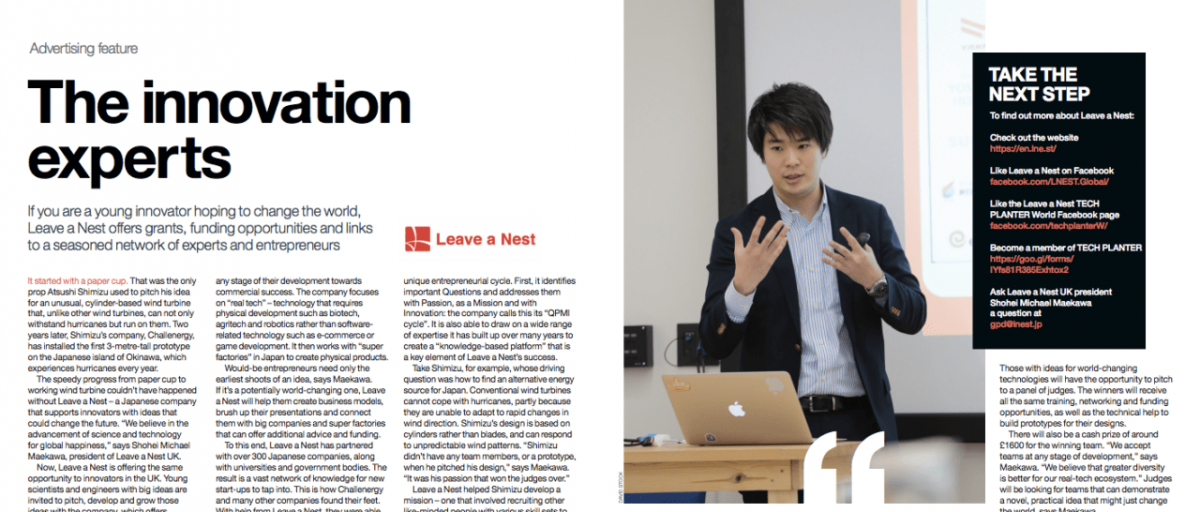 On 1st April edition of New Scientist (most renowned weekly science magazine in UK), an article on Leave a Nest's activity in UK has been featured.
<<Featured article>>
You may read the article from the following link
NewScientist Article Page1
NewScientist Article Page2
Leave a Nest have incorporated its UK subsidiary (Leave a Nest United Kingdom Ltd.) on October 4th 2016. We have actively started our business from March 2017. Leave a Nest UK aims to solve problem that lies through change in research environment that will be caused by event such as EU referendum.
By preparing an environment where researchers can actively research, we would like to construct a structure where more world changing science and technology will come out from UK.
As a first step in realizing this, Leave a Nest UK will work on three things. Firstly  "Nest Grant" which supports the research activity of young researcher, secondly  "Hyper -Interdisciplinary Conference" which is a platform where various professionals gather to share/discuss the wicked problems they are trying to solve and thirdly "TECH PLANTER" which supports the collaboration of research seed in the university from university-industry collaboration.
<Applicants welcomed>
LNest Grant URL: https://grant.lne.st/
TECH PLANTER URL: http://en.techplanter.com
Hyper -Interdisciplinary Conference URL: Coming soon
Through the opportunity of our company's article being featured on New Scientist, Leave a Nest Group aims to increase the number of people who share the same vision with us. Which is  "Advancing science and technology for global happiness" .
About NewScientist
New Scientist (established on 1956) is world renowned international weekly science magazine which is based in London UK. There are around 5.2 million readers around the world and features about newest science and technology news from around the world in a way that anyone can understand. New Scientist article is available on paper, web and application.
URL: https://www.newscientist.com/
Contact
Leave a Nest Co., Ltd. Global Platform Development Division
Shohei Michael Maekawa
Tel:+81-3-5227-4198
Email:[email protected]